RHLSTP 188 - Jess Robinson

Richard Herring's Leicester Square Theatre Podcast: RHLSTP 188 - Jess Robinson
RHLSTP #188: Jess Robinson - Doctors and Nurses. Richard welcomes an audience member who has come all the way from America JUST to see him, and boy is he pleased about that? His guest is the multi-talented singer, comedian and impressionist, Jess Robinson. She talks about the decision to do Britain's Got Talent and the seemingly shocking truth about some of the contestants; how she chanced into impressionism thanks to an acting audition; what kind of crimes Noddy can solve in this crazy PC world that had dulled Enid Blyton's fine morality; and questionable fashion choices. Is the voice behind Virgin train toilets someone famous? What kind of genitals does a Merman have? What have the Chuckle Brothers smeared on Jess' face? What nerdy madness drives impressionists? Who was the celebrity gimp who danced with Vaginal Tap? Is marriage a good idea? And most importantly, has Jess Robinson ever met Brian Blessed? This is the only podcast where you'll be able to find out.
Enjoy some of the crazy craft beers from our sponsor Beer 52 for FREE (you just pay £2.95 p&p) by signing up at beer52.com/rhlstp Buy the Emergency Questions book at gofasterstripe.com/eq
Published: 7th November 2018. Length: 70 minutes. Size: 96.9mb
Video
Next RHLSTP episodes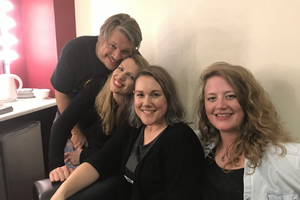 Date: 14th November 2018 Length: 69 mins Size: 95.1mb
RHLSTP #189: Drunk Women Solving Crime - How Does She Know So Much About Parachuting? Richard has been publicising his latest book, but it's not popular with canines, but at...
Richard Herring's Leicester Square Theatre Podcast - All Episodes