RHLSTP 192 - Nish Kumar

Richard Herring's Leicester Square Theatre Podcast: RHLSTP 192 - Nish Kumar
RHLSTP #192: Nish Kumar - Not Michael Sheen. Richard's participation in a PTA quiz in his village led to an unlikely correspondence with one of his new neighbours, but he's really looking forward to meeting the star of Twilight and The Damned United - oh no, he had to pull out, so we got Nish Kumar instead. But lucky us (apart from the obvious bad luck) because we get to hear about Nish shitting himself on camera watching a man get down and dirty with a horse; being the worst Taskmaster contestant ever; the best use of a House Of Games trophy; and what it's like to lose it on Question Time. How's Brexit going to turn out and why can't Brexiteers stop themselves leaving? Plus the unpredicted but satisfying success of The Mash Report. If you're hoping Michael Sheen might pop up as a surprise guest at the last minute then I am afraid you will be disappointed (hopefully we can get him to come down in 2019) but there is a brief ray of light as he sends us a message.
Please support our podcast and our new sponsor by claiming your 8 free craft beers (you just pay £2.95 p&p): beer52.com/rhlstp Please buy the new Emergency Questions book for yourself and all your family: gofasterstripe.com/eq To check out where RHLSTPs will be happening in 2019 (and a tour is being mooted) check out www.richardherring.com/gigs
Published: 5th December 2018. Length: 71 minutes. Size: 97.4mb
Video
Next RHLSTP episodes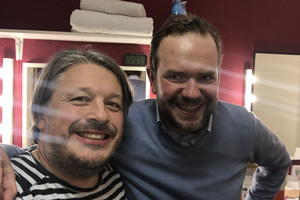 Date: 12th December 2018 Length: 79 mins Size: 109mb
RHLSTP #193: James O'Brien - Sean Connery's Macbeth. Rich is back on terrestrial TV as a last minute guest on a new Channel 5 gameshow, so cheg on suckers, he's...
Richard Herring's Leicester Square Theatre Podcast - All Episodes