RHLSTP 196 - Fingers on Buzzers Podcast

Richard Herring's Leicester Square Theatre Podcast: RHLSTP 196 - Fingers on Buzzers Podcast
RHLSTP #197: Fingers on Buzzers Podcast - Frank Bruno's Chauffeur. Drunk from one beer from last week's podcast, Richard is indiscreet about one of his former girlfriends, but let's move quickly on to welcome Lucy Porter and Jenny 'The Vixen' Ryan from the excellent Fingers On Buzzers Podcast. Rich finally gets to dedicate a whole podcast to his quizzing failures and to envy Lucy for the number of extra shows she's been on. We hear about behind the scenes on The Weakest Link; how Lucy and Jenny met on a record breaking episode of The Chase; who knows the most about their home town; foot fetishism; sexual awakenings during Hi-De-Hi!; how creating a quiz show can make you a millionaire; and which celebrity from Croydon Richard would most like to have sex with.
Buy the Emergency Questions book; get your eight free beers from our sponsors Beer52; get your hands on one of the limited edition DVDs of Oh Frig I'm 50 - or buy the download from gofasterstripe.com Check out other Richard Herring gigs and find out if RHLSTP is coming anywhere near you: richardherring.com/gigs
Published: 9th January 2019. Length: 58 minutes. Size: 80.3mb
Video
Next RHLSTP episodes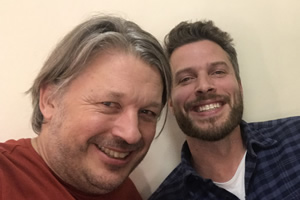 Date: 17th January 2019 Length: 77 mins Size: 106mb
RHLSTP #197: Rick Edwards - Bailey's Comets. Rich is back on the telly, even if at this point, House Of Games is looking like it might be another House of...
Richard Herring's Leicester Square Theatre Podcast - All Episodes