RHLSTP 200 - Adam Buxton

Richard Herring's Leicester Square Theatre Podcast: RHLSTP 200 - Adam Buxton
RHLSTP #200: Richard Herring - Pennsylvania Polka. It's episode 200 of the podcast and the end of Series 14, two insane milestones for this ramshackle lump of podcast. And to celebrate this occasion there's a record breaking fourth appearance from the grandson of a Batman, Adam Buxton. Adam sets the agenda from the start, bearing gifts, mocking stone-clearing like a philistine, revealing what 1995 Richard Herring had somehow discovered annoyed Stewart Lee, and attempting a slightly underwhelming tribute to Groundhog Day. Plus find out how Nile Rodgers responded to jokes by kids; why a head in a jar has to bring its own cloth; whether it's possible to have a film set at Stonehenge without the stones being knocked over at some point; and whether child-men in their fifties have to finally grow up. Plus some extraordinary epistles from World War One and how fields with barbed wire can still cause injury even today.
Thanks to everyone who has supported this endeavour over the last 200 episodes and six years. Hopefully we can continue to move onwards and upwards. We will be touring the podcast in 2019 (as well as another run at the Leicester Square Theatre on Mondays from 4th February to 1st April. Tickets here)
Buy Richard's books and DVDs at gofasterstripe.com; get 8 delicious or at least weird tasting craft ales for free at beer52.com/rhlstp; and see if Richard is coming near to you with a RHLSTP or other gig: richardherring.com/gigs
Published: 6th February 2019. Length: 88 minutes. Size: 121mb
Video
Next RHLSTP episodes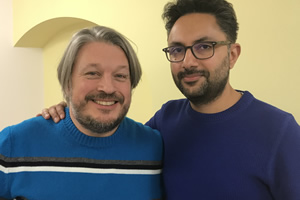 Date: 13th February 2019 Length: 84 mins Size: 116mb
RHLSTP #201: Sathnam Sanghera - Sex in a Bush. RHLSTP is going on the road this year - check richardherring.com/gigs for dates (loads more to come) starting with a journey...
Richard Herring's Leicester Square Theatre Podcast - All Episodes