RHLSTP 191 - Rose Matafeo

Richard Herring's Leicester Square Theatre Podcast: RHLSTP 191 - Rose Matafeo
RHLSTP #191: Rose Matafeo - Ladybird. Richard has had a ladybird in his house and is reminded of the horrors of the 1976 ladybird invasion, but how it eventually paid off to his advantage, but there's no time to consider too deeply if he's had sex with an insect that has magically taken human form, because he's talking to 2018 Comedy Award winner and the quarter Croatian, Rose Matafeo, the third guest on this podcast series to have lived in a house just behind Richard's old house in Shepherd's Bush. Richard gets pathetically drunk on just one bottle of Beer 52 beer and is scarcely able to remember how to speak, let alone recall what was discussed, but it includes a lot of racist attempts to do the English accent by Rose; plus what it's like to be up the tallest building in the Southern hemisphere; 'women's things'; an attempt to understand millennials; waiting for Burt Bacharach; watching your pet die; and the New Zealand version of The Horny Time Traveller.
Please support our podcast and our new sponsor by claiming your 8 free craft beers (you just pay 2.95 p and p): beer52.com/rhlstp Please buy the new Emergency Questions book for yourself and all your family - gofasterstripe.com/eq To check out where RHLSTPs will be happening in 2019 (and a tour is being mooted) check out richardherring.com/gigs
Published: 28th November 2018. Length: 75 minutes. Size: 104mb
Video
Next RHLSTP episodes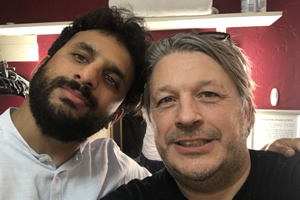 Date: 5th December 2018 Length: 71 mins Size: 97.4mb
RHLSTP #192: Nish Kumar - Not Michael Sheen. Richard's participation in a PTA quiz in his village led to an unlikely correspondence with one of his new neighbours, but he's...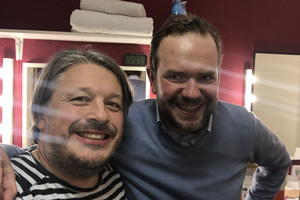 Date: 12th December 2018 Length: 79 mins Size: 109mb
RHLSTP #193: James O'Brien - Sean Connery's Macbeth. Rich is back on terrestrial TV as a last minute guest on a new Channel 5 gameshow, so cheg on suckers, he's...
Richard Herring's Leicester Square Theatre Podcast - All Episodes