Addison Cresswell named 'most influential' in British comedy
Addison Cresswell named 'most influential' in British comedy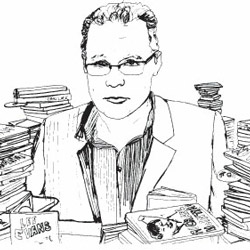 In a run down of what it believes to be the 100 most influential people currently working in British comedy, comedy website Such Small Portions (SSP) has put powerful talent agent Addison Cresswell in the top spot.
As manager, through his company Off The Kerb, to stars such as Lee Evans, Jonathan Ross, Jo Brand, Sean Lock and Michael McIntyre, SSP noted that Cresswell had almost single-handedly rekindled television's love for stand-up comedy. Off The Kerb's production arm, Open Mike, is responsible for hits such as Live At The Apollo, Stand Up For The Week, and Channel 4's Comedy Gala - all of which are packed out with acts represented by the mega-company.
Rumours behind Cresswell's power have become the stuff of legend within the comedy industry, with SSP noting that "the stories he has kept off the front pages as well as the ones he has put on them have been elevated to almost mythical status".
Paying tribute to his manager when picking up the Channel 4 Award For Special Contribution To Comedy at the British Comedy Awards in December, Lee Evans described Addison Cresswell as "completely mad, but I love him with all my heart".
The top 10 of The Such Small Portions list is as follows:
The Monty Python members

The full list from 1 to 100 is available to read at Such Small Portions

Andrew Mickel, co-founder and editor of SSP, said: "A lot of the debates the judging panel had were over whether older acts still have an influence on today's scene - Mayall & Edmondson topping the list for that disagreement - or whether new acts, particularly those that have thrived on Mock The Week, are the real definers of taste, as epitomised by Russell Howard.

"I guess we'll see that trend continuing in the next few years. The real question mark for the future of the order, though, is over whether there's a comedy bubble that's going to burst. So much of the top of our list is made up of people who have made their name because of money - if that money vanishes, what happens to them?"
Share this page