Mel Smith dies aged 60
Mel Smith dies aged 60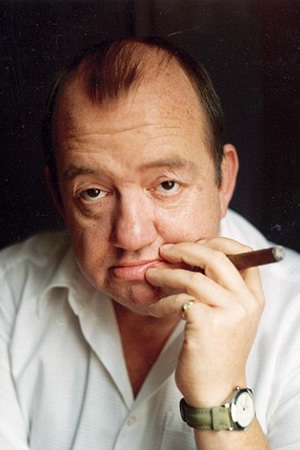 Mel Smith, the comic actor, writer, producer and director has died.
The star's agent, Michael Foster, confirmed that Smith passed away at his home yesterday morning. In a statement released on behalf of Smith's wife, Pam, Mr Foster said: "Mel Smith, comedian and writer, died on Friday aged 60, from a heart attack at his home in north west London."
Smith was perhaps best known for his work on hit sketch shows Not The Nine O'Clock News and Alas Smith & Jones with comedy partner Griff Rhys Jones, but he had a wide and varied career.
Born as Melvin Smith in west London in 1952, Smith went on to attend Oxford University, which was where his comedy career started. As a member of the Oxford University Dramatic Society he performed at the Edinburgh Fringe and was seen there by John Lloyd, who was directing the Cambridge Footlights in the same venue. When Lloyd was given the opportunity to direct a satirical TV series for the BBC, he called Smith and asked him if he'd like to perform.
The show became Not The Nine O'Clock News, the highly-regarded sketch comedy which ran from 1979 to 1982. Starring alongside Smith were Rowan Atkinson, Pamela Stephenson, Chris Langham and Griff Rhys Jones. It was the latter comedian whom Smith quickly formed a particular rapport, and a double-act partnership emerged.
Rhys Jones said today: "To everybody who ever met him, Mel was a force for life. He had a relish for it that seemed utterly inexhaustible. He inspired love and utter loyalty and he gave it in return. I will look back on the days working with him as some of the funniest times that I have ever spent. We never had an argument about which part we should play or how we were going to do something. We never had an argument, in fact.
"We loved performing together. He was a gentleman and a scholar, a gambler and a wit. And he was a brilliant actor. But he never took himself or the business too seriously. We are all in a state of shock. We have lost a very, very dear friend."
Across his career, Smith took acting roles in a number of TV comedies, including The Kenny Everett Television Show and the sitcom Colin's Sandwich, in which he played the lead role of Colin Watkins, a British Rail clerk who aspired to be a horror writer.
He will also be remembered for his novelty hit record, Rockin' Around The Christmas Tree, a duet with Kim Wilde that was released in 1987 in aid of Comic Relief (video below), charting at #3. She tweeted this afternoon, "Proud to have been your Christmas cracker, Melvyn. X"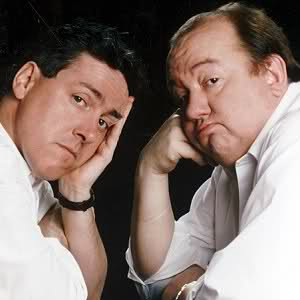 Jones's most successful programme was Alas Smith & Jones, which originally ran for four series on BBC2. After making two series of The World According To Smith & Jones for LWT, the duo moved to BBC1 for another sketch show, Smith & Jones, running for another six series. The ten cumulative BBC series ran from 1982 to 1998, resulting in some of Britain's best-loved comedy sketches, including a popular, recurring series of head-to-head discussions (pictured), dubbed 'talkbacks'.
In 2006, the BBC invited the duo back to present The Smith & Jones Sketchbook. Recorded in front of a live audience, the show was primarily a look back at their best known sketches but also featured some new material.
Smith's last major TV role was in Dancing on the Edge, a BBC drama written and directed by Stephen Poliakoff about a black jazz band in London in the early 1930s. The series aired in February and March of this year, with Smith playing the role of Schlesinger.
However, Smith wasn't just an actor; he was also a writer, producer and director. His work behind the camera included directing his former Not The Nine O'Clock News cast mate Rowan Atkinson in Bean: The Ultimate Disaster Movie, the first Mr Bean film. A global runaway smash-hit, it made over $251m at the box office in 1997.
Jones was also a successful businessman. With Griff Rhys Jones, he founded production company Talkback Productions, named after their famous sketches.
The business quickly grew to become one of the biggest suppliers of light entertainment shows, with its output including I'm Alan Partridge and the popular panel shows Never Mind The Buzzcocks and They Think It's All Over?. In 2000, the company was sold for £62 million, making its founders both multi-millionaires with a reported £23m share each.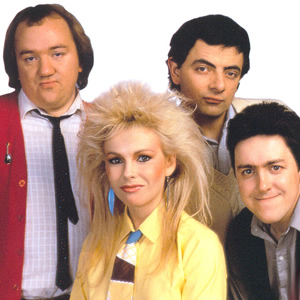 Not The Nine O'Clock News producer John Lloyd told the BBC this afternoon that his friend had been ill for some time, but added: "Mel did an extraordinary thing - he taught us all how to make comedy natural. He was a brilliant theatre director... Not only was he a great actor, he was a wonderful editor."
Rowan Atkinson also released a statement: "Mel Smith - a lovely man of whom I saw too little in his later years. I loved the sketches that we did together on Not The Nine O'Clock News. He was the cast member with whom I felt the most natural performing empathy. He had a wonderfully generous and sympathetic presence both on and off screen.
"He was also an excellent theatre and movie director, doing a wonderful job on the first Mr Bean movie. If you direct a comedy movie that takes 245 million dollars at the box office you've done something pretty special, and I never thought he was given enough credit for this success. I feel truly sad at his parting."
Tributes have been pouring in, with a number of those involved in the comedy industry taking to Twitter to explain how Smith was important to them.
Stephen Fry said: "Terrible news about my old friend Mel Smith, dead today from a heart attack. Mel lived a full life, but was kind, funny and wonderful to know."
Graham Linehan, who co-wrote Father Ted with Arthur Mathews, said: "Very sad to hear news of Mel Smith's death has been confirmed. He and Griff gave Arthur and I our break. Was always so kind & generous to us."
And actor Peter Serafinowicz said: "Very sad to hear about Mel Smith. He did something very kind for me early in my career even though he hardly knew me. Such a funny man."
Here is one of most famous Not The Nine O'Clock News sketches, in which Smith plays a scientist who has taught a gorilla how to speak:
And here is the Mel & Kim music video filmed for Comic Relief:
See Also: Mel Smith's 20 Best Comedy Moments
Share this page