Where Are You Really From
Comedians Eshaan Akbar, Nim Odedra and Sunil Patel have launched new BBC Asian Network podcast But... Where Are You Really From? on BBC Sounds. Using this question as a jumping off point, the series sees them speak to top notch guests such as Sindhu Vee, Ahir Shah and Kae Kurd...
We find out more about the show from them below. Eshaan Akbar is perhaps best known for his appearances on Frankie Boyle's New World Order and Mock The Week, whilst Sunil Patel has appeared on screens in shows such as Borderline and The Big Asian Stand Up. Nim Odedra is a fast-rising star in sketch comedy, who has recently popped up on Muzlamic and Revolting.
Tell us about the podcast. Why did you want to be part of it?
Nim: I think it's a funny way to look at an awkward question that many people ask or get asked on regular basis. I wanted to be part of the podcast because I like that it takes a refreshing approach to talking about culture/race. We laugh about the different experiences we've had growing up and prove that there isn't just one correct way of being Asian.
Eshaan: It's a question I've been asked a lot - by both Asians and non-Asians because of my dual heritage - and I wanted to hear and learn about the experiences of others similar to me!
Sunil: I thought it would be interesting to see what other people's responses to the question would be, since it's something I've never really asked myself or thought about much.
Is 'where are you really from' something Asian people hear a lot then?
Sunil: Yes but mainly from newsagents. Occasionally we figure out our families came from the same town or something. Neither of us knows what to do with that information so we go quiet for a bit and I leave.
Nim: I get asked it by people in and out of the Asian community, although I mainly get asked by Asian men in Indian restaurants when I'm with the white in-laws. I'm then forced to talk about Gujarat... which I wouldn't mind, except I've never been there and I have no relatives there that I know.
Eshaan: Yup! However, nowadays because of everyone trying to be woke, they reverse it slightly. It's more "I've been to India on holiday..." as a near-opening gambit. Or stories about their Asian friends from when they went to school - even though I don't care about them or their friends.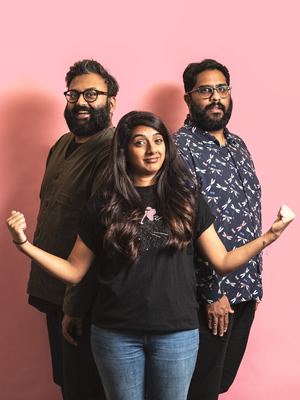 How would you describe your role in the show?
Nim: I'm the co-host with a balance of both the East and the West. So I'm often the decider between how freshie Eshaan can be and how Westernised Sunil is.
Sunil: I think they brought me in because I don't know much at all about being culturally 'Asian'. I grew up in Bath, I have seen one Bollywood movie and I didn't like it, and my mother gets her curries from M&S. Hopefully I can contribute to the podcast by asking the questions that a white person is too scared to ask.
Eshaan: Without me, there is no podcast
How do guests respond to the question? Were any of their responses surprising?
Eshaan: Generally, I've been surprised at how many guests have responded to "where are you from?" with their ancestry/heritage and "where are you REALLY from?" with where they grew up (South/East London etc). That's been eye opening for me.
Sunil: It was so unpredictable. Every guest had their own take on it and the variety of answers was the most surprising thing.
Nim: I thought the responses were all completely different... What I found interesting is that most of our guest were first generation British Asians but we all had really varied experiences of growing up in the UK.
Who would be a dream guest for a future episode?
Nim: Romesh Ranganathan all day!
Eshaan: Someone like Riz Ahmed would be interesting. Sunil tried to get Malala Yousafzai. We are still working on that one.
Sunil: A white person.
What other podcasts do you listen to/are fans of?
Eshaan: Quotas Full is absolutely brilliant - and not just because I'm on it from time to time - it's real, raw and unfiltered with voices you don't often hear in the luvvy duvvy podcast world. 80 episodes in and one out every week.
Nim: I listen to James Acaster and Ed Gamble's Off Menu podcast, and Gemma Collins too...
Sunil: No specific podcasts but I'll listen to anything about Vladimir Putin or Kanye West. Fingers crossed they get together one day and do a podcast about what they've been up to that week.