John Osborne
One random comedian, eight random questions; it's the ultimate test of funny person and fate. This week's correspondent is actually a writer of comedy and a performer of other things: hugely acclaimed storytelling shows, a selection of which have just popped up on Bandcamp for whatever price you deem appropriate. That page is an absolute treat, and includes his latest opus.
"You're In A Bad Way was the storytelling show I performed at the Edinburgh Fringe last year," Osborne explains. "It's about getting older, music, friendship and festivals. It starts off when my friend found out her dad had dementia, and it's a story about her dad and the unexpectedly beautiful journey that it took him on."
"It felt like a story I'd not heard before, so I started to write it to see how it felt. Just because you've been diagnosed with something it doesn't mean it's the end."
Osborne made his name with the storytelling show John Peel's Shed, which was adapted for Radio 4. He then co-wrote the Sky One sitcom After Hours, with a starry cast and Craig Cash directing (more on that below), which you can find on Now TV. And the autobiographical book Radio Head, an inspiring tale about making the most of mundane situations, which seems apt right now. How have his recent months gone?
"My lockdown has been up and down. I work as a support worker for Mencap, which means my job has continued, but it's so different now; so worrying and restrictive. Creatively, I did nothing for the first few weeks but now I'm working on a couple of new bits and pieces, and uploading the audio of all the theatre shows I've made, to Bandcamp. I'd definitely not have got round to that without the lockdown. Hopefully it'll encourage me to write something new too."
John Osborne, your Random 8 await.
Who was your childhood hero (real or fictional)?
I liked the boy in Woof who could change into a dog. I thought that would be good, although thinking about it now he didn't have any control over it, so it probably held him back quite a bit.
I remember listening to Just A Minute on Radio 4 with my mum when I was about ten years old and thinking Paul Merton was the funniest person I'd ever heard in my life. Those episodes of Just A Minute became a big part of my life. I also loved Bruce Grobbelaar.
What's the best thing you ever bought a ticket for?
I got tickets for me and my dad to watch Billy Connolly at Sheffield Arena for his birthday. My dad is a huge Billy Connolly fan and I was really excited to get tickets. It felt really special. Billy Connolly.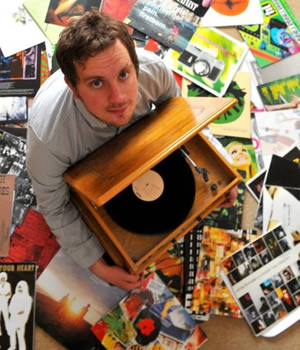 Is there an album that gets you through the tougher days?
I recently read James Acaster's Perfect Sound Whatever book, about albums released in 2016. I loved it, an incredible music memoir, and the Spotify playlist he's made to accompany it has been my constant lockdown soundtrack. Sometimes you need something slightly different to listen to when there are unusual circumstances.
Who's the most interesting person you've ever met?
I'd probably say Craig Cash. Me and my friend Molly wrote a script for a TV thing and he got involved with his production company, and when it was commissioned for Sky he directed it. We spent hours with him. It was a very special time. We didn't interrogate him often, but occasionally we'd ask questions about Mrs Merton or The Royle Family or the nineties.
We learnt so much about writing from him. We were very lucky to be able to talk to someone who knew so much, and to talk to someone who had such an incredible view of how things can be made and how to create comedy.
Your biggest turning-point?
Joining the creative writing society at my university. I didn't really love my course, but I always liked writing stories and poems and joined the UEA creative writing society, who met on Friday afternoons. Everyone read their stories, poems, chapters of novels to each other and gave feedback and then went to the bar.
That's when I was eighteen and a lot of people I met there are now novelists, filmmakers, performers and writers, and most of my best friends are people I met through that creative writing society. Pretty much everything I've achieved has been a direct consequence of going to those creative writing society afternoons.
How do you feel about cats (the animal, not the musical)?
They seem to be doing really well. I'm happy for them to continue.
What's your favourite bit of furniture ever?
In my front room I've got the armchair that used to be my grandad's. I have very little personable memorabilia but that's quite a beautiful thing to own and occasionally I allow myself to sit on it. I've read some good books on that chair and I bet he did too.
Your greatest sporting moment?
The student football team I played for at UEA once beat the team who were top of the league and I scored both goals. I think about that most days. We deserved it too. We'd even planned tactics.