Edward Aczel
One random comedian, eight random questions; it's the ultimate test of funny person and fate. This week's mighty maverick is Edward Aczel, the king of 'anti-comedy,' whose latest show Artificial Intellect gets a run out at London's Bill Murray on November 25, after a successful run at the Edinburgh Fringe.
The question is, did Artificial Intellect evolve during the Fringe, like a sentient being?
"So, I wanted to produce something which was 'in theory' straight stand-up - as opposed to things I'd done in the past which have 'in theory' been themed (or mainly, I used to include three videos)," says Ed.
"This show is a bit of a departure from that format - no videos this time. I road tested things quite a bit to start off with, but the chance to do it every day in Edinburgh, it makes the show much better.
"I love the process of starting out with absolutely nothing in March and having something which people love at the end of Edinburgh. Anyway, it exists... and it's perhaps the last time I'll perform it, as I'm going to Nepal for three months (I may not return if I become a monk)."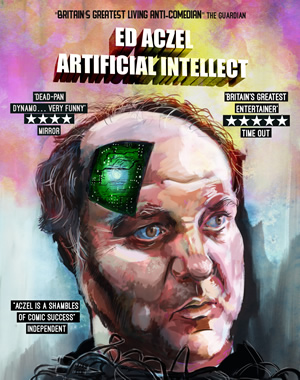 Although if he returned to the circuit, as a monk: that would be amazing. The show has a great poster too - was there a big concept behind it?
"I had the brilliant Poppy Hilstead for that and everyone has universally loved it," he says. "I'm afraid the show doesn't really deliver on the theme. I wanted to call it Ed Aczel does his worst material for the F**k of it (because that's what it felt like in March). Anyway it's just me talking in a slow, shambolic way... but that's what sells all the tickets, isn't it?"
Let's hope so. Ed Aczel, your Random 8 await.
What was your childhood career dream?
When I was a kid I wanted to be a buccaneering businessman, like Robert Maxwell or Tiny Rowland, or best of all Howard Hughes. I know!
Sadly, history has proven I'm a bit too risk averse, far too honest and totally lack any entrepreneurial spirit, i.e. I have all of the wrong qualities for that kind of thing - to be a corporate raider. Anyway, I suppose I'm glad it didn't work out that way.
Which film would you love to have acted in (and which part)?
I'm a bit of a '70's freak, and I would definitely have liked to have been in Apocalypse Now, The Directors Cut. I'd be Captain Benjamin L. Willard (Martin Sheen) - of course - because he goes on a messed-up road trip which leads him all the way down the rabbit hole.
It's a work of art. Although, controversially, I didn't think Marlon Brando was that good in it (or is that the point?). Also, all the actors seem to have been going through some kind of '70s style extreme personal crisis off set, and Francis Ford Coppola went rogue too. You can't buy that kind of experience.
What was your worst ever day at work?
I wanted a voiceover agent, and decided to get a voiceover reel to punt around. I was recommended someone who put together amazing voiceover reels.
They sent me some voiceovers to read through before the recording. Which I digested (probably not enough). Anyway, I arrived, was sat in a room and they told me to start. I could tell they weren't happy because they kept stopping me and pointing out how badly I was doing.
After about 15 minutes they drew a line under it all. They concluded that I was dreadful at it and they felt uncomfortable allowing me to be part of their industry. They were therefore taking the decision to ensure I was not allowed to complete the reel (and the world of voiceover would never hear my voice).
Things obviously didn't turn out as planned. Sometimes you take one step forward and end up taking two steps backwards. It slightly stopped me in my tracks... and I am yet to start the fight again for a voiceover agent.
Although I tend to believe when you fall off a horse you should get back on it again straight away. They weren't my kind of people - you should never let the buggers get you down.
Who's the most interesting person you've ever met?
I got the chance to 'act' for an afternoon with John Cleese in a sitcom. He's always been a hero of mine - and it was amazing to get a very limited (but better) understanding of what the real person was like. He's a larger than life character and a force of nature - not quite what I expected.
I also spent some time on a film called The Favourite, watching the director Yorgos Lanthimos work - I've never been around someone who, at that moment in time, had the whole world in his hands.
What's the best performance you ever gave?
When friends and family from outside stand-up come to see you at a gig, they tend to take away what they've seen and think that's what it's always like. There's not much you can do about it - good or bad - that's their memory.
So, it has to be when my family and friends are in the audience, the room is full and I do well... possibly at the Soho Theatre or Edinburgh, but it doesn't matter. The beauty of live comedy is it's live, in the moment and unrepeatable - but memories stick and sometimes that matters.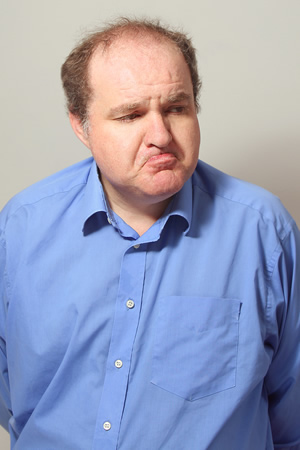 Who do you do a decent impression of?
I could once do a mean Michael Caine and also got away with a cheeky Vladimir Putin impression for a whole Edinburgh Fringe - universally praised as 'pants'.
Stella Street was amazing wasn't it? John Sessions and Phil Cornwell, now they can do impressions. With my good looks, just imagine what I could have achieved with their talent too...
What's your favourite phrase or expression?
These are my top five:
1. There're more ways than one way to skin a cat (practical advice).
2. Patience is a virtue (practical advice).
3. Life is endless until you die (sounds cool).
4. Ever tried. Ever failed. No matter. Try Again. Fail again. Fail better (Practical advice for my line of work).
5. Jealousy Jo has a mouth like an 'O' (goes without saying).
I fully accept number five doesn't make a huge amount of sense.
What's the best thing you ever bought a ticket for?
Glastonbury. Been a few times and it's the best thing in the world. I first went 30 years ago - I remember seeing Billy Bragg and The Pogues. Then later I saw David Bowie and Radiohead.
Generally, its more about what you can't remember. Although I once had an evil spirit removed from my soul by a faith healer in a caravan for £20, and then got thrown off helping to draw the 'Glastonbury' mural - because the quality of my artwork was, I quote, 'irrelevant' - and also bought one of Lord Tryon's suits at a second hand stall. Which then fell apart.