Catherine Bohart interview
Catherine Bohart is a comedian and writer based in England, best known for her political satire on BBC Two's The Mash Report, her solo stand-up shows Immaculate (2018) and Lemon (2019), and her appearances on TV shows such as The Stand Up Sketch Show, 8 Out Of 10 Cats, and Jon Richardson: Ultimate Worrier. Here she discusses touring Lemon across the UK and Ireland, fresh from a sold-out, critically-acclaimed run at the Edinburgh Fringe Festival.
Hi Catherine. Lemon is a punchy, engaging show. Was it a challenge to write?
It's the first show I've had to write in 11 months. With Immaculate, my first show, I could pick from effectively everything I had done up 'til then. I was 3.5 years into comedy before I debuted, so although the first 1.5 years were pretty much all tosh (ha ha!), I had a fair bit of material to work with.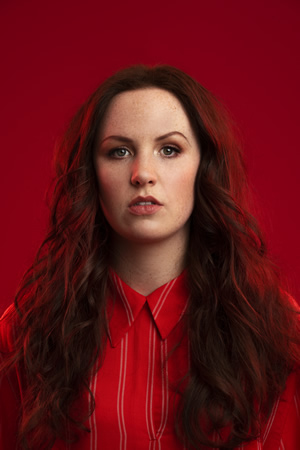 The second one was harder because it's a much tighter timeframe, and because you don't want to cover old ground. Also, I didn't really have an idea... but then, in the first show, a woman called me 'disgusting' for talking about my sex-life on stage, which was funny - well, funny but slightly hurtful! - because that show wasn't about my sex life at all. In fact, all I really did was mention my sexuality.
But then I got thinking about how people conflate those two things when it comes to queer people. For instance, even when you look at the debate at the moment about whether or not gay people should be mentioned in Sex-Ed, it's treated as if it's a very sexual thing just to mention our existence. And it's like, 'we don't have to show the kids porn, we could just tell them some people have two dads!'
I think that conflation happens an awful lot, and so I wanted to figure out why that is, and also what it is about women talking about sex that people dislike so much. So that's where the show came from. And thankfully I have a mother who is always coming out with great stuff. A lot of the time I was just jotting down what she'd said...!
Sex is something that we all think about, all the time, and isn't necessarily always smutty. It's just interesting, I think. And so that's what I tried to do with the show, and I had a lot of fun.
We were recently at the Funny Women Awards final, where at least 8 of the 10 comics were LGBT. A running joke was that no-one is straight anymore! Do you feel that queer folk are being represented more frequently?
People are starting to realise that it's important. Also, in a much more cynical fashion, they're starting to realise there's a market for it. People want to see themselves, and will pay to see themselves represented, and it's not just in comedy. There's a societal shift, and we're generally more accepting, so it's less of a big move by a panel show or a TV show to represent it. There's a definite market there.
Also, people are always excited by something fresh that hasn't been said before, so I think a lot of what's exciting about women and people of colour and queer people and people of different monetary and financial backgrounds is that we haven't necessarily told those stories before. It's as much good business as it is good practice that is making that happen.
But it's also worth remembering that queer people and LGBT people have been in comedy an awfully long time. Maybe in the sheer numbers, but if you consider the comics that I revere, both before my time and not even a whole generation ago - people like Susan Calman, Sandi Toksvig, Zoe Lyons, Jen Brister, Gina Yashere... so many. And that's just women.
But it makes sense, right, because comedy is often a vehicle through which to break down preconceptions and barriers, and explain things or show things that maybe people wouldn't be open to listening to otherwise. Also, it's a neat defence mechanism. There's a reason so many queer people go into comedy, and it's because we've had to learn to be funny to excuse our presence a lot of the time. Or to explain or justify ourselves.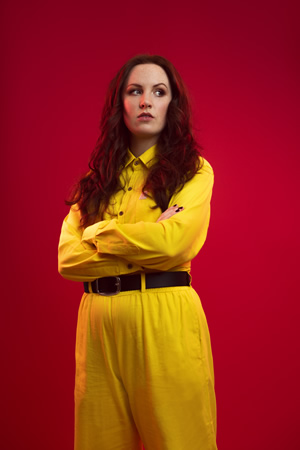 Not to be too nerdy (!), but one of the academic theories explaining the disproportionate commonness of queer comedians - and we're speaking from a straight, white, cis perspective, so forgive us! - is that many in the LGBT community have had to perform a role from a young age, have always had to fit into environments (schools, families, etc.) that weren't precisely their own. They're used to having to put on a mask and conform to expectations, societal or otherwise.
That's so interesting, and so true. Also, in order to put on those masks, you first have to understand what or whom you're posing as, so you have to be very observant. It's so cliched, but it's also that idea of 'if you can see it, you can be it'.
And I think performance is one of the few spaces where queer people don't feel underrepresented, and so it doesn't feel implausible to be there. It's also true that even when we don't want to be [acting a role], there's a pressure on the queer community, above all queer men, to be performative, to be camp, and they're all objectified as the 'entertaining entity'.
Mainly I think that if you're someone who doesn't feel heard, it's a really attractive job, because you have a microphone in your hand. Comedy is a really accepting place, full of oddballs and misfits, whether you're queer or otherwise. I think even the straight, white, cis men are there because they feel, in some way, that they don't fit in.
We've seen some contemporary pop culture described as 'tell-all' - personal, warts-'n'-all, quite confessional - and your comedy definitely feels intimate. Audiences feel that they know you personally. That woman's comment was about you, and you made it into a whole show! You talk openly about your relationship with your partner, your sexuality, etc. What's it like to talk so frankly about who you are?
Great question... No-one's ever asked me that before! At the start it wasn't a conscious choice: I just talked about what I thought was funny, gave me a point of view, and differentiated me from others. And I've always enjoyed comics who let you in, who make themselves relatable. But I didn't decide, "I'm gonna be a confessional comic, I'm gonna bare all of myself". I just mentioned aspects of myself, and those were the things that people were receptive to, and then it snowballed!
It can be really vulnerable, definitely, and exhausting. But it's also extremely rewarding, because when people like your stuff, they buy into you, and they see themselves, and they feel that feelings they can't express or hadn't yet expressed are being voiced or explained to the people they brought with them to the show.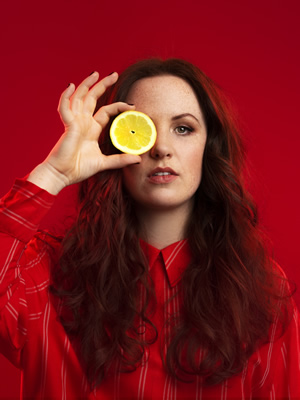 I saw that particularly when I talked about my OCD, and a lot of people told me, "I didn't know how to articulate that to my friends/parents, and I don't think they understood the severity of it, because I couldn't quite express what I felt."
But it also means, on occasion, that when people don't like you, they don't like you! And you're like, "OK, cool, you don't just dislike my jokes, you're not digging my personality!" It was quite draining when I did my first show, because there was a lot of press.
On the whole I can curate the boundaries, saying "Here's as much as I'll give and no more", but that doesn't stop people asking you far more intense questions. I actually found that harder than the shows: I'd talked about being in hospital with my mental health, and then people I didn't know, whom I'd met 4 minutes before for an interview, would go, "Cool, so... have you ever tried to kill yourself?" And you're like "Woaaah, dude, I just got here, and I don't even know your surname. That's a really intense question."
So I think it can be hard at times in terms of what permission people think they have, or that I've given them, through comedy. But I don't know how to do it any other way! If I did I'd write one-liners about... cars! It's the only way I know.
Sure. Stand-up needs and nurtures a wafer-thin line between person and persona.
Definitely. And we're increasingly pushed to diminish that line as much as possible, because it's what people want. An audience can smell bullshit, and they really resonate with authenticity.
But I also think, from a cynical, marketable point of view, that there's so much pressure from others, who go "Differentiate yourself, differentiate yourself, differentiate yourself", and this [opening up about one's life] is often the best way to do that. But we do have to be careful and mindful, because that has consequences.
In Lemon and elsewhere you often talk about your nearest and dearest: your Catholic deacon father, sex-positive mother, and partner and fellow comic, Sarah Keyworth. What's it like to be in a relationship with a stand-up? You've spoken about how you fight for good material when something funny happens!
In that regard, incredibly annoying! Whoever has a gig first dibs it! I concede on stuff that technically happened to her, even if I was there and I was part of the story. If my partner wasn't a comic I'd be like, "Sweet, that's a bit!", but you have to be like, "Well, I guess she was the subject in the sentence, so it's hers!" But in every other regard, I love having a comedian as a partner.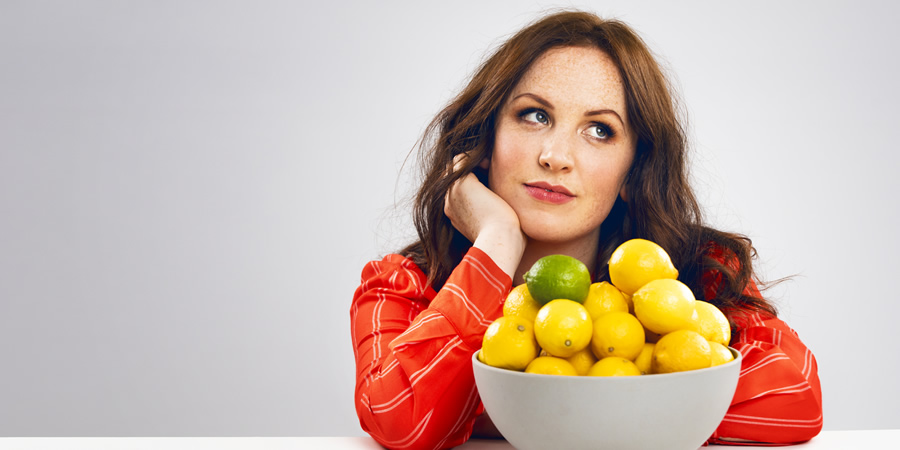 Obviously loads of comics date comics, because we're really hard to date! We miss every birthday, wedding, christening, party... We're never in on weeknights, we never go to anything, we're entirely narcissistic and self-involved from about May through September, and we talk about work a lot. And every time something interesting happens, we're like, "Fascinating. Let me just put that in the notes on my phone." But it works really well for us. We can see each other during the day, and she understands why I want to travel to Norfolk for a free gig, or whatever!
I talk about it on stage, because it's just interesting - if my partner was a doctor, I'd talk about that too. But the language around it can be quite toxic. You've asked it exactly right (how it is, "What's that like?"), which is lovely, but loads of people will make the assumption out the gate, like, "Oh, it must be really competitive/cutthroat...". And you're like, "Not really...!?"
And that's such a weird assumption, so I'm like, "Ah, no, because... I really like her, y'know? Like, we're in love...!?" ha ha. And if that's what they assume about a relationship, maybe they should be dating someone they actually like more than they do...! It's like, C'mon, guys! You wouldn't ask two nurses whether it's competitive. There's not a finite number of jobs over which the two of us can compete. We're very different comics and we have very different careers, and there's space for lots more than two comics!
I also trust her judgment totally, because she understands how sensitive I can be about jokes. If she's telling me something is bad, she'll word it delicately. Her favourite go-to phrase is "Y'know, I think I prefer the other one". Or, "Y'know, I think you've got better stuff". And then I know that that's trash! But she'd never say that, which I like. We have a little code, which I really appreciate.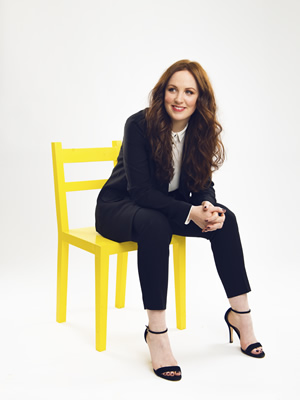 There's a keen political strain running through your comedy, from writing for The Now Show and Newsjack, to appearances on The Guilty Feminist podcast, to The Mash Report. In Immaculate you talked about Repeal the 8th and mental health...
It's what I think about, what I care about... Well, let's be honest, I think about whether my nails are chipped more than I think about politics!... But I do try, I do care. Increasingly, because of The Mash Report, I'm giving myself more permission to do politics, because I used to waver, thinking "The audacity of doing politics in a public space!" Ha ha. Also, when I first moved here [London], politics was something I watched in the periphery, but it's now having day-to-day impacts on my life. That's incredibly irritating, but it does make it feel more present, and more necessary to talk about it.
But, most importantly, it's funny! It's funny that we've constructed a system we think we're bound to... We've created these rigid rules for ourselves, and then we go, "Well, let's all just carry on through the arbitrary rules!" And I'm not just talking about Brexit specifically, but about government as this idea we've created but then think we have no bearing on thereafter. We're like "It is what it is".
Honestly, watching people self-police is always amazing, and always funny! We're eternally inept and incredibly selfish, but also hugely caring and empathetic creatures. All together that's one massive, hilarious contradiction, and it's not gonna get old any time soon.
It's that gap between what human beings are versus what we could be, or ought to be.
Totally. Not to be too simplistic, but I feel that our politics are the manifestation of our societal ethics. What we will and won't stand for is something to be watchful of. Also, if we're not mocking at those in power, what are we doing?
I'm trying to feel more and more entitled to do politics... more "Why not?" than "Why?" Everyone else seems to be talking about it! It's definitely been a constant through-line in my work, but that's because I've been talking about identity politics that pertain to my life.
Lastly, we wanted to ask about nationalities and identities. You're an Irish comedian living in London... or, is that how you'd put it?
Ha ha ooh, that's a tricky one! Here's the thing: theoretically, philosophically, intellectually, I think nationalism is what gets us all into trouble. It creates wars, it forms incredibly bizarre, rigid rules to which we all cling for no apparent reason, on the basis of arbitrary considerations like where we were born, the land beneath us, etc. And obviously I understand that such things are problematic. But if someone calls me a "British comic", I basically want to rip my skin off! So it's a tricky balance... because equally I'm like, "Nationalism is bad. Don't you dare call me a British comic". I know that tension is ridiculous! But I suppose I am an Irish comic, yes.
Sure, one soon feels like the puppet in the Depressame Street video you did on The Mash Report, tearing one's hair out when discussing the history of Ireland and Britain...!
Exactly! I'm like, "Yeah, I'm an Irish comic", but then again I 100% belong to the British comedy scene. Oh God, what an answer. "I'm Irish, but I belong to the British". Yeesh! Ha ha.
I started here in Britain, and I've only gigged at home 5 or 6 times. In England I'm quite Irish in my turn of phrase on-stage, and in terms of my influences, and being Irish has helped me massively in terms of having something different to say, having a different point of view, having a perspective on Britishness (although that's something I've not necessarily explored onstage - yet).
Being a foreigner has never been a bad thing, but then I'm a white Irish lady, so why would it be! It's a pretty easy position to be in. I think of myself as an Irish comic who is part of, and created by, moulded by, the British comedy circuit. 100%.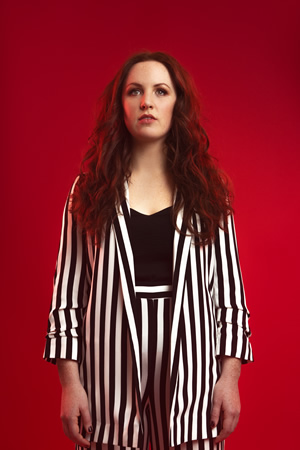 What are you planning after Lemon?
To get my butt in gear and write another show! I want to go back to Edinburgh next year, and I want to be a better comic. That's always the goal. And a better live comic. I'm starting to figure out who I am on stage, but it's still a process.
My favourite stand-ups are those who've been going for a very long time. I'm under no illusions about the fact that this is a job that you improve upon over time. We tend to fetishise 'newness' in comedy, especially with debuts - we put so much pressure on people to be amazing straight out of the gate. And that's so weird, because in every other profession experience = capacity, so it's strange that we're like, "Oh, what's this person going to do on their first show!?" It should be, "Oh, what's this person going to be like on their tenth!"
So I'm excited to be working on a new show, and about a couple of new projects that I'm not allowed to talk about yet... Also, I'd love to do something with Sarah [Keyworth] at some point.
And what might that next show be about?
Well, I say this in October, but come May [2020], it might look very different! But returning to that idea of 'confessional', I think I've talked an awful lot about my own life, so I'd like to talk more about how that's influenced my perspective on the world. And, not too dissimilar from Lemon, I'd like to talk about feedback, because I think there's a lot of it in this day and age, in comedy especially, and everyone seems increasingly enthusiastic to give it, but less so to receive it. But come May, it could be a show about cars! Might have to research those one-liners, who knows!
Ha ha! We look forward to petrolheads turning up to a Catherine Bohart gig.
Oh, I'd love that! Can you just imagine? I'd be like, "Hey lads, wanna talk about queer identity? Let's do this!"... "And whether nationalism is central to my identity? A new genuine existential crisis I'm having?" Oh, won't they love that! Ha ha.
You heard it here first, folks! Catherine, it's been a pleasure.
Likewise!