Rob Kemp
Rob Kemp: The Elvis Dead
Music
12am (1 hour)
3-14, 17-21 & 24-27 Aug 2017
5 (or Pay What You Want)
This is a 2017 show that has now finished.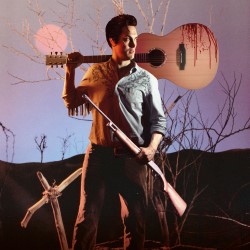 Show details
Music starring Rob Kemp performed on the following days in August 2017...
Mon
Tue
Wed
Thu
Fri
Sat
Sun
29
30
31
1
2
3
4
5
6
7
8
9
10
11
12
13
14
15
16
17
18
19
20
21
22
23
24
25
26
27
28
29
30
31
Venue details
Cult classic horror movie Evil Dead 2 reinterpreted through the songs of Elvis*. Every now and then an idea strikes that seems extremely absurd and yet at the same time bizarrely fitting. A tribute concert to the sequel to the ultimate in gruelling terror... and the King of Rock'n'Roll is such an idea. Brilliantly executed: winner of Best Show and Best Musical at Leicester Comedy Festival 2017. 'Sure-fire hit. Without doubt the best show I've seen in ages' (Bob Slayer). *Presley
A baffling but brilliant re-telling of the film The Evil Dead 2 via the songs of Elvis Presley, this works far better than the premise would suggest! Even if you don't know the film, you will be swept along with the singalong potential, hilarious lyrics and sight gags. Starting at midnight in an ideal room at the Monkey Barrel, it's a great way to end the day.
Share this show
Reviews
Press coverage
Visitor reviews

Bob Slayer
Outstandingly amazing!