Piff the Magic Dragon
Piff the Magic Dragon - Breakfast at Piffany's
Magic / Cabaret
10:40pm (75 mins)
14-29 Aug 2015
11.50 - 12.50
This is a 2015 show that has now finished.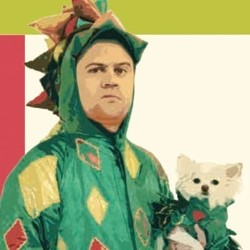 Show details
Magic / cabaret starring John Van Der Put performed on the following days in August 2015...
Mon
Tue
Wed
Thu
Fri
Sat
Sun
03
4
5
6
7
8
9
10
11
12
13
14
15
16
17
18
19
20
21
22
23
24
25
26
27
28
29
30
31
1
2
Venue details
What do Shania Twain, David Copperfield and Penn & Teller have in common? They've all had Breakfast at Piffany's, and this year you can too. Direct from Las Vegas, Piff the Magic Dragon and Mr Piffles return to the Fringe with new tricks, old snacks and sweet, sweet prizes. 'The right amount of wrong' (Las Vegas Review Journal). 'Jaw-dropping ... An hour with Piff is priceless' **** (List). 'Piff the Magic Dragon steals the show. A stand out act' (Metro). 'A complete mastery of his craft' (Scotsman).
Share this show
Reviews
Press coverage
Full press release
Direct from Las Vegas, one of the greatest and most unique international comedy-magic acts returns to the Fringe with an hour of new tricks, old snacks and sweet, sweet prizes with a few very special guests along the way. And yes, he's bringing the dog too.
Part magic show, part game show, part cry for help, Breakfast at Piffany's sees Piff split the audience into teams to fight for points and prizes, and along the way witness incredible magic tricks, delicious snacks, surprise special guests and epic thumb wars.
A smash hit on the Las Vegas Strip, Piff has dished up desserts to Shania Twain, sold Hollywood star Brad Garrett a croissant for $1000, and dazzled David Copperfield himself with sleight of paw dragony miracles. Piff and Mr Piffles (the World's First Magic Performing Chihuahua) fly into Edinburgh for sixteen nights only to give UK audiences a taste of what they've been missing.
The evening culminates in the Auction of the Croissant to benefit Edinburgh charity The Sick Kids Friends Foundation (but don't tell Piff, he's planning to buy a fancy new castle). In Las Vegas Piff raised over $15,000 in less than three months by selling stale pastry treats to minor celebrities. It's unlikely he'll repeat that feat in a town where punters balk at a £4 beer, but he'll give it his best shot.
But how did a deadpan dragon and his conjuring canine come to be billboard stars in Sin City? In late 2013, Piff's stand-out spot on ITV1's Penn & Teller: Fool Us (a clip that racked up over 12 million YouTube hits before being removed) caught the attention of a fancy Las Vegas producer who asked the dynamic duo to relocate to the Mecca of Magic and headline a brand new show at The Cosmopolitan of Las Vegas.
Having toured with Mumford and Sons and performed to countless audiences in world famous venues such as New York's Radio City Music Hall, London's O2 and Shakespeare's Globe, not to mention sell-out seasons at the Sydney Opera House, Soho Theatre and the Adelaide Fringe, Piff decided he needed a break and, following in the footsteps of his magical idols, retired to the desert. But after a year of lounging by the pool with Carrot Top and swapping magic tricks with Penn & Teller, Piff missed things like rain, pessimism and free health care. Catch him quick before he comes to his senses and returns to the City of Lights and Fat Tourists.
---
Tweets by thepiff