Norris & Parker
All Our Friends Are Dead
Sketch show / Improv
8:35pm (1 hour)
6-17, 19-23 & 25-29 Aug 2015
8 - 10
This is a 2015 show that has now finished.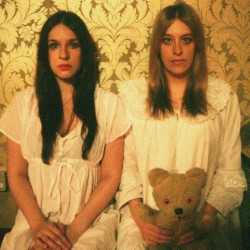 Mon
Tue
Wed
Thu
Fri
Sat
Sun
03
4
5
6
7
8
9
10
11
12
13
14
15
16
17
18
19
20
21
22
23
24
25
26
27
28
29
30
31
1
2
Venue details
Dark and anarchic sketches full of twisted characters, satirical songs and close to the bone tragicomedy. 'A relentless hour of fast and furious comedy' ***** (GoodReview.co.uk). 'The bizarre isolationists, the power crazed, the sublimated, the sexually confused and more...' ***** (Skinny). 'Take two talented writers and actresses whose minds have been warped, let them loose on a stage and prepare for laughter' **** (PublicReviews.com). 'Surreal, fun and frankly pretty ridiculous' **** (WhatsOnStage.com). And join Norris and Parker themselves as they struggle through their quarter life crisis unable to buy cheese, dignity and other luxury items.
Share this show
Reviews
Full press release
All Our Friends Are Dead is a relentless hour of dark and anarchic sketches full of twisted characters, satirical songs and tragicomedy.
"Always rains, cold, dark, damp and that's just me trousers..." Meet Brian, the northern agoraphobic with a hatred of Thatcher, a love of mullets and an enigmatic tiny wife.
"My husband was accused of being a nonce. They burnt him alive in a giant wicker-man. They can be very unforgiving, the under tens." Be entertained by The Tydsley Widows, the North-West's premier widows choir made up entirely of widows.
Meet Irish farmer and gambling addict Paddy, "It won't be long now until the next potato famine, then everyone's gonna come crying to Paddy saying 'oh Paddy, give us a potato' then I'll make a fortune." He is definitely not a stereotype.
Join these misfits and a whole host of other dubious characters as well as the equally damaged comedy duo, Norris & Parker.
Katie Norris and Sinead Parker met six years ago on a BA Hons Charades (Acting) course at The Manchester Met School of Theatre. Sinead is shy and from a broken home and Katie is from Somerset and is better than this. They discovered they shared a birthday (26th February) and a love for dark and surreal comedy - The League Of Gentlemen, Father Ted, Julia Davis (Nighty Night, Hunderby) & Chris Morris (Brass Eye, Jam). Thus began their own adventure as Norris & Parker.
They've brought in director Lucia Cox (One Hand Clapping, Cuckoo) who is a producer, director and writer. One Hand Clapping has just returned from a sell-out run at the Brits Off Broadway festival in NYC. Lucia has yet to laugh at any of their material but the duo remain hopeful.
---
Credits
Tweets by NorrisParker26