Richard Gadd wins Amused Moose Comedy Award 2015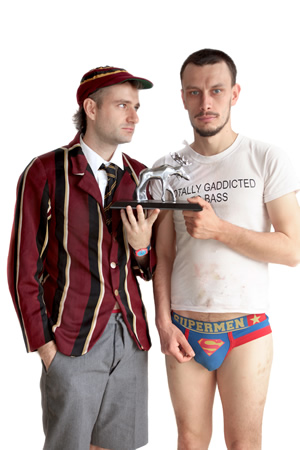 Richard Gadd has been named the winner of The Amused Moose Comedy Award 2015.
The result was announced at the award's sold-out final at the Edinburgh Festival yesterday (Sunday 23rd), hosted by Mark Dolan.
Amused Moose Comedy Awards, established in 2011, seek the best of Edinburgh Fringe comedy shows by performers 'on the cusp' of stardom. This year's winning show was determined by a panel of judges who viewed videos of over 100 shows online before seeing the longlisted shows live at the festival.
Gadd's show, titled Waiting for Gaddot, is a performance at the Banshee Labyrinth venue that involves various multimedia devices, as well as fellow comedians Ben Target, Ed Aczel and Ian Smith playing characters. Given the high-concept nature of the full show, Gadd actually performed a different routine at the final, in which - over a violin played by one of the cast - he mocked the 'dead dad' theme of other shows.
Upon winning the prize, Gadd got his fellow cast members on stage and thanked them, and also thanked the company that represents him.
Waiting for Gaddot is a Free Fringe show, performed nightly at 11:30pm. With queues forming to see the performance, additional 1:15am performances have been added on the 26th and 27th August.
The 'People's Choice Award', which is based on audience votes at the final, went to Jess Robinson whose show The Rise Of Mighty Voice sees her performing in the style of many different singers. At the Amused Moose final she impressed with a set including Kate Bush singing the theme tune to Postman Pat. Upon the result being announced, Robinson and her pianist Kirsty Newton were clearly delighted to win.
The other Amused Moose Comedy Award finalists, who all performed ten minute segments from their shows too, were: Abbie Murphy, Alistair Barrie, Ian Smith, John Hastings, Markus Birdman, Scott Bennett, Stephen Bailey and Stuart Goldsmith.
A selection of the winners and finalists will perform as part of the Amused Moose Comedy Awards Showcases at the Soho Theatre in London this October.