Andrew Doyle
Andrew Doyle: Minimalism!
Stand-up
7:50pm (1 hour)
5, 7-16 & 18-30 Aug 2015
8 - 10
This is a 2015 show that has now finished.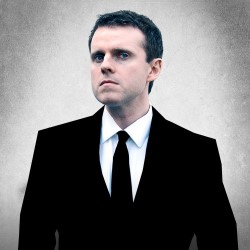 Show details
Stand-up show starring Andrew Doyle performed on the following days in August 2015...
Mon
Tue
Wed
Thu
Fri
Sat
Sun
03
4
5
6
7
8
9
10
11
12
13
14
15
16
17
18
19
20
21
22
23
24
25
26
27
28
29
30
31
1
2
Venue details
Andrew Doyle returns to Edinburgh following last year's total sell-out run. 'One of the best' (GQ). 'Fierce stand-up comedy ... fantastic' (Metro). 'Excellent one-liners' (Times). 'Louchely entertaining' (Telegraph). 'Effortlessly enjoyable' (Chortle.co.uk). 'One of the funniest, sharpest, cruellest comedians out there. Prepare for all your internal organs to burst with laughter' (Independent). 'One of the country's most exciting comedic talents' **** (Gay Times). 'A fabulous comedian' **** (FestivalJournal.co.uk). 'One heck of a good laugh' **** (EdinburghReporter.co.uk). 'A masterclass in the art of stand-up comedy' ***** (ScotsGay). 'Intensely sharp and clever' ***** (Hairline.org.uk). ***** (BroadwayBaby.com).
Share this show
Reviews
Press coverage
Full press release
Andrew Doyle has forgotten who he is. He has been so busy crafting an on-stage persona that he's lost touch with his true self.
Minimalism! is a show about getting back to the essentials; it's Andrew's attempt to strip away all the debris amassed over years of trying to please other people. What better way to resolve an identity crisis than through the medium of stand-up comedy? It probably won't work, but therapy's too expensive.
Stand-up, playwright, actor, author, writer of musicals, Andrew is the epitome of what others might call a renaissance man. A genuine talent respected by his peers not only for the breadth of art forms he has mastered with great aplomb, but also the range of subjects he has addressed. Be it sexuality, religion, intolerance, freedom of speech, politics, racism, "Andrew Doyle has made a name for himself as a frequently hilarious, sharply intelligent, and fearless comedian" (Broadway Baby).
Not afraid to push boundaries, his acerbic take on life has both attracted controversy and enjoyed critical acclaim. With Minimalism! Andrew tackles a subject closest (literally) to his heart... himself. As befits the show's title, this is the ultimate in back to basics, one man on a stage talking about himself to a roomful of strangers for a month.
Minimalism! is Andrew's fourth solo hour following last year's total sell-out run of Zero Tolerance at The Stand. Previous Edinburgh shows include Andrew Doyle's Crash Course in Depravity, Whatever It Takes (which transferred to London's Soho Theatre), Christie & Doyle's Axis of Evil (with Bridget Christie), and Sex and Hugs and Forward Rolls (with James Acaster and Ben Van Der Velde). He was also the principal writer on the sketch show Pop Tarts at the Pleasance.
Andrew's plays include Borderland (national tour for 7:84 Theatre Company, Scotland), Shamlet (King's Head, London), Cockfight (Canal Café Theatre, London), Jimmy Murphy Makes Amends (BBC Radio 4) and The Second Mr Bailey (BBC Radio 4). Borderland is published by Oberon Books.
He has just written the book and lyrics for a new musical adaptation of Jonathan Swift's Gulliver's Travels with the platinum-selling singer Duke Special (Lyric Theatre, Belfast). His other musicals include The World Must Be Peopled (Soho Theatre / Nabokov) with songs by Jonny and the Baptists, The House of Lady Babylon (Bad Physics Theatre), and adaptations of Terry Pratchett's Soul Music (Rose Theatre, Kingston), and Carlo Collodi's The Adventures of Pinocchio (Castle Theatre, Wellingborough).
---
Tweets by andrewdoyle_com