Rachel Stubbings
Rachel Stubbings Is Stubbing Out Problems
Stand-up
3pm (1 hour)
1-13 & 15-27 Aug 2012
8 - 9
This is a 2012 show that has now finished.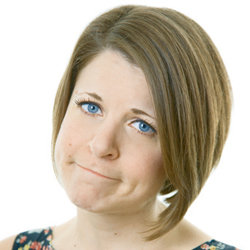 Show details
Stand-up show starring Rachel Stubbings performed on the following days in August 2012...
Mon
Tue
Wed
Thu
Fri
Sat
Sun
01
2
3
4
5
6
7
8
9
10
11
12
13
14
15
16
17
18
19
20
21
22
23
24
25
26
27
28
29
30
31
Venue details
Worried your ex is over you? Scared of clowns? Hi, I'm Rachel: a world-class agony aunt, hell-bent on helping people less fortunate than myself (you). Having prevented my parents' divorce and loads of other cool stuff it's clear I have a gift, a healing gift, so I created Stubbing Out Problems, an online agony aunt phenomenon. A year on and now I'm ready to Heal Live! in my new multimedia show. To be honest, I'll probably help you with issues you didn't even know you had. 'Sharp-witted... destined for greatness' (TimeOut). **** (List).
Share this show
Reviews
Press coverage
Full press release
Rachel Stubbings presents her debut show Rachel Stubbings is Stubbing Out Problems at Underbelly Bristo Square throughout this year's Edinburgh Festival Fringe.
Rachel realised she had a "gift" for healing when she single-handedly stopped her parents breaking up. Since then she's been sorting out everyone she comes into contact with, often helping people with problems they didn't even know they had!
A year ago Rachel began her agony aunt website phenomenon Stubbing Out Problems where fellow comics reveal their personal issues on camera and then receive her invaluable advice. Rachel's clients have included Alice Lowe (Garth Marenghi's Dark Place, Hot Fuzz), Tom Meeten (Mighty Boosh, Noel Fielding's Luxury Comedy) and Ewen McIntosh (The Office) as well as many other comedy performers both known and up-and-coming - and now all 100% healed!
Rachel is frequently asked what training she has received in order to be the best agony aunt in the business. Her answer is always to smile and simply reply "you don't need a certificate to show that you care, in the same way you can't get a degree in wisdom. You've either got it or you haven't."
She is very proud to have received absolutely no formal training and has no qualifications whatsoever in being an agony aunt. Quite the opposite, in fact.
Rachel Stubbings is a comedic tour de force whose acting ability has been recognised in both the UK and United States after a two hander, comedy short; Can We Talk? was awarded an Honourable Mention at Sundance Film Festival and the People's and Critics' Choice in The Film of the Month on Shooting People. Fans of the film include Larry Charles (Borat, Bruno, Curb Your Enthusiasm) who lauded the film as "hysterically funny... brilliant performances".
Her short films Love Song and Hearts and Flowers were People's Choice on Shooting People and were also screened at high profile film festivals including South By South West, Munich International Film Festival and Florida Film Festival. Theatre work includes Prayers, Promises and Platform at Southwark Playhouse and Pure O at The King's Head.
Rachel is no stranger to the Edinburgh Festival Fringe having performed in McNeil & Pamphilon's show Addicted To Danger and numerous other stand-up shows including Edwards and Stubbings Stand-Up.
---
Tweets by RachelStubbings