Ginge, Geordie and the Geek
The Ginge, the Geordie and the Geek - All New Show 2012
Sketch show
4:45pm (1 hour)
2-13 & 15-26 Aug 2012
9.50 - 12
This is a 2012 show that has now finished.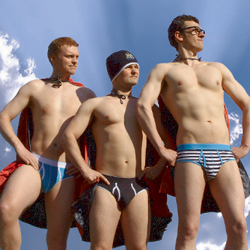 Mon
Tue
Wed
Thu
Fri
Sat
Sun
01
2
3
4
5
6
7
8
9
10
11
12
13
14
15
16
17
18
19
20
21
22
23
24
25
26
27
28
29
30
31
Venue details
After three sell out years, including selling 7000 tickets last year, the boys return once again, fresh from filming their new BBC pilot to bring you a brand new hour of truly uplifting silliness, surrealism and 80's anthems. Performing the show twice daily at 4:45pm and then again at 7:45pm, there's now no excuse to miss the biggest selling sketch show at the Fringe. So if you like your comedy served extremely funny, order a portion of Ginge, Geordie and Geek! ***** (Herald). ***** (Threeweeks). **** (Scotman).
Share this show
Reviews
Press coverage
Full press release
After selling an astounding 7000 tickets last year and fresh from filming their new BBC on-air pilot, comedy's best kept secret - The Ginge, The Geordie & The Geek - are back at the Fringe with a vengeance, wielding a truly uplifting hour of silliness, surrealism and 80's anthems. This skillful trio carefully craft each sketch with fully realised and believable characters - ready yourself for a quality show crammed full of everything from paranoid dogs to bath monsters. A truly feel good sketch show with a surreal twist and classless appeal. From a colour blind bull, dancing sheep and a lonely referee that wants to be everyone's friend, the trio cover the sublime to the ridiculous in this exciting 4th year at the Edinburgh Festival.
The Ginge, The Geordie and The Geek is co-written by Paul Charlton, John Hoggarth, Kevin O'Loughlin and Graeme Rooney, and performed by Paul, Kevin and Graeme. The performing trio met when studying acting at Royal Scottish Academy of Music & Drama, graduating in 2004. John has directed the trio since 2009 and was officially adopted as a co-writer in 2011. The trio are established comedy and theatre actors in their own right - individual comedy credits include Little Britain, Sirens, Run Fatboy Run, Skins and Rab C Nesbitt, as well as two Fringe First Awards. They have also supported Johnny Vegas on several occasions.
In 2011 they debuted their All New Show and three hours later they performed their Best of 2009/10 Show in the same venue. Both shows were complete sell-outs and they even added extra shows due to unprecedented demand for tickets. The guys put this phenomenal success down to genuine Edinburgh festival 'word of mouth' and a loyal fan base made up equally of fringe visitors and locals aged 8-80! Many fans came to see both shows and brought more and more friends and family. 2012 will no doubt yield more of the same with an on-air BBC pilot, filmed in Scotland, directed by Mandie Fletcher (Blackadder, Absolutely Fabulous) already in the bag. The pilot record was such a huge success that half the audience that turned up had to be turned away!
Credits