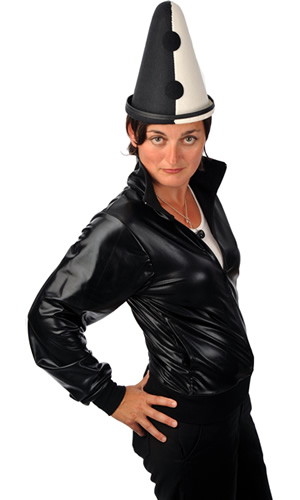 You may think at first that you know what you are getting when Zoe Lyons enters the room in a leopard-skin patterned snuggie (for those who don't know, it is a sleeved blanket). However, her show is much darker and more sophisticated than the initial impression suggests.
The darkness of the show comes early on when Lyons talks about the snuggie she brought for her mother, a militaristic pension plan, and an unfortunate location for a dogging site in Brighton. She also covers the recent riots, talking about what she would steal (it's not trainers from JJB, I can tell you that).
However, there is lighter material as well. The main theme of the show is Lyons's attempt to find happiness using a particular mathematical formula. This leads to her main anecdote, about how at the age of 16 she and some friends hitchhiked all the way to the town (not the festival) of Glastonbury, which also includes the reason why the show is called Clownbusting. The show covers all bases wonderfully.
One of the highlights for me was of Lyons's foreign travels. This included finding possibly the most pointless souvenir in the world in Alice Springs, and travelling back to London from a holiday in Amsterdam with her Dutch girlfriend with something that you often associate with that particular city.
Lyons's performance is brilliant. She keeps her audience together with her mix of light and dark, snuggies and a fondness for fudge. Definitely worth seeing if you get the chance.