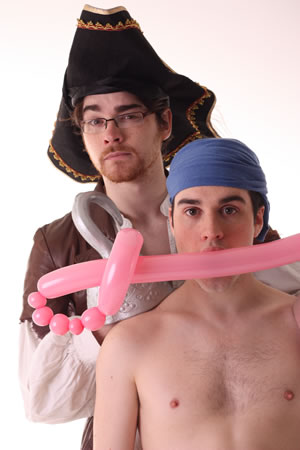 You know that a comedy show is brilliant when the time just seems to fly by and you leave hungry for more. To have this experience, go and see this musical duo.
Jollyboat, which comprises of brothers Tom and Ed Croft - winners of the Musical Comedy Awards 2011 - is a rip-roaring hour of comic songs. There are many reasons to recommend their show: tightly written lyrics, a variety of musical styles to keep the show fresh, and a likeable and enthusiastic on-stage presence.

It should be pointed out that not all of the songs are new. Some of them are hits from the previous show last year. Don't let this put you off mind, as numbers such as The Jesus Rap and their pirate song medley are joys to behold.
Many of their new songs are gems too, such as their rather literal Dewey Decimal System Rap, and their love song comprising of computer keyboard shortcuts. There are also darker and more disturbing numbers such as their German translation of Imagine, their song covering celebrities love lives, and the wonderfully twisted R'n'B song What the Hell Happened to Wednesday? which, layer upon layer, builds the audience into a collective laughing chorus.
The boys have jumped right up to four and a half stars this year - and the only thing now stopping them from hitting that magical five is that their in-between-song 'banter' could be slightly sharpened. A lack of confidence in the delivery of certain intros was picked up by the audience.
I found myself tapping my foot along to their numbers, and laughing at many of the lines so I recommend you get off your feet and go see them. It's free too!