Danny Robins
DJ Danny
Musical
10:20pm (1 hour)
12 & 13 Aug 2010
5
This is a 2010 show that has now finished.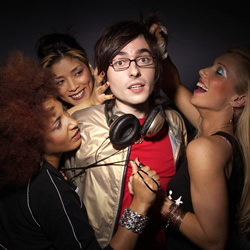 Show details
Musical starring Danny Robins performed on the following days in August 2010...
Mon
Tue
Wed
Thu
Fri
Sat
Sun
04
5
6
7
8
9
10
11
12
13
14
15
16
17
18
19
20
21
22
23
24
25
26
27
28
29
30
31
1
2
3
Venue details
Danny Robins (off of stuff like BBC3's Mischief, Newsnight's Party Anthems, 6Music and Radio 4's The Museum of Everything and ]Danny Robins' Music Therapy]) returns to the Fringe for a very limited run with his hit character DJ Danny - teacher by day, aspiring superstar DJ by night. Includes some of the best and funniest material from previous shows plus lots of new material and comedy mixes.
Share this show
Press coverage
Full press release
Comedian, presenter and writer Danny Robins will be performing as his alter ego DJ Danny at the Edinburgh Fringe 2010 on 12th and 13th August as part of the Five Pound Fringe.
Danny was most recently seen on TV fronting the Party Anthems strand on BBC2's Newsnight during the election, where he came up with an election theme tune for each of the main parties.
DJ Danny started life on BBC Radio 1's late night comedy show The Milk Run and went on to appear in two sell out Edinburgh Fringe shows. Frustrated schoolteacher by day, wannabe superstar DJ by night, DJ Danny is inspired by the real Danny's own DJ experiences running club nights in London. The character has had two critically acclaimed runs on the Fringe - 2005's DJ Danny, which was recorded and broadcast on Radio 1, and 2006's DJ Danny: Music Therapy which inspired a Radio 4 series and also toured internationally. These 2 shows mark the first time DJ Danny has been seen in Edinburgh since then.
Every DJ Danny show is unique but audiences can expect a fun, feelgood, upbeat mix of comic observation and live onstage mixing as Danny 'mashes up' tracks that really shouldn't work together but strangely do. Highlights include the 3 Minute iPod Megamix Challenge where Danny mixes together tracks selected at random by the audience into something that makes you want to laugh, dance - and possibly cry - all at the same time.
This limited Edinburgh Fringe run will bring together a combination of highlights from previous Edinburgh shows and new material as Danny develops the character for TV.
Danny made his TV debut on BBC3's Mischief - fronting Let's Make a Baby, where he fooled the television industry by creating a fake reality show that promised to create the world's first Reality TV baby. Since then, he's appeared on various TV shows including Newsnight, BBC3's The Bullsh*t Detective and BBC2's The Culture Show. His radio work includes the Sony Award nominated The Museum of Everything and his very own show, Danny Robins Music Therapy both for Radio 4.
He can also currently be heard every Thursday morning on BBC 6Music, doing his popular Indie Travel Guide strand on Lauren Laverne's hit radio show. And if you're flying on Ryanair any time soon, you'll be able to read his new monthly column in their award-winning in-flight magazine.
"Hilarious... has the potential to gather a sizeable cult following." Chortle
"The cult of the superstar DJ is ripe for sending up and nobody does it better than Danny Robins." Bruce Dessau, London Evening Standard
Videos
---
Tweets by danny_robins