Amnesty: Stand Up For Freedom
Stand Up For Freedom
Stand-up
10pm (150 mins)
19 Aug 2010
14
This is a 2010 show that has now finished.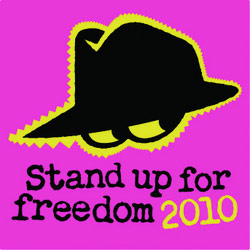 Mon
Tue
Wed
Thu
Fri
Sat
Sun
04
5
6
7
8
9
10
11
12
13
14
15
16
17
18
19
20
21
22
23
24
25
26
27
28
29
30
31
1
2
3
Venue details
The annual sell-out. For one night only, the producers of Amnesty's legendary Secret Policeman's Ball bring you the finest stand-up in town. If you see just one show this year make it Stand Up for Freedom! This year's line up includes: Adam Hills, Dan Antopolski, Danielle Ward, Fred MacAulay, John Bishop, Josie Long, Mark Watson, Michael Mittermeier, Tim Key, Doc Brown and Emo Philips.
Share this show
Reviews
Full press release
Amnesty International has announced its sensational line-up for the famed Stand Up For Freedom comedy event at the Edinburgh Fringe Festival. Featuring 2009 award-winner Tim Key, John Bishop, Mark Watson, Josie Long, Dan Antopolski and Danielle Ward, Doc Brown and Emo Philips it has to be one of the strongest line-ups of the Fringe.
Emo Philips said: "I'm always happy to do what I can to help political prisoners, even though it's a bit of a conflict of interest for me, as my folks were in the electric cattle prod business."
Amnesty's involvement with the world's largest arts festival is based on the celebration of freedom of expression and fighting for the rights of people whose free speech is denied. This year we're campaigning for Zarganar, Burma's top comedian, who is currently serving a 35-year jail sentence for speaking out against the government. Amnesty will be out on Edinburgh's streets this year asking festival-goers to take their own stand for freedom of expression, in solidarity with the people of Burma.
Stand Up for Freedom has a new, earlier time of 10pm on Thursday 19 August and for the first time, this year the show comes from Venue 150 at the EICC. Tickets are £14 each.
Amnesty International's Programme Director in Scotland, John Watson, said:
"This year's Stand Up For Freedom gig is going to be one of our best yet. It's a fantastic line-up and this year's campaign for a jailed comedian really underlines why it's such an important event, for audiences and performers alike
"Expressing yourself is what the Edinburgh Festival's all about and Amnesty's job is to defend your right to do that, without someone throwing you in jail because they don't like what they hear.
"Burma's government keeps trying to stamp out any criticism - even from one of the country's best-loved comedians - and yet brave people keep speaking out.
"Everyone coming to the EICC on the 19th will have a brilliant night, the line-up guarantees that. But they'll also help us to pressure the Burmese government to release a comedian who has been unfairly imprisoned."
---
Credits
Tweets by amnestyuk