Win a copy of No Kidding on Blu-ray
Leslie Phillips and Geraldine McEwan star in comedy No Kidding, restored for a new DVD and world premiere Blu-ray release, available from Monday 20th May.
From the producer and director of all 31 Carry On films - Peter Rogers and Gerald Thomas - the 1960 comedy feature stars Phillips and McEwan as young married couple the Robinsons.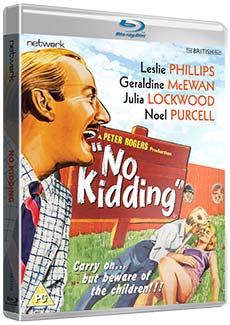 Bequeathed a rundown country house by a late aunt, the husband and wife team are persuaded to transform the pile into a holiday home for the children of rich parents. Lucrative? Perhaps. Easy - certainly not!
Embarking upon their plans, the Robinsons soon come into conflict with the local alderman; but that aggravation pales into insignificance when the children actually start to arrive at the door!
Julia Lockwood, Noel Purcell, Joan Hickson, Esma Cannon and Irene Handl are amongst the other screen stars to feature in this delightful British comedy, made at the legendary Pinewood Studios.
To celebrate the remaster and restoration of the film, we have three copies of the beautiful Blu-ray release to give away, RRP £17.99.