James Corden bookies' favourite to star in new Paul Potts film
James Corden bookies' favourite to star in new Paul Potts film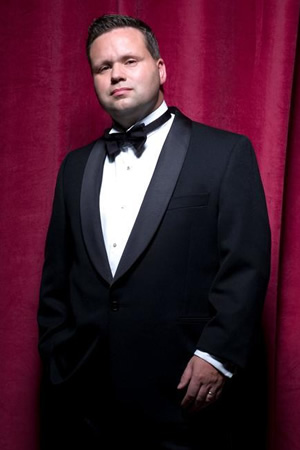 Hollywood producer Harvey Weinstein is making a comedy film about the story of former Britain's Got Talent winner Paul Potts (pictured), with Gavin & Stacey star James Corden currently the bookies' favourite to take the lead role.
Although casting details haven't yet been publicly announced, gambling company William Hill have set Corden as the 2-1 favourite to portray Potts in the movie.
Entitled One Chance, the film will chronicle Potts's days as a bullied schoolboy, and how he was riddled with debt before he became internationally famous following his win on the first series of Britain's Got Talent.
The phone salesman from Port Talbot wowed the audience and judges in 2007 with his operatic abilities. His audition performance of Nessun Dorma (video) has been viewed over 100 million times on YouTube.
Potts has been told who will play him in the film, but is currently sworn to secrecy. He told Wales Online: "I know who they have chosen to play me and I'm really not allowed to say. But what I can say is that I'm really happy with the choice."
He also added: "I've read the script and I'm really pleased with it. The last thing I wanted was for it to be a 90-minute sob story and it certainly isn't that. It's a comedy and when I was reading though the script I definitely laughed out loud in some places."
With the backing of Miramax executive Harvey Weinstein, whose previous credits include blockbusters like Lord Of The Rings and Oscar-winner The Artist, and The Devil Wears Prada director David Frankel, One Chance is set to be a big budget production.
Weinstein is reportedly looking to sign popstar Katy Perry to play Paul's wife Jules. He has been quoted as saying: "I was talking to Katy about a new project, a possible dramatic role in the Paul Potts movie, which will be shooting in England soon. We'd really like someone like Katy or Adele to play the role of Potts' wife, and Katy seemed genuinely interested."
Potts, who now tours the world to perform, also told the Welsh media outlet: "I think they are going to start filming in the summer. I'm excited by it because there are some big names associated with it. We've looked at possible locations around Wales, places where Julz and I used to meet up, and I'm pleased that lots of it is going to be filmed in Wales."
News on casting is expected to be announced in the summer. Whilst James Corden, who returns to Sky1 this Friday to host a new series of hit sports-based panel show A League Of Their Own, is favourite in the betting markets he's not the only name to be suggested. Jack Black is at 3-1 with William Hill, Philip Seymour Hoffman is 6-1 and Peep Show star David Mitchell 10-1.
Share this page