Why does Steptoe And Son enjoy such longevity? John Hewer, who has adapted the sitcom's scripts for a touring production (and co-stars in these live shows as Harold), has written us this great article on the subject...
Dum-da-dum-de-da. Dum-da-dum-de-da. Dum-da-dum-de-da. DA-DA-DA!
Albert and Harold; rag-and-bone, father-and-son. One proclaims he's a 'poor old man' while the other protests that actually he's a 'dirty old man!' In actual fact, both are telling the truth. Yet despite its grim and grimy social realism, or arguably because of that, Steptoe And Son continues to be cherished and lauded as a fine example in the pantheon of sitcom on an international scale. So why has a programme, originally broadcast nearly 60 years ago, about a profession which is all but extinct and featuring two actors who've been dead for over 30 years, enjoyed such longevity and breeds a distinctive fondness?
The go-to answer is that the episodes remain funny. The scenarios, set-ups and dialogue continue to enthrall and strike the nation's funny bone. Unlike most sitcoms which have stood the test of time from the 60s and 70s era, Steptoe And Son doesn't rely on an abundance of catchphrases. The celebrated lines that are thrown over the various pub tables of the comedy connoisseur today are predominantly more situation-based than purely character-based. The exception is, of course, Harry H. Corbett's unique delivery of "you dirty old man!" But again, writers Ray Galton and Alan Simpson, who together penned all 57 episodes, plus the two praiseworthy feature-length spin-offs, used the device sparingly.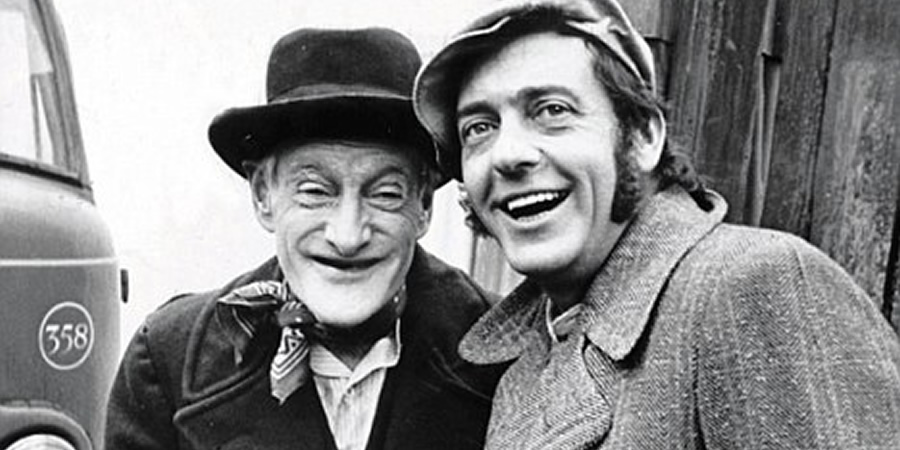 But what really stands the series aside from its contemporaries, is the fine line expertly played by Galton, Simpson, Corbett and Wilfrid Brambell that separates tragedy and comedy. It's an age-old adage that the two genres are the conflicting side of the same coin, but it wasn't until Steptoe And Son arrived on our screens, in all its black and white, pseudo-Beckettian glory, that the line had been blurred so exquisitely.
Galton & Simpson were actively trying to escape the comedian-centred framework. Banished by Tony Hancock in the early 60s and being told that Frankie Howerd was no longer a big pull for the BBC, the writers were instead handed a golden opportunity - to produce a series of standalone episodes for primetime television. The fourth episode was rather modestly titled The Offer, telling a single-string story about a quarreling father and son, locked in the confines of their own rag-and-bone business in West London, and the son's fragile ambitions to better himself and move on.
The writing was sharp, and the whole 30 minutes would have to be a delicately directed two-hander. Galton & Simpson didn't want comedians; they got two performers with a greater understanding of the weightier issues the script was highlighting. What good fortune that their first choices both readily accepted the roles. Corbett and Brambell remained faithful to the series for the rest of their lives.
The earlier series, admittedly, contain the lion's share of the pathos associated with the sitcom. Brambell and Corbett latched on to their respective characters' failings, tactics and ambitions (or lack of them, in some cases). In Brambell's callous, cantankerous Albert, we see a man who's fought through two world wars, established himself with a business, a property, even a family. Now in semi-retirement, he is content, even proud of his achievements. And rightly so. In Corbett's quick-tempered, impetuous, romantic Harold, we see somebody who came through the second world war, determined to make a statement and defy all expectations and prove to himself why he bothered to fight in the first place.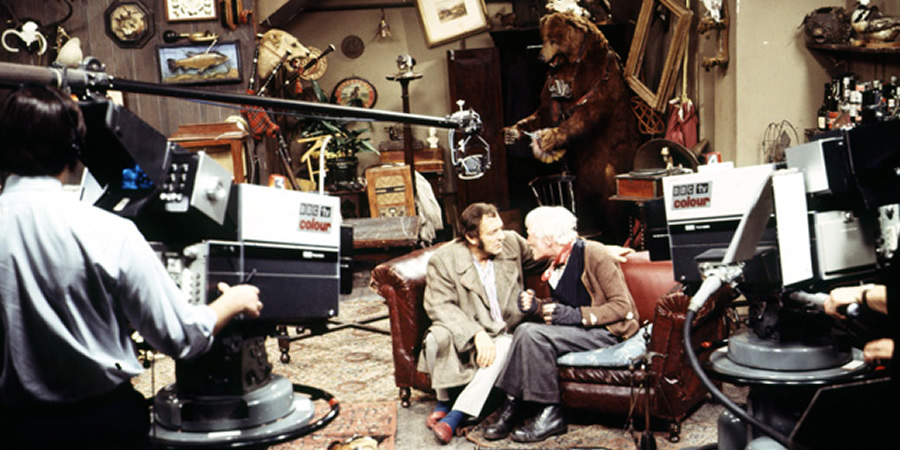 Harold is hopelessly enamoured of what he reads and believes to be a better quality of life, wanting to get caught up in the post-war "have a go" attitudes and swinging-60s utopian bubble. It's sod's law that his old man is around the corner with a particularly sharp and scathing pin.
Every story requires some central theme to create the drama. What takes Steptoe And Son into a higher realm is that we fundamentally empathise with both characters. More than that, we genuinely care. When Harold is on the threshold of abandoning his father at the old people's home in Homes Fit For Heroes (Series 3, Episode 1), we're emotionally charged by the contradicting ethics of family responsibility and self-assured independence.
Likewise, when Albert is determined to moan his way through his birthday celebrations so lovingly and extravagantly lavished on him by his son in Sixty Five Today (Series 2, Episode 4), we're almost willing Harold to chuck Albert under one of the passing buses and go and have himself a good time.
The father and son relationship is one we can all relate to in one way or another; the comedy comes from Harold's strong beliefs that everything Albert is passing on to him, either ethically or physically, is a load of rubbish. The generational gap, ensconced in the 60s and 70s, a time of great social change in itself, still radiates out through the trapped situation of a bickering couple indefatigably tied to each other, for moral, social or financial reasons.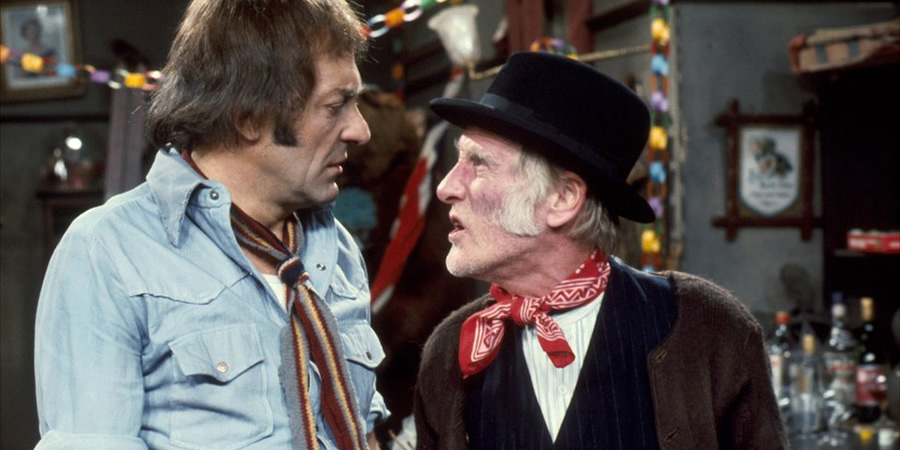 When the series returned in the early 1970s (plus two celebrated Christmas specials) there was some initial worry from Galton & Simpson that the advent of colour television might make the previously dirty, faded, antiquarian backdrop of the Steptoe living room look rather dazzling in contrast. Etched on all our minds are the ever-present brown bear and skeleton, both of them seemingly grinning away in the corners of the room, looking on at every spiraling twist and turn unfolding weekly in the Steptoe household. The writers needn't have worried. The series returned and proved to be more popular than ever. As Alan Simpson quipped, "the colour only emphasised how dilapidated and dirty everything looked!"
These series brought us hilarious moments such as dirty Scrabble games, punctured waterbeds and mock-up skiing pistes, as well as more touching moments like the death of the Steptoe's horse Hercules, a missed chance for Harold to be a father, even an episode incorporating a TB scare, which took the writers right back to their initial meeting.
Arguably the most fondly remembered episode came from Series 7, Divided We Stand, which turned the original scenario into a metaphor when Harold goes to drastic lengths to split the entire house in two. It's a pretty farcical rendition of the core dilemma running throughout the series, but for sheer imagination on the part of the writers, it's an incredibly well-crafted and relentlessly hilarious half-hour.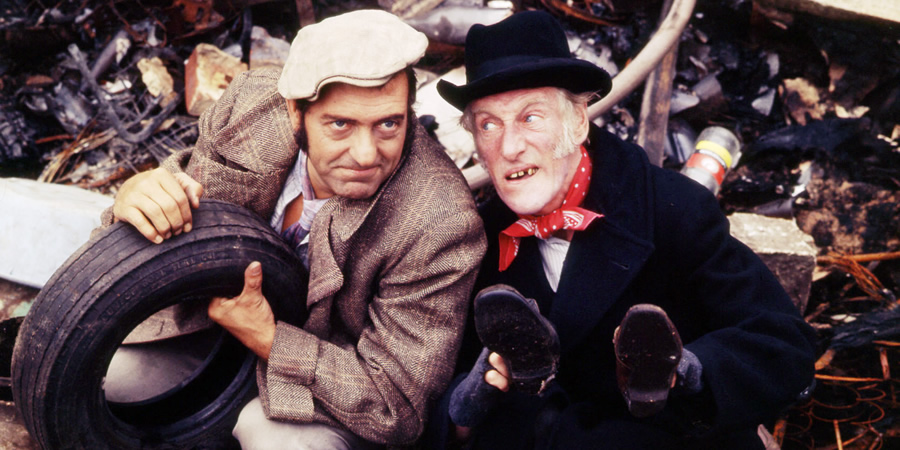 Steptoe And Son opened the door to many tragi-comic characters. Put succinctly, there'd be no Basil Fawlty, Alf Garnett, Alan Partridge or David Brent. If Galton & Simpson hadn't made the transition between sitcom and comedy drama, we'd be in a world without Only Fools And Horses, One Foot In The Grave or Porridge.
The world may have moved on from rag-and-bone men, and yes, some of the cultural references are moribund. Is Steptoe And Son un-PC? Hardly. Laughs derived from Albert's stoic, old-fashioned comments have always been squared at him rather than with him. As a time capsule, it's interesting on a different level, although very few of the episodes were heavily reliant on the rag-and-bone industry for their plot purposes.
Steptoe continues to be a firm favourite because it wonderfully handles unattractive issues and personality traits, such as quarreling, one-upmanship, self-importance, greed and loathing, with a quivering but human display of endearing and enduring love between a man and his dad. Each is shackled to the other, and within those confines, a multitude of excellently executed comedy plays out.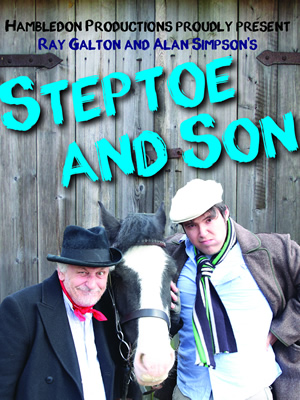 When I expressed an interest in staging a revival of classic Steptoe And Son episodes, I had the same doubts and hang-ups as anyone would have. Would we be able to do the originals justice? Should we strive to re-enact every line and movement that had gone before? Isn't it best being left alone? And, most importantly, 'why?' All the episodes are readily available to purchase, there are no 'lost scripts' and, as mentioned, a few aspects of the original programmes have dated.
Steptoe And Son, as discussed, was a groundbreaker because it merged a tragic situation and setting with broad strokes of powerful comedy. The performances, honed over the years by Corbett and Brambell, continue to inspire and have viewers transfixed. But the original scripts continue to astound.
Steptoe And Son is as powerful as anything Beckett or Pinter committed to paper, and a damned sight funnier, too. It would be a mistake if the characters were 'left' to a future of televised repeats and distant reminiscences whenever someone walks past a tin bath.
I contacted Ray and Alan and, due to my staging of Hancock's Half Hour - The Lost Episodes in 2012, was entrusted with access to the entire Steptoe archive.
To narrow these award-winning scripts down to just 90 minutes was a task I didn't feel comfortable doing. I whittled down the 57 episodes to a total of 11, and then bravely, if rather foolhardily, set up an online poll, which was shared among the various groups and societies to garner their interest and to hopefully discover the defining three or four favourite episodes as voted by the British public.
Perhaps unsurprisingly, I found myself with a shortlist of the most creative, dynamic and technically challenging episodes to adapt. But it was a fun process. A very brief, linking narrative was added to give the scripts a new fluidity, while the actual dialogue itself was taken from the original scripts rather than transcriptions from the broadcasted episodes.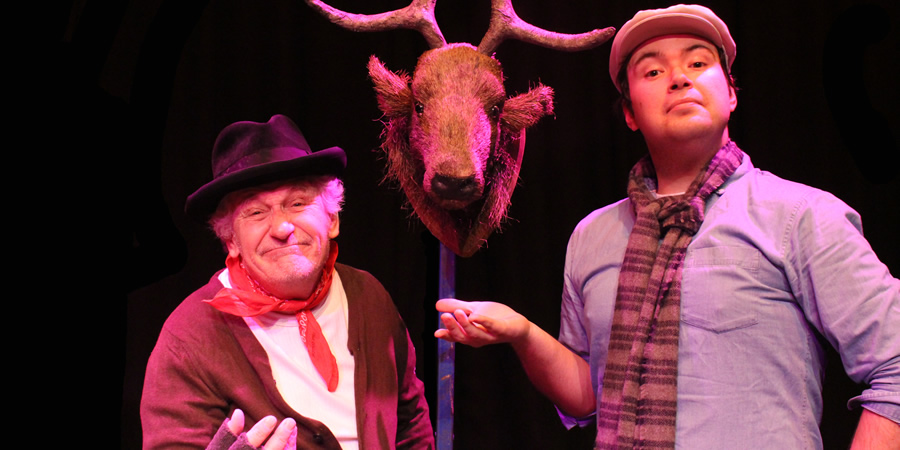 The supposedly knottier problem of whether to directly mimic those fine performances of Brambell and Corbett was easily quashed; no matter how much you're prepared to stand in front of a mirror, or lose yourself in months upon months of research and rehearsal, there's still always you underneath the make-up. You have your own comic timing, your own "funny bones". Allow yourself to become as close to those inimitable actors as you like, but fundamentally, if the writing continues to shine through, the performances become a wonderful hybrid.
Everything comes down to a natural respect for the originals and a yearning to keep these legacies not only strong but in the public's sphere. Steptoe And Son has now entered its second year of touring, enjoying continued success due to its relevancy and scripts, with audiences young and old collectively coming together with like-minded souls and revelling in some emotive, nostalgic yet still continuously funny scenarios from the nation's favourite, and perhaps only, rag and bone men.