Rik Mayall: A video tribute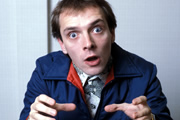 We're devastated by the news that Rik Mayall has died. He portrayed some of British comedy's best characters on the screen.
From Kevin Turvey to Lord Flashheart, Alan B'Stard to Richard 'Richie' Richard - every time Rik Mayall stepped in front of camera one knew that all eyes would turn to him. He was one of the ultimate scene stealers, in a totally positive way, and also a total pro when it came to taking the lead.
Here below, as way of illustration, are some of our favourite performances:
---
His Lord Flashheart character was only actually in two episodes of Blackadder, but he still remains one of the most memorable from the show:
One of his early characters was investigative reporter Kevin Turvey. Many comedians have said they think this was the best character he ever did:
He also performed poetry early in his career, as can be seen in this clip from 1981:
He was, of course, brilliant as shouty Rick in The Young Ones:
He was also captivating and animated in a different way when reading on Jackanory:
One of his many collaborations with Ade Edmondson was as The Dangerous Brothers:

It's not so well known but, alongside fellow Young Ones Ade Edmondson and Nigel Planer, he played an attention seeking actor in 1986's Filthy Rich & Catflap. It's worth seeking out on DVD.
Hollywood called for him, and he starred in 1991's Drop Dead Fred:
He turned up the slime when playing horrid Tory politician Alan B'Stard in The New Statesman:
Richie in Bottom is another defining role. So many quotable lines:
Bottom was actually potentially even funnier on the stage as comedy fans then got to see Rik and Ade improvise when things went wrong. "You're just a door. I'm Rik Fucking Mayall":
Rik had just recently taken on a new recurring role in Channel 4's Man Down. We're very sad we won't now be able to see him in the second series, as he delivered a great performance in the role of Greg Davies' Dad:
He was just as funny when not officially on screen. Here he is at an event listening to a speech. Watch what happens when he spots the camera filming him:
He made funny adverts too. Here is various videos in which he plugs Nintendo games:
The below video, taken from 2011 documentary Ben Elton: Laughing At The 80s sees Rik talking about some of the above roles. It's worth a watch.
RIP Rik Mayall. The world of British comedy isn't as funny now you're no longer in it. Thank you for the many, many laughs!