Robert Ross interview: 'Forgotten Heroes of Comedy' book
Published September 2012
Robert Ross has chronicled the history of a number of British comedy programmes and comedians. He's now hoping to use crowd-funding to write a new book. We emailed him a few questions: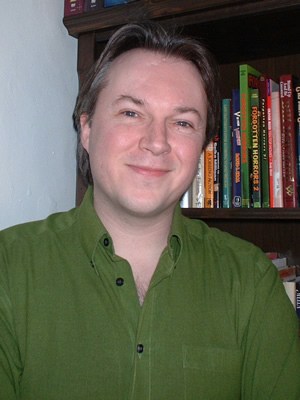 Hi Robert. When did you first become interested in comedy, and how did you turn it into a profession?

I think my parents worked out at an early age that I would stop crying if they stuck me in front of the telly! So, I have early memories of loving The Goodies and The Two Ronnies and Dick Emery and Frankie Howerd. I was writing silly little comedy sketches from about the age of ten. 'Silly', in that they were for Tony Hancock and he had been dead for over a decade! Then, like nearly everyone of my age in the 1980s, I was captivated by The Young Ones, Girls On Top and Blackadder - Ben Elton basically!

The professional bit was a long time coming. I had wanted to be published in my early teens. I had written a film quiz book which I hawked round to every publisher known to man. No luck. I was rather obsessed with the Carry On films and felt they were unfairly dismissed by telly critics. I had corresponded with Kenneth Williams and when he died in the April of 1988 I sat down to write The Carry On Companion in tribute. That was published - years and lots of rejection letters later - by B.T. Batsford in 1996. I haven't stopped since!

It's particularly older stuff you're interested in, rather than modern productions?

Well, it's true that my published work is pretty much all a celebration of older comedy. It's mainly that post-war period from the late forties to the early 1980s but I'm certainly not one of those people who dismiss new comedy. I try to get to the Edinburgh Fringe every year and see new acts. I think telly comedy is very strong at the moment. The recently demised Psychoville is probably in my Top Ten shows of all-time.

Er, how to put this... You're not particularly old, Robert. (Unless you're actually 100 and have discovered some secret cream?!) Do you wish you'd been born earlier, so you could have experienced more of the classic shows in person?

Ha ha! I'm actually 42. Umm... I don't know about wishing to be born earlier. I'm rather enjoying life at this very moment. I'd certainly like to nip back in time to watch Max Miller or Sid Field doing their stuff live on stage. The footage that survives - while historically important - fails to capture their true magic.

Can I have two nights in the 1970s? One would be in 1974 to see the Carry On London! stage show at the Victoria Palace. At that time the team were also filming Carry On Dick at Pinewood Studios so I would watch a bit of that, see the stage show and then have a pint with Sid James afterwards!

The other would be April Fool's Day, 1976. The first performance of the Amnesty International benefit A Poke in the Eye with a Sharp Stick. Peter Cook, all three Goodies, five Pythons, Barry Humphries... I would have loved to have seen that.

In your research, and for the various events and DVDs you've been involved in, you've met lots of top stars and had access to interesting archives. Do you have any particular personal highlights?

Lots and lots of highlights. I suppose the biggest thrill - for my inner child - was to hang out with, interview and get to know the Goodies. I've written two books on the series and it has been a delight to meet Tim Brooke-Taylor, Graeme Garden and Bill Oddie. The evening before my 30th birthday was rather special. A packed National Film Theatre 1, when I launched The Complete Goodies book with a reunion interview with all three of them - the first for many years. That was a real high.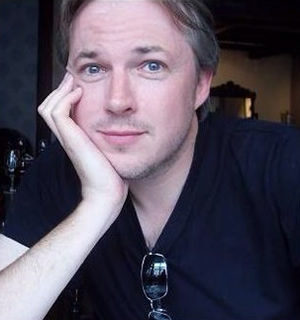 If you could take just one TV sitcom to a desert island (we'll sort out the TV and power supply) what would it be, and why?

Very high on my list of highlights is working with Ray Galton and Alan Simpson - quite simply the governors of comedy writing. I'm going to cheat again and take two because, depending on my mood, I find Hancock's Half Hour and Steptoe And Son the shows I reach for most often from my DVD shelf. Both are brilliantly written and peerlessly acted. If I was forced to choose I would probably go for Steptoe And Son. It is such an intelligent, dense, emotionally-stimulating and sheer bloody funny show. I would say it's the best telly show of all.

You've announced plans for a big new book. Could you tell us more about what it'll be about?

Ah, now we are getting to it! ;-) Yes, well it's called Forgotten Heroes of Comedy and basically it's been a pet project of mine since around 1999. So many of the great comedians - like Tony Hancock, Frankie Howerd and Tommy Cooper - are, quite rightly, still celebrated and remembered today. Their old shows are always being repeated somewhere. But there are great comedians - even of that same era - like Arthur Haynes, Dick Emery and Harry Worth who are not celebrated. They have been for all intents and purposes 'forgotten'.

This book is a long overdue fan letter to those great comedians. Maybe, one day, I'll get to do full biographies of some of them. Until then, this will be a reminder of their talents. I want to put them back in the Comedy Hall of Fame where they belong.

There's an interesting business model behind it too... you're not working via a normal publisher?

No. This project is with Unbound. It's a wonderful idea. Basically, they are putting the power in the hands of the reader. It's a crowd-funding venture. If the project isn't fully funded, I won't be writing it I'm afraid.

I was delighted to take the book to them. Other publishers had balked at the 'Forgotten' element of the title but Unbound saw the potential. I'm also chuffed to find myself in the company of some very famous writers in the Unbound stable - people like Terry Jones, Robert Llewellyn and Jonathan Meades.

You've got the backing of a couple of comedy legends. It must be great to have their support?

Yes, I'm joined in the little promo film [which can be seen on Unbound] by Terry Jones and Barry Cryer. I've known them both for many years and they love and know their comedy. It was actually Terry's idea. We were having dinner round his house in 1999 - a particularly delicious Indian meal, I recall. The wine flowed and our conversation turned to old comedians. Terry has a vast collection of old records. He played a Ronald Frankau song and, half way through, said: "You know, Rob, you should write a book about all these forgotten heroes of comedy". I said: "That's a brilliant title. Would you write the foreword?" And that was that. No one wanted it. I've been banging on about it ever since. I've no idea what I'll talk about now!

The plan is also to have each of the Forgotten Heroes championed by a contemporary comedian. I'm getting my little black book out in readiness!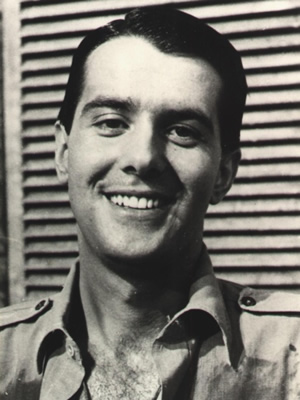 Sounds great. Is there anyone you're particularly looking forward to researching and writing about?

I sort of have a lot of it in my head all ready. Obviously, you can't go in to as much detail in a book that is tackling over 100 comedians. It has to be the broadest of kisses to their work but I'm pleased that I'm going to be celebrating some departed mates like Christopher Mitchell (pictured), who played that lovely boy in It Ain't Half Hot Mum. Ronald Frankau has become the poster boy for the project, as it was him who started it all. I'm looking forward to writing the essay on him. You'll spot a signed photograph of him in the promo.

Thanks for taking the time to talk to us Robert and best of luck getting the project supported.

To find out more about the 'Forgotten Heroes of Comedy' project and see the introduction video visit Robert's Unbound page. To find out more about Robert visit www.robertross.co.uk or follow him on Twitter: @RobertWRossEsq