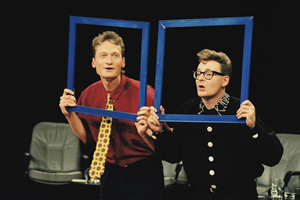 Improvisation was not a new concept when Whose Line Is It Anyway? came along. Indeed, improvisation was in many ways the beginning of performance art itself, long before scripting became the norm. But, in many ways, until Whose Line came along, it had been seen as inferior to scripted comedy. Few believed it would be a success on TV: how wrong they were.
Whose Line Is It Anyway? debuted on BBC Radio 4 in 1988. Dan Patterson and Mark Leveson had thought up the idea for the show in their spare time, with little knowledge of how successful it might be. The show's regular stars were two very talented and smart comedians, John Sessions and Stephen Fry, with guests joining them for each episode. In its early days on radio, WLIIA was in many ways an upper class sort of comedy. Smart jokes and regular references to obscure authors and films were made the norm, in particular by John Sessions who was really the star of the show at this stage.
Indeed, many of the guest performers struggled. Some did brilliantly, such as Lenny Henry, but others like Kate Robbins did not perform so well. In fact, usually hysterical performers like Hugh Laurie and John Bird struggled to gain any laughs at all, thus proving the unpredictability of improvisation.
When the show made its inevitable transfer to screen, it appeared not on the BBC, but on Channel 4; the BBC took so long to make a decision on the TV adaptation that the programme's producers accepted an offer from the extremely eager Channel 4. That first TV series instantly hit a major snag: Stephen Fry decided that improvisation wasn't for him and pulled out (although he still made two guest appearances), leaving John Sessions to carry the show himself.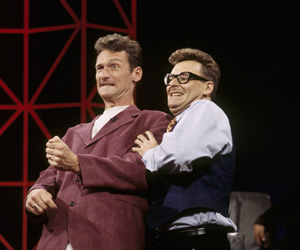 In many ways, the first series could be viewed as a success. After all, it proved popular with the audience and successfully introduced viewers to a new style of comedy. However, in hindsight, it can also be called a failure. John Sessions, while undoubtedly talented, was seen by critics as arrogant and unfunny, and as a result his appearance in every episodes hurt the show. There were also strange guest choices, such as Betty Thomas - these guests usually bombed. Nevertheless, Channel 4 bosses saw promise in Whose Line Is It Anyway?, and commissioned a second run.
Wisely, the show's producers realised that changes were needed. John Sessions was slowly phased out, and young, talented performers such as Paul Merton, Tony Slattery and Josie Lawrence became the focus of the show. Talented American performers such as Mike McShane, Ryan Stiles and Greg Proops were also brought in on a regular basis. And while the show still remained smart, it was made more accessible to the general public.
With the start of the second series, Whose Line Is It Anyway? was an overnight sensation, and improvisation was suddenly the coolest comedy style around. Performers like Paul Merton and Tony Slattery became household names and went on to major success outside of the show, and WLIIA itself gained numerous awards.
However, the show continued to suffer from several flaws that would eventually bring it down. The first mistake was the decision to take half of series 3 and 4 to America. The American episodes are generally viewed by fans as being considerably inferior in quality to the British ones. Aside from the few regular American performers like Ryan Stiles, Greg Proops and Mike McShane, few lived up to expectation on the tour. Only Colin Mochrie emerged as a new star talent.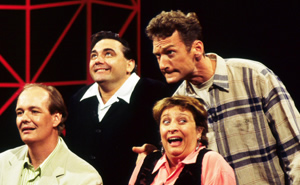 The next - and associated - problem came with series 5. Slowly but surely, talented British performers like Paul Merton, Jim Sweeney, Steve Steen and Sandi Toksvig were phased out in favour of the Americans. And while the American performers were undeniably very talented, it was ultimately a British show at this time and the shift in emphasis away from British performers didn't help keep viewers interested.
However, the quality of Whose Line was still in no doubt at this point, in fact the sixth series was arguably the strongest in the entire history of the programme. Tony Slattery was at the peak of his ability and stole the show week in, week out with his filthy, Benny Hill style comedy. Ryan Stiles and Colin Mochrie's partnership was producing many funny moments, and Greg Proops friendly arguments with Clive Anderson were a frequent high point.
But after this amazing series, Whose Line Is It Anyway? began to slip towards its demise. Ryan Stiles and Colin Mochrie became full time regulars, taking up space which left little room for new talent to emerge. Drink, drugs, and manic depression meant that Tony Slattery was visibly deteriorating before the viewers' eyes; the former star of the show was fired after a poor performance in episode 6. Things went from bad to worse when Mike McShane fell out with a producer and quit - rumour has it that the row was in relation to Tony's firing.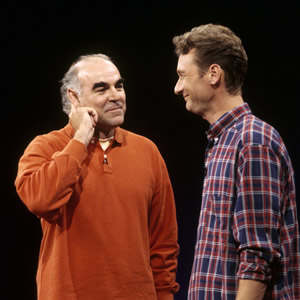 By the time series 9 started, it was clear that the producers were aiming squarely at getting a US version of the show commissioned. With two full-time regulars from across the pond (Stiles and Mochrie), and Greg Proops pretty much full time too, a British performer had become a relatively rare occurence. Steve Frost and Josie Lawrence were the only British regulars, and save a few appearances by Rory Bremner the only notable new names to emerge were Niall Ashdown and Caroline Quentin - but even they were not invited back after the eighth series. An embarrassing performance by Ardal O'Hanlon was perhaps the last straw; it became publically apparent Channel 4 were now losing patience...
The final series featured no British performers other than the host Clive Anderson, and was filmed entirely in America, on the new US Whose Line set. In many ways new talent like Wayne Brady and Phil LaMarr refreshed the programme and brought it some of the best episodes in a number of years. But the series had clearly past its prime, and Channel 4 axed the show.
But its homeland demise aside, the programme became just as big a sensation in America. It ran for five initial series, followed by three more compiled from previous tapings. But looking back, the American version lacked a spark which was evident in the British episodes, and it felt more like a daytime TV show at times.
Despite its problems, Whose Line Is It Anyway? was a very positive creation. It gave us an entirely new perspective on comedy: an environment where bright comedians came up with witty one-liners on the spot, while other performers struggled and sweated their way through the rounds. It was a show that endeared improvisation to us all, and made stars out of a number of young and talented comedians.