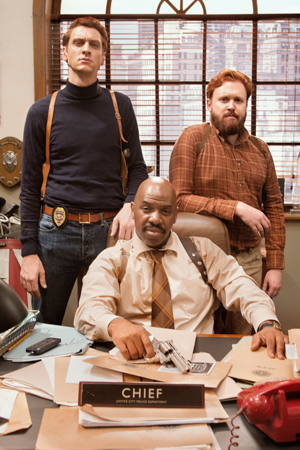 Top Coppers follows the adventures of cops John Mahogany and Mitch Rust, as they attempt to rid the fictional world of Justice City from its deranged criminal underworld. The series stars John Kearns (Foster's Edinburgh Comedy Award Winner 2014) and Steen Raskopoulos (2014 Edinburgh Best Newcomer nominee).
The universe and its characters are derived from the conventions of American and British cop shows of the Seventies and Eighties, from Starsky & Hutch to The Professionals, but is set in no specific time or country. With big, silly characters and "hilarious" stories, Top Coppers is filled with familiar tropes and references from the police and action genres, as well as drawing on relatable British situations, problems and relationships.
The home of the show is Justice City Police Department, again, inspired by cop shows of the 70s and 80s; the Station Floor, Chief's office, Interrogation Room, Helga's Lab, The Locker Room, The Car, Mayor Brady's office, Prison Cell.
Each week, a different crisis hits Justice City and Mahogany and Rust fight it out with their JCPD colleagues to solve the 'case of the week'. From drug lords, 1980s computer hackers, mad scientists, evil twin brothers and retired science fiction actors the show boasts a whole host of villainous cameos from the likes of James Fleet, Diana Vickers, Kayvan Novak, Paul Ritter, Terry Mynott, Simon Farnaby, Adam Riches, Lydia Rose Bewley, Jessica Gunning, Danny John-Jules and Rich Fulcher.
The series was created by Cein McGillicuddy and Andy Kinnear, and directed by McGillicuddy.
An introduction to Top Coppers from writers Cein and Andy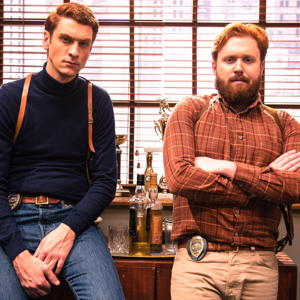 We first came up with the idea for Top Coppers a few years ago and it's been a labour of love for us ever since. We wanted to make something adventurous and exciting that takes you off into a whole different world, but at the heart of it, is still very, very British - with warm, endearing characters that you grow to love. As we're fans of the old British and American cop shows of the 70s - Starsky & Hutch, The Professionals, Mission Impossible. We started imagining this world of Justice City, a huge American-style metropolis made up of old-skool crime capers and outrageous villains but with a quirky British twist.
We decided to just go for it. After a lot of hard work, long nights and a few too many favours from friends we created a six part mini-series with the hope of getting someone's attention. The plan paid off as the mini-series found its way to Ash Atalla. He really loved it and could see the potential in us. Ash is somewhat of a TV legend, having produced The Office and The IT Crowd, so needless to say we were pretty chuffed. However, he believed we could go even bigger and better with it so Roughcut TV took us on and together we developed Top Coppers into a full TV series for BBC Three. And...well, here it is.
Top Coppers is fast and funky. Imagine Father Ted if it was a 70s cop show. Fun, a bit silly and never quite what you expect. If you like your comedy to keep you guessing, this is for you.