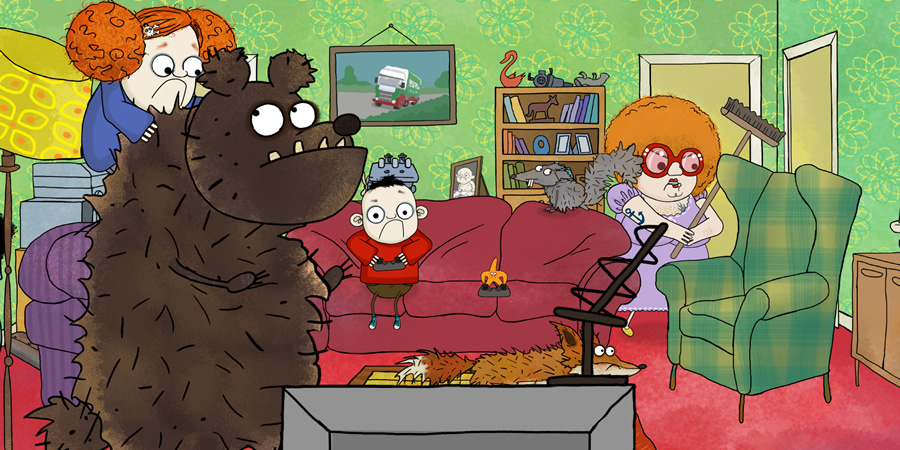 Genre

Sitcom

Broadcast

Channel

Episodes

Creator

Starring

Johnny Vegas, Arthur Smith, Philip Glenister, Jane Horrocks, Lisa Hammond, Gina Yashere, Akiya Henry, Adam Gillen and others

Director

Producer
No matter how rubbish things get for Dave Spud, there is always room for them to get worse... Much worse!
The archetypal underdog, the fighter against the odds, the pessimistic, dead pan comedy voice... Dave Spud is a magnet for disaster!
It's never long before the world starts to misbehave around Dave. No matter how ordinarily his day may have begun, events frequently take a peculiar and surreal twist. When things go awry for Dave (and they do), Dave has to use every one of his average abilities to the heroic max (we use the term 'heroic' loosely) if he is to triumph during these adventures and restore normality (as normal as it can be in the world of Spud) in time for tea!
Production company

Also known as

The Rubbish Adventures Of Dave Spud (Working title)

Soundtrack

Theme tune by Basement Jaxx.

Laugh track

None
Broadcast details
First broadcast

Monday 2nd September 2019 on CITV at 4:30pm

Last new broadcast

Wednesday 22nd September 2021 on CITV at 5:15pm

Upcoming repeats

Series 2 Episode 11: Today at 10:25am on CITV
Series 2 Episode 12: Today at 10:40am on CITV
Series 1 Episode 1: Today at 1:55pm on CITV
Series 1 Episode 2: Today at 2:10pm on CITV
Series 1 Episode 9: Tomorrow at 9:25am on CITV
Series 1 Episode 10: Tomorrow at 9:40am on CITV
Series 1 Episode 11: Tomorrow at 2:15pm on CITV
Series 1 Episode 12: Tomorrow at 2:30pm on CITV
Series 2 Episode 19: Tomorrow at 5pm on CITV
Series 2 Episode 20: Tomorrow at 5:15pm on CITVShow all repeats
Series 1 Episode 5: Tuesday at 9:25am on CITV
Series 1 Episode 12: Tuesday at 9:40am on CITV
Series 1 Episode 13: Tuesday at 2:15pm on CITV
Series 1 Episode 14: Tuesday at 2:30pm on CITV
Series 2 Episode 21: Tuesday at 5pm on CITV
Series 2 Episode 22: Tuesday at 5:15pm on CITV
Series 1 Episode 13: Wednesday at 9:25am on CITV
Series 1 Episode 14: Wednesday at 9:40am on CITV
Series 1 Episode 15: Wednesday at 2:15pm on CITV
Series 1 Episode 16: Wednesday at 2:30pm on CITV
Series 2 Episode 23: Wednesday at 5pm on CITV
Series 2 Episode 24: Wednesday at 5:15pm on CITV
Series 1 Episode 15: Thursday at 9:25am on CITV
Series 1 Episode 16: Thursday at 9:40am on CITV
Series 1 Episode 17: Thursday at 2:15pm on CITV
Series 1 Episode 18: Thursday at 2:30pm on CITV
Series 2 Episode 25: Thursday at 5pm on CITV
Series 2 Episode 26: Thursday at 5:15pm on CITV
Series 1 Episode 17: Friday at 9:25am on CITV
Series 1 Episode 18: Friday at 9:40am on CITV
Series 1 Episode 19: Friday at 2:15pm on CITV
Series 1 Episode 20: Friday at 2:30pm on CITV
Series 2 Episode 27: Friday at 5pm on CITV
Series 2 Episode 28: Friday at 5:15pm on CITV
Series 2 Episode 13: Saturday at 10:25am on CITV
Series 2 Episode 14: Saturday at 10:40am on CITV
Series 1 Episode 3: Saturday at 1:55pm on CITV
Series 1 Episode 4: Saturday at 2:10pm on CITV
Series 2 Episode 19: Sunday 3rd October at 8:25am on ITV
Series 2 Episode 20: Sunday 3rd October at 8:40am on ITV
Series 2 Episode 15: Sunday 3rd October at 10:25am on CITV
Series 2 Episode 16: Sunday 3rd October at 10:40am on CITV
Series 1 Episode 5: Sunday 3rd October at 1:55pm on CITV
Series 1 Episode 6: Sunday 3rd October at 2:10pm on CITV
Series 1 Episode 19: Monday 4th October at 9:25am on CITV
Series 1 Episode 20: Monday 4th October at 9:40am on CITV
Series 1 Episode 21: Monday 4th October at 2:15pm on CITV
Series 1 Episode 22: Monday 4th October at 2:30pm on CITV
Series 2 Episode 29: Monday 4th October at 5pm on CITV
Series 2 Episode 30: Monday 4th October at 5:15pm on CITV
Series 1 Episode 21: Tuesday 5th October at 9:25am on CITV
Series 1 Episode 22: Tuesday 5th October at 9:40am on CITV
Series 1 Episode 23: Tuesday 5th October at 2:15pm on CITV
Series 1 Episode 24: Tuesday 5th October at 2:30pm on CITV
Series 2 Episode 31: Tuesday 5th October at 5pm on CITV
Series 2 Episode 32: Tuesday 5th October at 5:15pm on CITV
Series 1 Episode 23: Wednesday 6th October at 9:25am on CITV
Series 1 Episode 24: Wednesday 6th October at 9:40am on CITV
Series 1 Episode 25: Wednesday 6th October at 2:15pm on CITV
Series 1 Episode 26: Wednesday 6th October at 2:30pm on CITV
Series 2 Episode 33: Wednesday 6th October at 5pm on CITV
Series 2 Episode 34: Wednesday 6th October at 5:15pm on CITV
Series 1 Episode 25: Thursday 7th October at 9:25am on CITV
Series 1 Episode 26: Thursday 7th October at 9:40am on CITV
Series 2 Episode 1: Thursday 7th October at 2:15pm on CITV
Series 2 Episode 2: Thursday 7th October at 2:30pm on CITV
Series 2 Episode 35: Thursday 7th October at 5pm on CITV
Series 2 Episode 36: Thursday 7th October at 5:15pm on CITV
Series 2 Episode 1: Friday 8th October at 9:25am on CITV
Series 2 Episode 2: Friday 8th October at 9:40am on CITV
Series 2 Episode 3: Friday 8th October at 2:15pm on CITV
Series 2 Episode 4: Friday 8th October at 2:30pm on CITV
Series 2 Episode 37: Friday 8th October at 5pm on CITV
Series 2 Episode 38: Friday 8th October at 5:15pm on CITV
Website links
Supporters and subscribers get more
Additional content and tools are available across the site for Supporters and BCG Pro subscribers. On this page you can:
See ratings for 9 episodes
Already a donor or Pro user? Sign in