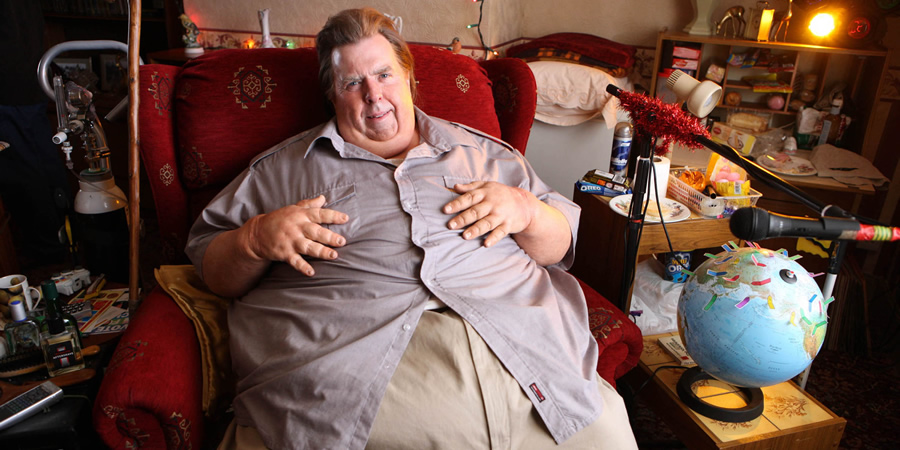 Genre

Comedy Drama

Broadcast

Channel

Episodes

1

Starring

Timothy Spall, Bobby Ball, Frances Barber, Aisling Loftus, Barry Austin, David Williams, Archie Lal, Richard Riddell and others

Writers

Director

Producer
Morris Morrissey (Bobby Ball) is a part time taxi driver and full-time personal manager to the one and only Georgie Godwin (Timothy Spall), who is convinced he holds the title of 'Fattest Man In Britain'. Combining both his roles, Morris keeps Georgie well fed and watered then brings taxi loads of tourists to gawp at the "eighth wonder of the world".
It's 23 years since Georgie left his house and he relies on Morris and Janice to survive. A new addition to his 'family' arrives when social services send problem teenager Amy to tend to his overgrown garden.
When the pregnant teen rows with her drug addict boyfriend, Georgie offers her a safe place to stay and she moves in and in return sets about cooking his supersize meals, cutting his hair and decorating the house.
But Amy worries about Georgie's health and wants him to lose weight, offering to cook him low fat meals, but Morris thinks their futures depend on Georgie staying fat. And the big man is unwilling to change his ways as it's all he knows and he's proud of his title.
Finally, Morris engineers Georgie a shot at the big time when he is asked to take part in a live weigh off with his rival Big Brian on the local TV news. Georgie sets about gorging on food like he has never done so before and is helped along by his friends and neighbours who bring him a steady stream of meals and snacks - from curries and samosas to lemon meringue pies and bags of broken biscuits.
Will Georgie reign triumphant in the weigh in or will Big Brian take his title?
Laugh track

None
Broadcast details
First broadcast

Sunday 20th December 2009 on ITV at 9pm

Episode length

120 minutes

Last repeat

Thursday 25th July 2013 at 9:00pm on ITV3
Website links