Scarborough is a BBC One comedy series set in the iconic North Yorkshire seaside town. Created by Benidorm writer Derren Litten, the series follows the lives of a motley band of Scarborough residents who are bonded by family, friendship and their love of Karaoke.
Below, Derren and cast members Catherine Tyldesley, Jason Manford, Stephanie Cole, Maggie Ollerenshaw, Steve Edge, Claire Sweeney, Jake Canuso talk more about the show...
Derren, how did the series come about?
Derren: I had the idea for a show about people in a large village, then I thought of where to set it. I'm clearly drawn to the seaside because Scarborough came to mind and although Scarborough isn't a village, the old town certainly has a village feel. I guess I thought of Scarborough due to childhood day trips there from Hull; I have such fond memories of shows at The Futurist Theatre, Peasholme Park and the amusements on the sea front.
There are various stories running concurrently, a bit like a soap opera, but the main characters are really Mike and Karen, a couple in their late thirties who split up several years ago but now, after Karen's divorce, are getting back together.
Can you all introduce us to your character?
Catherine: Karen is a hairdresser and five years ago she dated Mike. Things didn't quite work out because Mike was trying to make it as professional singer and was prioritising that. They went their separate ways and Karen married someone else, but later got divorced. We're now at the point where her and Mike are trying again. She works in this lovely little hairdressers called Geraldine's, it's like the hub for all the matriarchs of Scarborough. This is last chance saloon with Mike, so if it doesn't work then that's it.
Jason: I play Mike who used to go out with Karen years ago, but his constant gigging and being away did nowt for their relationship so they broke up. Now he's knocked all that showbusiness on the head and is trying to make a go of it with Karen for a second time. He's hitting 40 and needs to make some big decisions about his life.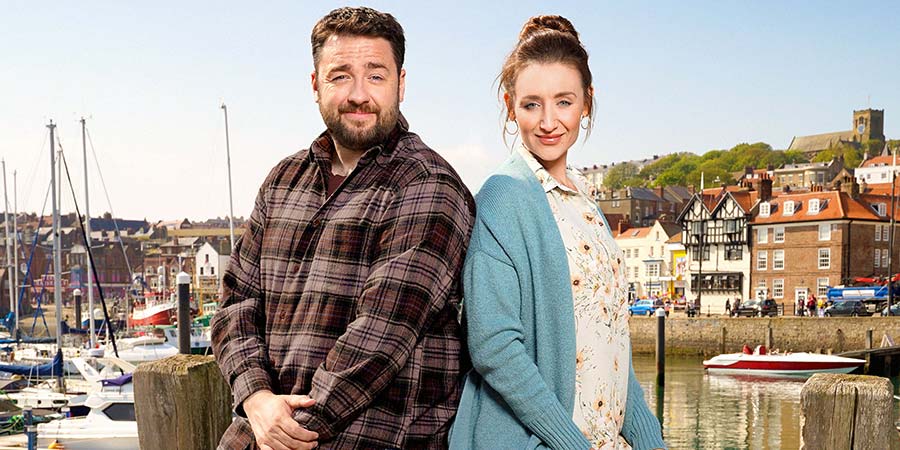 Stephanie: The character Catherine plays, I'm her mother and she's a widow. She's kind of, not grumpy, but can be quite cutting. She loves her telly and Catherine's character deals with her extremely well. During the course of the show she becomes great friends with her next door neighbour because there's been a burglary, and we go on from there...
Maggie: My character's name is Geraldine. She's been running a hairdressing salon in Scarborough for 35 years. It's one of those places that's rather old fashioned so the cliental is mostly, as said in the show, "between 75 and death". It's a great asset to the community, people feel like it's a home. They all like going there and being there, it's kind of traditional in every sense of the word.
Steve: I play Barry Dickson, Bigsy, he's Mike's best mate. Jason is my best mate in real life so it's not a massive stretch! Bigsy is his mate, he lives with him and is his rock but not a very good rock! He looks out for him and is family to him, Bigsy needs Mike more than Mike needs him. He also sort of falls in love during the show...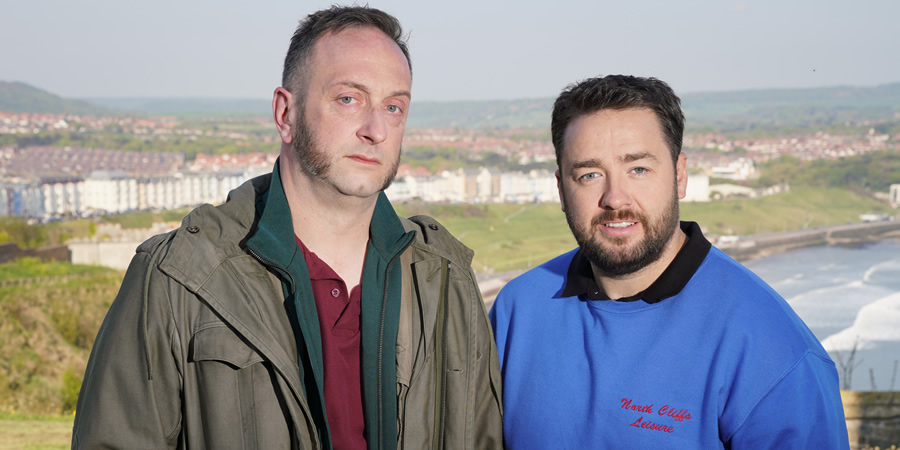 Jake: I play Tony Peroni, he thinks he is head of the Scarborough Mafia but of course there isn't one, he's just a small time business man who came over from Italy when he was 16 to run his uncle's failing ice cream parlour - he just never went back home.
Claire: My character is called Hayley Cox and I think she's quite fabulous, even the outfits alone are so empowering. The minute I get va va voomed up, I get the shoes on, the leather pants, the hair, I feel like "This is it, this is Hayley Cox". She thinks she's above everyone else. She doesn't really care about anyone, she doesn't care what they all think. She's got her life with Tony Peroni and when he was in jail she did what she had to do to get by, whether that be a bit of Mike or a bit of whatever! She knows where the bodies are buried with Tony, they're the type of people who are old school gangsters, the loyalty they have to each other just goes way back, they know too much about each other and they have each other's backs.
Derren: I play Jack, the landlord of the local pub, he's only in a couple of scenes for a few episodes so it wasn't too difficult. I had a stand in doing the scene during rehearsals, which I could watch on the monitor then when it came to a take I'd swoop in and steal the glory!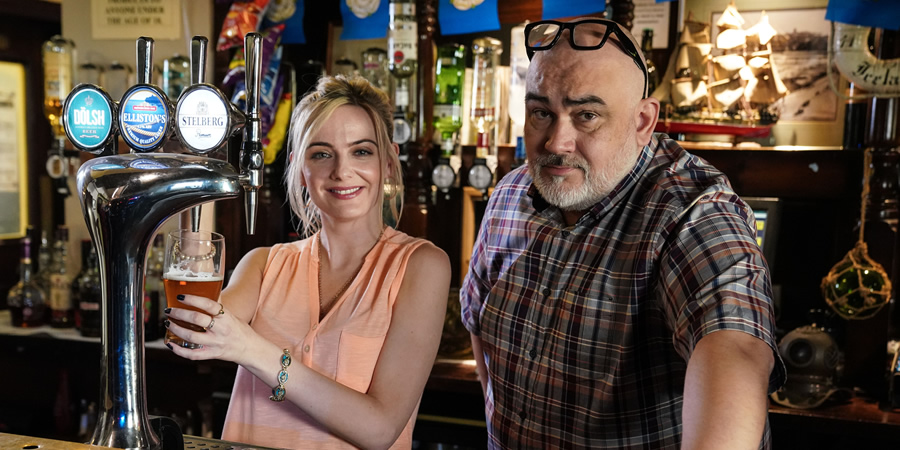 What can people expect from the series?
Derren: My intention was to write the first comedy soap. I'm not sure if I've done that but like a soap I think we have enough going on to keep people's interest. Also we have the hidden gem which is Scarborough; it really is the most beautiful fishing town and some of the aerial shots of the castle, the harbour and the town are absolutely breathtaking.
Catherine: I think people will fall in love with the characters and they'll want to see more. I'm hoping that each week they can't wait for the next episode because the storylines and the sub plots are super interesting and get you hooked. You can relate to the characters, you care about them and that is key for me in any comedy. Derren's gone into so much detail you can tell that he really cares about them.
Jason: Each episode is a really lovely half an hour spent with a group of characters who I think the viewers will really like. It's funny and warm and feels like just the sort of TV show we need in these current times.
Stephanie: What is really lovely is that it's like a really well baked cake because there is a lot of laughter in it and there are also a couple of fascinating stories. One is a love affair and one is something slightly darker so you're actually engrossed because there are several strands you're following through, which is extremely entertaining.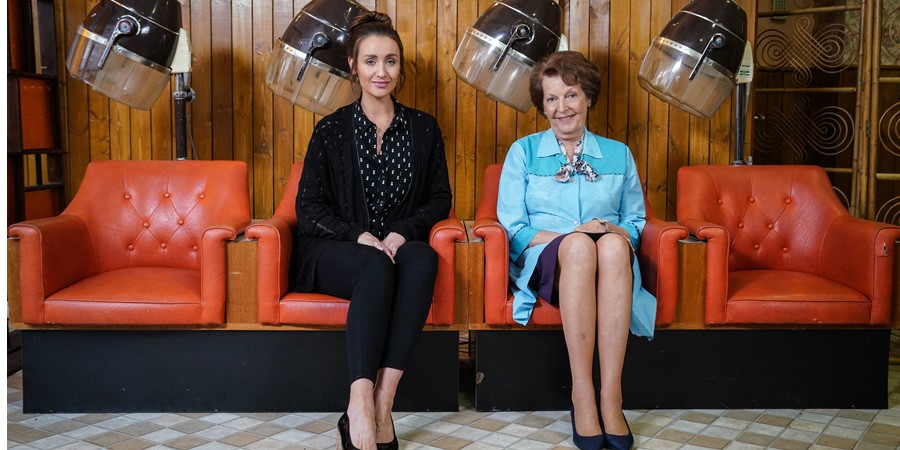 Maggie: It's funny but there's lots of quite moving bits in it too. It's full of humanity as well as comedy and I think Derren's done a great job and hopefully we can pull it off.
Steve: There are a lot of laughs, there's a really good plot that runs through. It's not like a standard sitcom that starts and ends at the same place, there's a lovely plot running through about this gang of misfits getting together and battling whatever life throws at them.
Claire: There's a lot of laughs but there's a lot of pathos. Derren's written some scenes that when we we're doing the read-through, actually made me cry they were so beautiful. Plus the fact they were acted out by Stephanie Cole and Kenneth Cranham, two legends. The people he's got in Scarborough, I just feel honoured to be on a show with them. It's not just broad laughter, it's subtle, it's clever, it's funny, it's poignant and it's beautiful.
Jake: I think they can expect another genuinely funny show with instantly classic characters like Derren's last show Benidorm, except this time he has given this new series a completely different feel and pace, I genuinely think it's some of his best work to date.
What attracted you to the role in the first place?
Catherine: I've always been a fan of Derren's writing, he writes so well. For me, it's hilarious but it's so genuine and so warm. It's completely character led and all of them are so wonderful. In terms of Karen and Mike, a lot of couples will be able to see themselves in them. I've been reading the scripts with my husband at home and said 'oh god, it's us'. So it's very relatable, very warm, very genuine and extremely funny. I fell in love with it the minute I read episode one.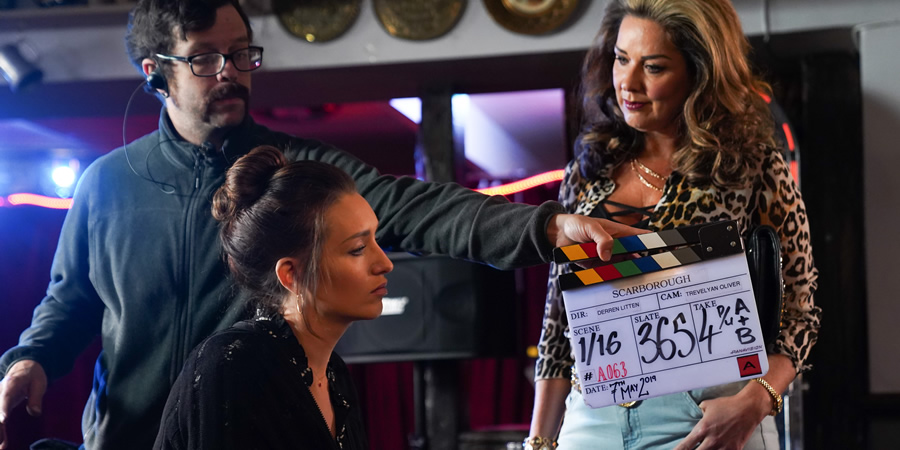 Claire: Anything Derren does is just genius. I did Benidorm for Derren and he writes these wonderful characters. I was so flattered to be asked to be involved. Derren makes me feel safe, I know I'm in good hands and I feel very comfortable being directed by him, he knows what he's doing and he gives great notes.
Stephanie: Derren sent me the script, and I've rarely read a first script which introduced all the characters without you being aware that they were being introduced. Very often it can be a bit plonky but this, it's beautifully written, beautifully constructed and a really lovely story that you can be drawn into but you can also laugh. It was the sort of thing that there is a market for.
Maggie: It was a no brainer because I love the character and the writing. You might have heard it before but it's true, you very rarely read scripts and laugh out loud. I think it's amazing the way Derren manages to combine everything, and he's in it as well! The writing is superb and what really impresses me is his demeanour on set. Sometimes you work on stuff and it's very serious, but this is serious in a sense that everyone's doing their job and it all comes from him. He manages to maintain a really light touch all-round.
Steve: I'd worked with Derren before on three series of Benidorm. I love Derren's writing, it's brilliant, and this is so different. It's more subtle and has got a bit more pathos which is what I think he's always written really brilliantly. Jason and I have been mates for about 20 years but we've never worked together. He's got a radio show and I do that with him now and again, I've directed him in something but we've never acted together so it's quite nice to have a legitimate excuse to spend time with him.
Had you visited Scarborough before?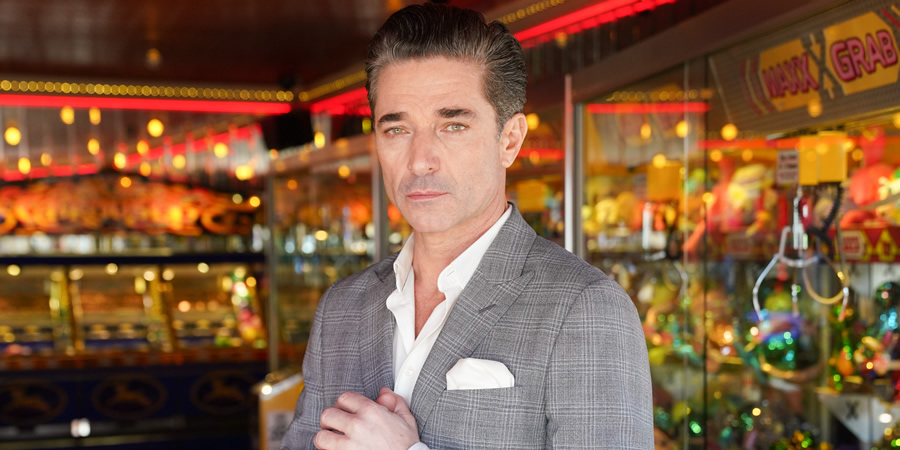 Jake: I'd never visited Scarborough before and I genuinely wasn't prepared for how beautiful a place it is. It is so quaint with lots of independent shops and cafes, I absolutely loved my time there and I can't wait to go back.
Jason: Yes, it was actually one of my first grown up holiday destinations that me and my girlfriend at the time saved up and paid for! It's always had a special place in my heart.
What's it been like working with your co-stars?
Stephanie: It's been an absolute joy, a real joy. We get on incredibly well together, there's a lot of laughter and the whole cast and the whole crew are extraordinary, everybody has gelled beautifully and although time is of the essence and we have to press on, nevertheless we do and it's a lovely atmosphere on set, which is great.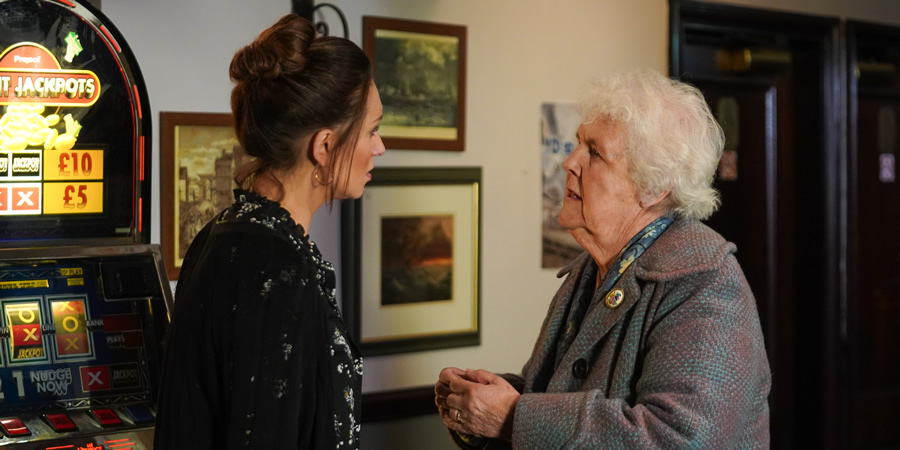 Catherine: This is my first time working with Jason and right from the audition process we hit it off. He made me feel super comfortable to work with. He's been an absolute joy because yes, he is funny but he's a bloody good actor and he can sing! He's an all-rounder. I think he's going to surprise people, he's brilliant, absolutely brilliant. It's been nice to work with Steve Edge again because I did a comedy show with him 10 years ago now and I loved him to bits then, he was a dream to work with so I'm chuffed to bits to be back with him.
Jason: It really was an absolutely joy. Catherine is so talented and a lot of fun to work with. Stephanie Cole is a legend and so funny, every scene she has she steals and so that was a huge honour to work with her. Playing my best mate is my actual best mate Steve Edge, who I think is one of the best character actors in the country. He just has funny bones and it's a travesty that we've not seen more of him before. I can't wait for everyone to see just how hilarious he is in this show.
Maggie: I love them all! I've worked with Stephanie before but everybody else is new to me, especially the youngies who are fab as well - we had a ball.
Steve: It was lovely to meet Stephanie, I've always been a big fan growing up, watching Tenko. Catherine I've worked with before, we did a sketch show together called Scallywagga for BBC Three so I've known her for about 10 years as well. Harriet Webb, who plays Bigsy's squeeze, is hilarious. I'd never met her before but we've bonded straight away which is just as well because we had to do a really massive snogging scene! Everybody in it is brilliant; it's just a lovely bunch, a really happy job.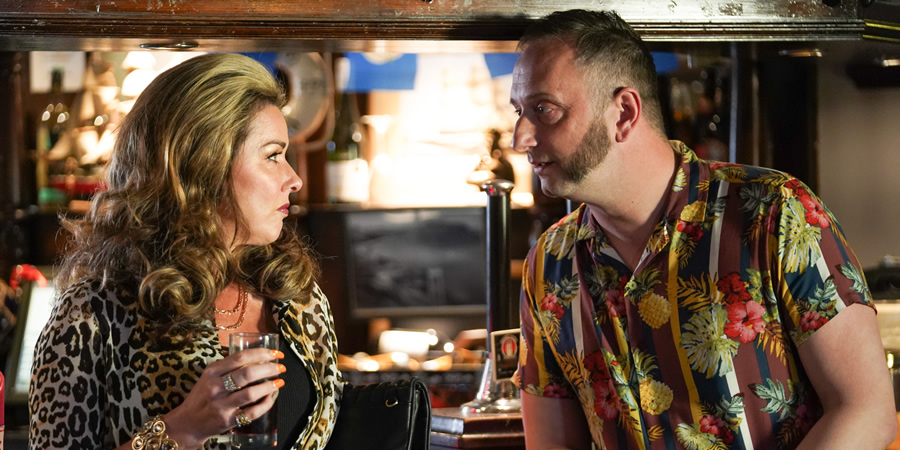 Claire: I knew Jake from Benidorm, he is wonderful and he's so different to his character, he's brilliant. He really thinks about his character, about the past, about the history, he's very thorough. Jason I've worked with before, we did Chitty Chitty Bang Bang and we're really good mates. Steve I worked with in Benidorm, Catherine I've just done a workshop with for a Jim Cartwright play. For me it was a bit nerve-wracking but there was the comfort of the feeling of working with your mates.
Jake: I loved working with all of the cast, they are amazing. Claire Sweeney I knew from Benidorm, so it was great to hear she was playing my girlfriend. Jason Manford and Catherine Tyldesley are lovely, we all had a great night out during the last week of filming and enjoyed everything Scarborough has to offer from great night life to my favourite, scampi and chips! My only regret was having no scenes with Stephanie Cole, she is a legend!
Do you have any stand out moments from filming?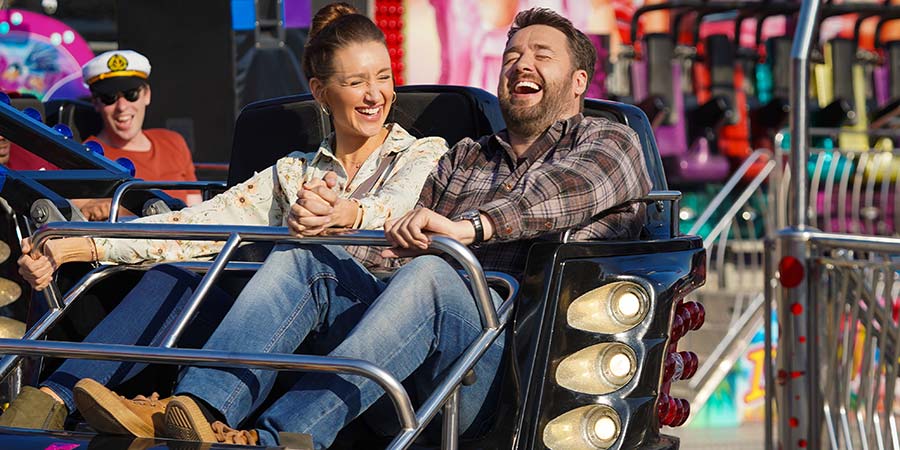 Derren: Filming at Scarborough's fun fair, Luna Park, was particularly funny. Cath and Jason had to be on a fairground ride for many takes. I feel bad saying it now but at the time the more the actors said how much they felt sick, the more it made us laugh!
Jason: All the scenes I had with Bigsy were great because after a 20 year friendship this is actually the first time we got to act with each other. Location wise, we couldn't have wished for better weather so Scarborough looks glorious! I reckon we'll have done more for tourism there than their own tourist board!
Jake: I loved my scenes with Jason in the ice cream parlour and the amusement arcade, I think those scenes are not only funny but give the show a real flavour of Scarborough. I think my favourite scene was a business dinner date with Maggie Ollerenshaw's character, Geraldine; I can't remember when I laughed so much, she is a comedy genius!