Matt Lucas returns to TV with his new character. Mr Pompidou is an elderly oddball aristocrat who has fallen on hard times. He lives in a clapped-out old caravan with his dog Marion and his butler Hove.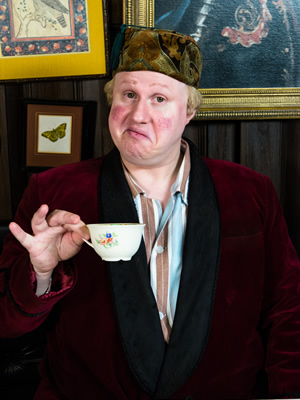 Hi Matt. How did the idea for the characters of Pompidou, Hove and Marion come about?
Julian Dutton approached Ashley Blaker and me about making a comedy sketch show without dialogue and it morphed into Pompidou. Originally there was going to be lots of characters and actors, but the title character organically became the focus.
Marion was going to be accompanying him at all times, and the butler was just going to be a cameo in a few episodes (and he was going to live in the cupboard). Relatively late in the day we flipped it, partly because we realised that filming with a real dog (and even a puppet) can be complicated, expensive and time-consuming, and partly because once we thought of Alex MacQueen for the part of Hove, we wanted to have him on screen with Pompidou as much as possible.
What was it like working with Alex MacQueen?
He is generous, intelligent and unswervingly entertaining. And does the best impression of some lift doors opening known to man.
Who or what was your inspiration for Pompidou?
It's an original character but performance-wise there is a little of Sir Bernard Chumley in him (a character I started doing on the live comedy circuit in 1992 when I was 18).
Can you describe Hove and Pompidou's relationship?
Co-dependent. I always liked the fact that Lou needed Andy, and I think Hove needs Pompidou. He needs a purpose, and also feels a sense of obligation to look after this man-child, because his father looked after Pompidou's father, and his father looked after his father. This might well be the last generation, though...
Did you come up with detailed backstories for the characters?
I'm not sure we wanted to be too specific about the back story on screen, partly because these half hours should be able to play in pretty much any order. But we do get the sense that the trio once lived in a glorious country house, and now it has gone to ruin, so they are reduced to living in a caravan in the grounds.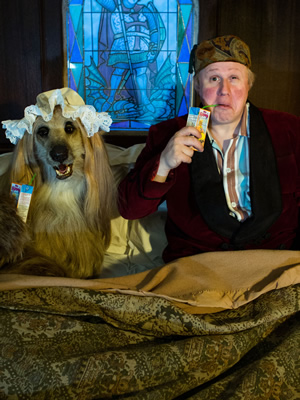 I've always thought it fascinating that there's a class of people saddled with property that isn't really theirs to sell, only to maintain and pass on, and that it costs more to run than it yields. One example could be seen in a great documentary a few years ago about a family who had a huge estate but nothing else and lived in it, frankly, like scavengers.
Why have you made it a dialogue-free/visual comedy?
Besides the fact all actors hate learning lines, I wanted to make something that would have international appeal. There is tonnes of dialogue in it, but it's mostly in gibberish.
Is Pompidou a modern comedy or is it more like the classic nostalgic comedies?
It feels traditional to me, in that it's for the family and could play earlier than most of the stuff I've done before. It's quite broad in performance style too. But I hope it has the pace of modern comedy.
Little Britain and, to a lesser extent, Come Fly With Me were sometimes quite rude, but actually they were popular with kids. We wanted this show to be as inclusive as possible.
Pompidou has a lot of surreal and bonkers scenes - what was the thinking behind this?
We just write what makes us laugh, to be honest. We let others analyse. But surrealism is something I've always associated with impenetrability, unless it's done right. I don't think this show is actually that surreal. There is a very apparent logic to pretty much everything you see, and even though Pompidou, Hove and Marion are larger than life, the world they live in is fairly recognisable and accessible.
What makes Pompidou different from, say, Mr Bean?
He's fatter!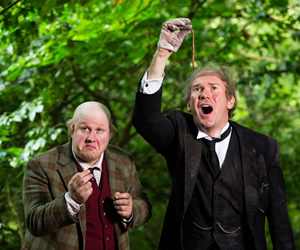 You co-directed Pompidou. What was your vision?
This is the first time I've co-directed anything. The main rule I find is to get as much coverage as possible. I often can't decide which joke I prefer, so I try to make sure we film lots of options and then decide in the edit which works best.
Was it tricky both directing and starring in Pompidou?
I was a bit daunted at first, but I'm working with Charlie Hanson. He produced Extras, Life's Too Short and Derek, so I'm very lucky that Ricky Gervais wasn't shooting anything this summer, basically! Charlie is brilliant. He started out directing for theatre, then directing for TV, then producing for TV, so he brings a wealth of experience and knowledge with him. He's also really nice.
What are the challenges of doing a visual comedy?
Obviously there are large pieces of exposition that could be communicated within seconds using dialogue, but then being forced to find a visual way to 'sell' an idea forced us to think of new ideas. I like the fact that I'm unlikely to subconsciously re-use a gag from Little Britain simply because if I tried, it wouldn't work.
'Pompidou' is on BBC Two on Sunday evenings at 6:30pm.