BBC Two sitcom 'Episodes' given a third series
BBC Two sitcom 'Episodes' given a third series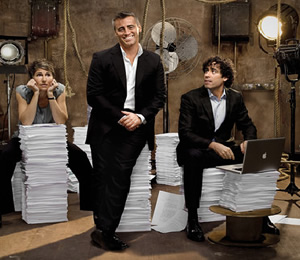 Episodes, the UK-US co-produced sitcom, has been given a third series.
According to American publication Deadline, commissioners from the BBC and US network Showtime have ordered nine more episodes of the comedy.
Episodes focuses on the story of English writing couple Sean and Beverly - Stephen Mangan and Tamsin Greig - whose hit UK sitcom is being re-made in America as Pucks!. Matt LeBlanc (playing a fictional version of himself) has been inappropriately cast in the lead role and soon the British duo find their lives unravelling as they become entangled in the life of the ex-Friends star.
The show is made by Hat Trick Productions, the company behind other sitcom formats including Outnumbered, Father Ted and Spy.
The commission comes despite only modest British ratings for Episodes. During its second series, which broadcast from May to July of this year, most episodes registered less than one million viewers despite being broadcast in BBC Two's 10pm Friday night slot. Equally, in America, the show averaged a very modest 1.66 million viewers across the week.
Production on Series 3 will begin in London and Los Angeles next year, for broadcast on BBC Two towards the end of 2013.
Below is a clip from the recent second series of the show, in which Sean and Beverly have the difficult task of telling Matt he has to lose weight:
Update. Monday 17th September:
The BBC has confirmed the commission. Janice Hadlow, Controller of BBC Two, says: "I'm delighted that the critically acclaimed Episodes is returning for a third series to BBC Two. The last season ended with a thrilling finale and like the rest of the audience I can't wait to find out what happens next."
Gregor Sharp, BBC Executive Editor, added: "David Crane and Jeffrey Klarik are supremely talented comedy writers and we're thrilled they'll be bringing their amazing cast back to the BBC for another series of Episodes."
Share this page