Harry Enfield & Paul Whitehouse working on sport comedy
Harry Enfield & Paul Whitehouse working on sport comedy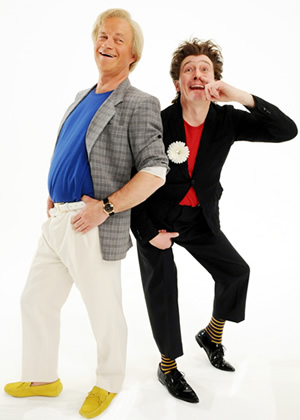 Harry Enfield and Paul Whitehouse are working on a new comedy pilot project called The Incredible Talent Show.
The programme will involve the duo commentating on video clips made by the public, which have a sporting theme.
Trade magazine Broadcast reports The Incredible Talent Show will present itself like Match of the Day, with the double-act commentating on the videos in various guises. Characters will include Gary Clean, Alan Handsome and Mark Laurie-Mullet. The comedy will be set in a studio, but with the characters also presenting 'on location' at various sporting events.
The pilot, which is being made for BBC One, is aimed at a pre-watershed slot, thus the show will be family-friendly. The clips will be selected from internet websites like YouTube and Vimeo.
BBC executive Karl Warner says: "We're thrilled to be working with Harry and Paul and are excited they'll be writing a Saturday teatime show for BBC One."
The Incredible Talent Show hasn't yet been scheduled for broadcast. If the pilot is successful, a full series will be commissioned with transmission likely early in 2013.
Enfield and Whitehouse have been working on sketch shows together since Channel 4's Saturday Live in the 1980s. The duo are currently filming a fourth series of Harry & Paul, which is due to be broadcast on BBC Two this winter.
Below is a sports-based clip from Harry & Paul:
Share this page