Outnumbered return confirmed
Outnumbered return confirmed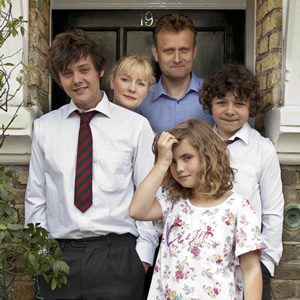 The BBC has today confirmed that its hit family sitcom Outnumbered will return for a full-length fifth series.
Speculation was rife after the broadcast of the fourth series in 2011 that the show would be coming to an end, however BBC One has now ordered a 40-minute Christmas special for the 2012 festive season, and a 6-part fifth series for broadcast later in 2013, from production company Hat Trick.
The popular sitcom, created and written by Drop The Dead Donkey supremos Guy Jenkin and Andy Hamilton, focuses on the distinctly middle-class south London Brockman family, comprised of wife and mother Sue (Claire Skinner); husband and father Pete (Hugh Dennis); and the three children who 'outnumber' them: Jake (Tyger Drew-Honey), Ben (Daniel Roche), and Karen (Ramona Marquez).
Semi-improvised to capture the natural behaviour of the children, and the responses of their parents, the series has proved a hit with BBC One audiences, achieving a series average of 4.72 million viewers in overnight ratings during September and October 2011.
The following clip, from the fourth series, sees middle child Ben attempting to communicate with German exchange student Ottfried:
Earlier this year, the cast appeared in a special short sketch for charity telethon Sport Relief:
Share this page