Channel 4 orders full series of Ricky Gervais' Derek
Channel 4 orders full series of Ricky Gervais' Derek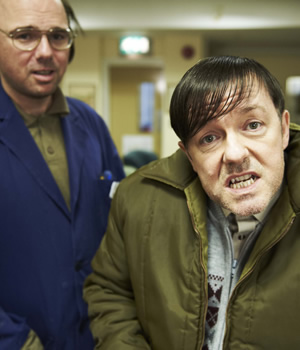 Derek, the comedy drama written by and starring Ricky Gervais, is to return for a full series.
Channel 4 announced the news today, having analysed the performance of the pilot episode that aired last month. The show achieved a consolidated audience of 3.2 million when it was broacast in early April, making it Channel 4's highest rating scripted comedy in nearly two years.
The programme generated many column inches of reviews and analysis, with journalists debating whether the lead character was a mentally-disabled man. Critical reaction to the programme, originally publicised as a sitcom, were cautiously positive.
Derek is described by its creator as 'a bitter sweet comedy drama about a group of outsiders living on society's margins'. Filmed in a fly-on-the-wall documentary style much like The Office and Life's Too Short, it follows the activities of Derek Noakes (Gervais), an innocent man who loves his job at an old people's home as much as the people he cares for. Derek is 49 years old and loves "animals, Rolf Harris, Jesus, Deal or No Deal, Million Pound Drop and Britain's Got Talent".
Working alongside Derek are handyman Dougie (Karl Pilkington, in his first acting role) and fellow care-worker Hannah (Kerry Godliman). Derek's best friend, she is smart, witty and hardworking, but unlucky in love, and like Derek, always puts other people first.
The new series will further explore the relationships between this close knit group as they work in the old people's home.
Ricky Gervais says: "David Brent was an egotistical, failed musician and the most annoying man in the world. Derek is a 50 year old man with bad hair and clothes, whose best friend is a whinging bald manc twonk. Where do I get my ideas from?"
Shane Allen, Channel 4's Head of Comedy], adds: "Ricky is a leading voice in British comedy and through Derek he captures and reflects something of the spirit of modern society. A kind-hearted character in a world that TV normally shies away from, it feels like a perfect new direction for Ricky. The pilot triggered an amazing response and Derek's story had only just begun so it's brilliant that we can explore this world and its beautifully drawn characters across a series."
The full series of Derek will air in early 2013. Meanwhile, Series 3 of The Ricky Gervais Show is currently airing on E4.
Here is a short clip from the pilot:
Share this page