The Kumars to return with new TV show pilot
The Kumars to return with new TV show pilot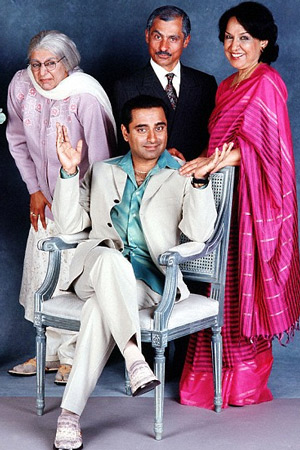 Television comedy's favourite Asian family, the Kumars, will return to television this autumn with a pilot for a new series of their chat show - this time for Sky1.
The Kumars At No. 42B will see the renowned Wembley quartet forced to relocate from their plush detached abode due to the tough economic conditions, and living in the flat - number 42B - behind the downmarket Hounslow gift shop that Sanjeev's dad, Ashwin, now runs.
Producers say: "Sanjeev is divorced from his wife of nearly two years, Bindiya, but they share custody of their precocious 8 year old daughter. Mum, Madhuri, is intent on setting him up with a high profile celebrity and has a keen interest in online dating agencies and of course Ummi (Sanjeev's Granny) is still there with her wicked sense of mischief and liquidised lunches."
The original Kumars At No. 42 ran for 7 series on the BBC between 2001 and 2006, starting on BBC Two, moving initially to BBC Choice, back to Two, and then to flagship station BBC One. Production company Hat Trick made 53 episodes of the comedy chat show, including a number of high-rated Christmas specials.
The series starred Sanjeev Bhaskar as the show's host, Sanjeev Kumar, attempting to present a serious celebrity chat show from his family home; with Vincent Ebrahim as his father, Indira Joshi as his mother - forever attempting to set him up with the show's famous and refined celebrity guests - and Meera Syal as Sanjeev's grandmother, Ummi: as overbearing as she was indiscreet and inappropriate.
In March last year, Bhaskar told The Sun that he hoped the chat show would return, stating: "All the cast are up for it. But I'd like to see it set above a shop to reflect the credit crunch. We never got politicians on the show when it originally aired but I'd love to, particularly ones from the Coalition."
Speaking today, Sanjeev Bhaskar said: "It's incredibly exciting to revisit these warm, oddball characters and to be given the opportunity to bring them up to date. We've tried to retain what viewers loved about the original show and to inject new characters and elements in a slightly new format that we hope will appeal to an even broader audience."

Sky commissioner Lucy Lumsden adds: "It's a welcome return for the Kumars. We're thrilled that they've chosen Sky 1 HD and Hounslow as their new home."
A pilot for the new Sky series will be recorded at The London Studios on Friday 18th May, and will be screened this Autumn.
The following clip shows Jennifer Saunders' interview on the show, from the fifth series, broadcast in November 2004.
Share this page