GOLD orders new Yes, Prime Minister series
GOLD orders new Yes, Prime Minister series
Yes, Prime Minister, the hit 1980s political sitcom, is to return to television with a brand new series after a break of more than 24 years.
Digital channel GOLD, formerly dedicated to classic comedy repeats but now branching out into its own original programming (as reported last month), has ordered a brand new series of the smash-hit comedy series from original writers Sir Antony Jay and Jonathan Lynn, to be produced by BBC Productions.
The new six part series is to be based on and follows the success of a 2010 stage revival of the popular comedy. A West End production played to sell-out houses for a number of months before touring the country, and then returning to the West End. It is currently back on tour.
The popular satire originally starred Paul Eddington as well meaning politician Jim Hacker, Nigel Hawthorne as Permanent Secretary Humphrey Appleby, and Derek Fowlds as Bernard Woolley, Hacker's Principal Private Secretary.
Eddington died of cancer in 1995, whilst Hawthorne suffered a fatal heart attack on Boxing Day 2001. Fowlds was most recently seen on screen in ITV drama Heartbeat.
Casting for the revived series - said to see Hacker leading a coalition government, tackling economic mayhem and facing a Scottish independence referendum - is not yet known, but those seen on stage recently include David Haig and Richard McCabe as Hacker, Henry Goodman and Simon Williams as Sir Humphrey, and Jonathan Slinger as Woolley.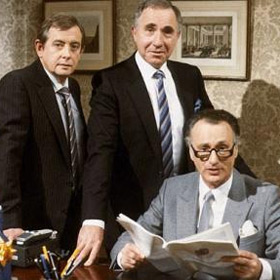 GOLD commissioner Jane Rogerson commented: "The political landscape in Britain today is the perfect setting for Yes, Prime Minister to return. Just look at Pastygate. That could have been in the original Yes Minister. We've only received the first script so far so I can't give solid details of the plot other than to say the reference points about the crises, the challenges, the personalities; they are all utterly contemporary of the present day."
The programme began life in 1980 as Yes Minister, originally running for three series and a special to 1984, all on BBC Two. Sequel Yes, Prime Minister ran for two series from 1986, and saw the slightly error-prone minister propelled to the top job. The comedy was a hit with the public and with politicians, and was widely known to be a particular favourite of then Prime Minister Margaret Thatcher.
Rogerson continued: "Yes Minister and Yes, Prime Minister are crown jewels of British comedy we all grew up with and I think the time is right for a modern take on government.
"I'm thrilled that GOLD has enticed Jonathan Lynn and Antony Jay to pen a brand new series, and can't wait to see this constitutional treasure back on screens across the country. The quality of their writing is wonderful. You can only get that tight use of English and humour from the calibre of Antony and Jonathan. Their scripts are more prediction than fiction."
GOLD boss Steve North added: "GOLD is making a great investment into iconic and original British programming and what better place to start than with the timely return of the nation's greatest satire: Yes, Prime Minister. I'm a huge fan of the original and it's a real treat to be able to bring this utterly brilliant series to a whole new generation."
Mark Freeland, head of the BBC's comedy department, said: "The much extended tour of Yes, Prime Minister in theatres up and down the country proved that this iconic comedy has lost none of its satirical bite. The one-liners hit home like the crack of the Whip. BBC In-House Comedy is delighted to team up with GOLD to bring this classic back to our screens with all new episodes."
GOLD's sister channel, Dave, has recently revived 1990s cult sci-fi sitcom Red Dwarf, which will be returning to screens for more new episodes later this year.
Whilst precise details have yet to be confirmed, the new series of Yes, Prime Minister is expected to be filmed in London during the summer and broadcast by GOLD late this year - its 20th year on air - or early next. GOLD is part of the UKTV network, joint owned by BBC Worldwide and US media company Scripps Networks International.
In the following celebrated clip from Yes, Prime Minister, Hacker (and Woolley) explain to Sir Humphrey just who reads the papers:
Here is the original 2010 trailer for the West End production:
Share this page