Jonathan Ross to host ITV panel show linked to Twitter
Jonathan Ross to host ITV panel show linked to Twitter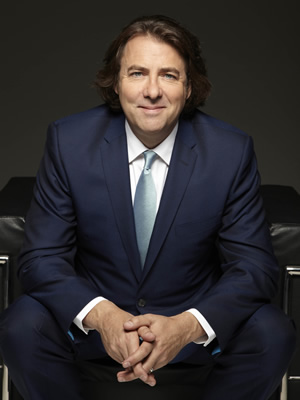 Jonathan Ross is developing a new panel show format for ITV1 which is linked to Twitter.
Trending Topics will select what to discuss by looking at Twitter to find out what is currently popular. The show is named after the social network's feature which indicates to users what topics are currently being talked about in the most volume.
The chat show host announced the show via Twitter, writing: "I'm making a new panel show called Trending Topics (someone has to)."
Ross will be hosting two dry runs of the format next month at The Rada Studios in London (formerly known as The Drill Hall), on the evenings of Monday 13th and 20th February. You can apply to be in the audience for these shows via our free tickets page
Ross signed a deal with ITV in November, thought to be worth in region of £2m, to present three more series of The Jonathan Ross Show and to explore other programming ideas for the commercial channel.
In an interview with The Sun yesterday Ross confirmed he was also working on a film documentary series for ITV, saying: "It's Top Gear for film. We're looking at film without it being a film buff thing. I'll be like the ringmaster and we'll do things like sending someone out to try out some of the best film chat-up lines." He also said he'd like to bring back wrestling to terrestrial TV: "I'd love to bring wrestling back to weekend TV. Little kids love it."
The star - who is celebrating 25 years on TV - was handed the Special Recognition honour at The National Television Awards on Wednesday (story). He admits to The Sun that he did query the award, asking ITV bosses "'Is this just because I'm on ITV? Please, if it's for that then I don't want it.' But they said, 'No, people from Channel 4 and the BBC also said you should have it.'"
The host also confirmed he was very nervous filming the first series of The Jonathan Ross Show, which was broadcast September last year: "The first series on ITV I was trying to second-guess the audience and I think people noticed that I didn't look as comfortable. I felt nervous. I was worried the audience might not want to watch any more or that we might say something that would trigger another frenzy."
The comic host has had a tough week on Twitter, after joking about 'ladyboy airline stewards' on his show the previous Saturday (transcript). The gags infuriated some members of the transgender community who took to the social networking website to tell the host what they thought of his jokes. Ross, who tweets via the account @wossy and has 1.7m followers, was forced to defend himself, replying to tweets with messages such as "I apologise for my naivety" and "The gag was perhaps cheap but it was not meant to reinforce stereotypes."

Provided that the run throughs of Trending Topics are a success, a full series of the show will be on ITV1 later in the year. As recently reported, the channel is also creating a new hidden camera show for Saturday nights with Trigger Happy TV star Dom Joly called Fool Britannia; whilst Channel 4 are making an interactive live panel show called A Short History Of Almost Everything.
Share this page