Quiz Of The Year sexist
Comedians accuse Big Fat Quiz Of The Year of sexism
Channel 4's Big Fat Quiz Of The Year is under fire for including no female comedians in its 2020 line-up
Across 31 episodes of the Big Fat format, male comedians have appeared 146 times, female comedians 28 times
Angela Barnes tweeted: "Arrrgghhb. Funny boys and pretty girls. Happens all the bloody time"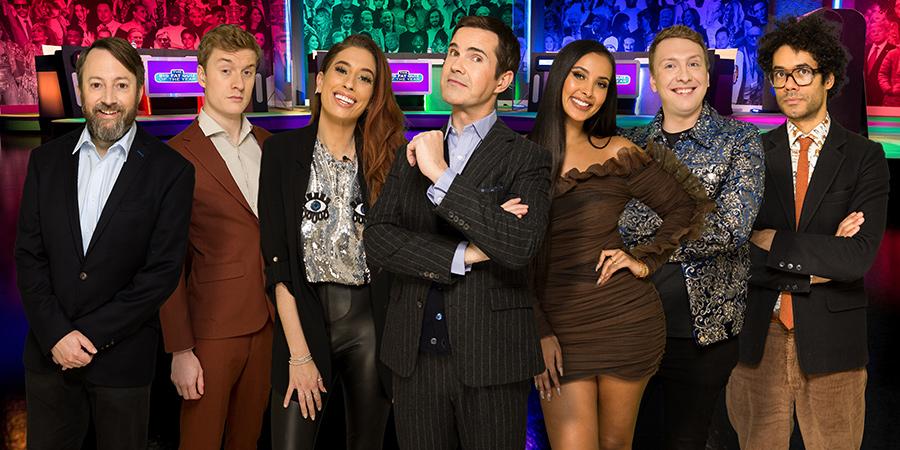 Comedians have denounced Channel 4's The Big Fat Quiz Of The Year as sexist.
Acts including Rachel Parris, Fern Brady and Angela Barnes have taken to social media to point out that the upcoming Boxing Day episode of the panel show features no female comedians, with singer-presenter Stacey Solomon and broadcaster Maya Jama appearing alongside host Jimmy Carr, David Mitchell, James Acaster, Richard Ayoade and Joe Lycett.
"The practice of casting comedy shows with only male comedians plus other famous women who are not comedians is unbelievably infuriating," Parris tweeted. "It's a comedy show, @channel4, do you not know any female comedians?"
She added: "Absolutely nothing against Stacey and Maya, I think they're great, and great at what they do, it's just a really specific issue here; pro male comics and not any pro female comics and it happens very often. Sub in Millican, Pascoe and Philip Schofield."
Barnes posted: "Arrrgghhb. Funny boys and pretty girls. Happens all the bloody time. WHY ARE THERE NO FEMALE COMICS ON THIS COMEDY SHOW?"
Brady remarked: "BIG FAT SAUSAGE QUIZ OF THE YEAR Q.1 In what year will it be acceptable to book funny women instead of insanely beautiful women?
"(I really like the two women on this so zero shade to them but producers still doing this: it's mental if you can't see what you're doing.)"
A show spokesperson told British Comedy Guide: "From the very outset, both The Big Fat Quiz Of The Year and The Big Fat Quiz Of Everything have featured a brilliant line up of male and female talent."
The annual Big Fat Quiz has aired every year since 2004 with Carr as host. It featured comedian Roisin Conaty last year alongside Jama. Stand-up Michelle Wolf and presenter Claudia Winkleman appeared in 2018, with Conaty and Katherine Ryan making up a team in 2017.
However, in 31 episodes, including anniversary specials and The Big Fat Quiz Of Everything spin-off, even discounting Carr as host, there has only ever been gender parity in one episode - a 2016 episode that featured Kristen Schaal, Mel Giedroyc and Claudia Winkleman alongside David Mitchell, Bob Mortimer and Jonathan Ross.
Extending the label "comedian" to include comedy actors, but excluding regular guest and executive producer Ross, whose company Hot Sauce makes The Big Fat Quiz and who is represented by comedy management Off The Kerb, male comedians have appeared 146 times in the format, with female comedians just 28 times.
Stand-up Ania Magliano echoed the frustrations of many, responding to The Big Fat Quiz's announcement of the line-up on its Twitter page, tweeting:
"Maya Jama and Stacey Solomon are wonderful but @BFQuiz have booked FIVE MALE COMEDIANS. Get some funny women on for gods [sic] sake ... also no offence but it shouldn't fall on only all the female comediennes on my timeline to be calling this out........ come on boys!! say something!!!"
However, Ken Cheng did sardonically joke: "Very principled of every female comedian to boycott this and preemptively say no."
Following on from The Big Fat Quiz Of The Year, a new episode of The Big Fat Quiz Of Everything will be broadcast on Thursday 7th January, featuring Rob Beckett & Roisin Conaty, Nish Kumar & Katherine Ryan and Oti Mabuse & Rob Brydon.
Share this page