Sarah Kendall's Frayed
Sky to air Sarah Kendall comedy
Australian comic Sarah Kendall has got her own Sky series
Frayed begins next month, following a woman whose life collapses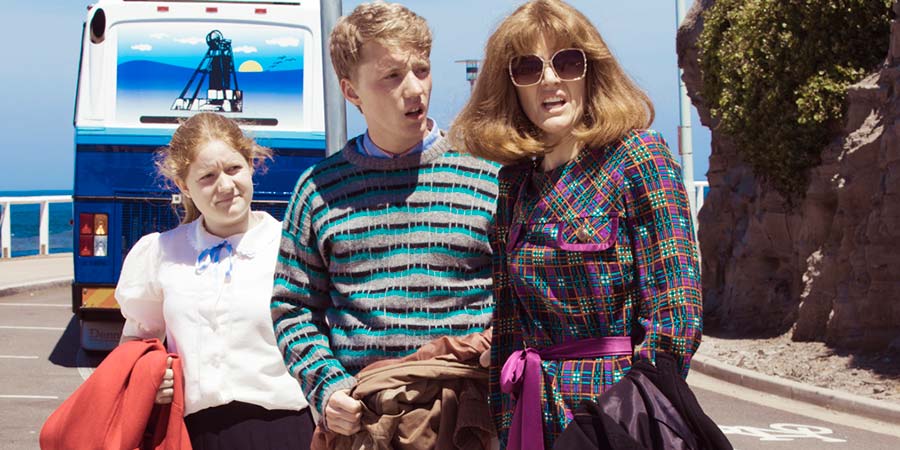 Sky is bringing a new comedy from Australian stand-up comedian Sarah Kendall to screens.
Co-commissioned with Australia's ABC, Frayed will air from the end of September on Sky One.
They explain: "Set in London, 1988, Simone Burbeck's life appears perfect. She lives in a mansion in London with her perfect husband and children, and her life is a merry-go-round of expensive renovations, dinner parties and school fundraisers. There's just one problem: it's all lies.
"When her husband has a fatal heart attack in a disastrous session with a prostitute, the true state of their finances is revealed. Simone is broke, homeless and a social outcast. With no other options, and two children to care for, she is forced to return to her family home in Newcastle, Australia. It turns out Simone's past isn't quite the story that she told everyone in London. Nothing about Simone is what it appears to be. Oh, and her real name is Sammy.
"Sammy plans to cool her heels in Newcastle while she figures out a strategy to get back to London. However, the life and the people she ran away from over 20 years ago slowly pull her back in. Sammy thought she could simply shut the door on her past. But her past is about to bash that door down."
Kendall stars in as Simone/Sammy, with Diane Morgan and Robert Webb also amongst the cast. The six episodes were filmed on location in New South Wales.
Producers Merman tease: "Frayed is full of complex characters, dubious decisions and unfortunate events; and at its heart is the journey of one flawed family confronting their secrets and trying to find a way back."
Sarah Kendall says: "I just wanted to visit my family in Newcastle but I ended up shooting a 6 part comedy here for Sky and ABC. I'm incredibly excited to be given this opportunity. And I also love free flights."
Sky's Head of Comedy Jon Mountague says: "We can all relate in some way to complex family drama, which is at the heart of this ingeniously written comedy. Sarah Kendall is an exceptional lead and I'm excited to add Frayed to Sky's line-up of original British comedy in 2019."
---
For updates, click the button below.
Share this page