We The Jury USA
We The Jury to be remade in America
James Acaster's sitcom pilot We The Jury is being redeveloped for American audiences
Max Searle and Matt Ross, the showrunners on Two And A Half Men, are working on a version for CBS
ITV2's Timewasters could also potentially be re-made, with LL Cool J expressing an interest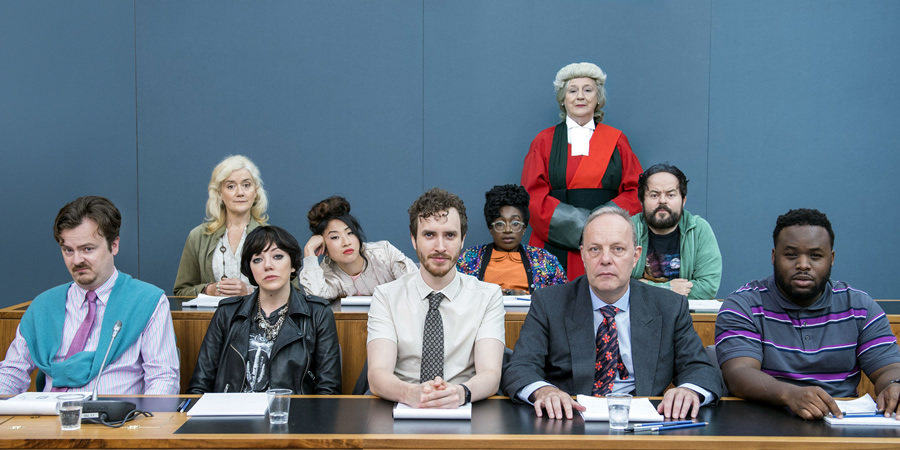 Work is under way to remake sitcom We The Jury for American audiences.
The format, created by stand-up comedian James Acaster, was piloted on BBC Two in the UK in September 2016 as part of the BBC's Landmark Sitcom Season. The comedy, which aims for laughs rather than realism, follows the story of William, a man who has dreamt of doing jury duty his whole life.
When the day finally comes, William is excited to discover he's been assigned to a murder trial, after which the audience are introduced to "a mismatched collection of enthusiastic fools, inconsiderate bullies and self-obsessed weirdos, constantly getting distracted from the case. Add in a demob-happy judge in her final trial and this has all the ingredients of a disaster."
BBC Two declined to order a series following the broadcast of the pilot, however producers Big Talk have now taken the format to America. Executive Producer Kenton Allen revealed in an interview with trade magazine Broadcast that a script is being worked on by CBS Studios as part of a first-look deal the British company has with the network.
Max Searle and Matt Ross, producer-writers (showrunners) of hit sitcom Two And A Half Men, have been tasked with adapting the show.
Speaking to BCG in an interview at the time of the pilot, James Acaster spoke about how he already had a series mapped out. "I've had to plan out quite a long way in advance to show where the whole thing would go. It's quite weird, because normally I guess you'd write a pilot, see if you get a series and then take it from there, whereas I kind of know already what would happen about four series ahead, as I've have to prove that this idea can sustain."
Below is a clip from the BBC Two pilot, which starred Edward Easton alongside an ensemble cast.
Broadcast magazine also notes that Timewasters, Big Talk's latest sitcom, currently broadcasting on ITV2, could head to America too. The show, which has been met with favourable reviews, focuses on a four-piece South London jazz band who accidentally travel back in time to the 1920s. Rap star LL Cool J has reportedly "attached his name to US finished tape sales, with an eye to a subsequent remake".
---
For updates, click the button below.
Share this page