We The Jury is a super fun new ensemble sitcom pilot based around a bunch of idiots who are called up to serve as the jury on a murder trial. The show has been created by award-winning stand-up James Acaster. BCG called him up to find out more...
Hi James. You've just finished performing at the Edinburgh Festival, where you notched up a fifth consecutive Edinburgh Comedy Award nomination. The win still eludes you though. With a record-breaking number of nominations to your name now, surely you should automatically be given a trophy?
I hope that nobody thinks 'why won't they give it to you?'. It would be very odd to think that, because that would be to think that there are no other good comedians out there.
Every year I've been on a list of people who I think are amazing and every year the person who wins it I think deserves it.
I never thought I'd get nominated once, so I'm just delighted every year it happens to be honest ... five times is a much bigger achievement than I thought I'd ever get to!
Do you think you'll return to the festival next year?
I think it's going to be quite a busy year and I won't have time to write a new show, but I might return and do a short run of the last few shows. I'd quite like to do that. The last three shows in my mind belong together, and it'd be nice to do a little run where I do all three of them back to back.
Do you still remember the earlier routines?
I've got them recorded, so that will be OK. But I will need to do a few little practice runs before Edinburgh, if I do take it to Edinburgh.
The plan is next year to film them anyway, so I'll be doing them quite a bit in terms of getting them ready. I'd quite like to record all three of them at the same time and release them at the same time, that's quite an exciting idea for me.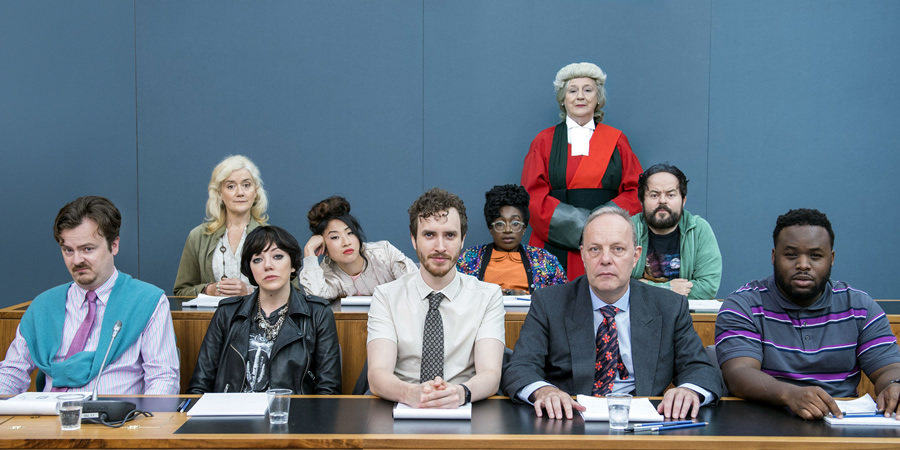 We love the light-hearted tone of your new sitcom, We The Jury...
I can't believe it! I thought it was a drama!
Ha ha. Did you deliberately set out to write something 'silly'?
You set out to write something that is in 'your voice', definitely.
I write the kind of stand-up I do because that's what I'm naturally good at, and that is what my voice naturally is; and it takes years to find that for stand-up... then I've just tried to apply that to the sitcom and write what I think is funny.
I think if I tried to deliberately write something that was a bit silly then I probably would have messed it up a bit, because I would have overdone it or something... but to try and write something that you find funny as a writer, that is in your sense of humour, it just becomes whatever it is anyway. So I just applied the same rules from my stand-up to the sitcom and followed my instincts as to what I find funny.
Is this your first attempt at writing a sitcom?
Me and my friend Dan Cook - who did a show in Edinburgh this year, and used to be in a sketch group called Delete The Banjax - we wrote a pilot script for a sitcom that didn't go anywhere. A lot of the time you get something off the ground and then someone leaves the production company you're working with, and you kind of end up without someone to work with. We kind of had that issue.
We were really proud of that script. It was set in a casino. In We The Jury the murder happened in a casino, so the plan is, if it was to get a series, we could incorporate our favourite jokes from that script into We The Jury.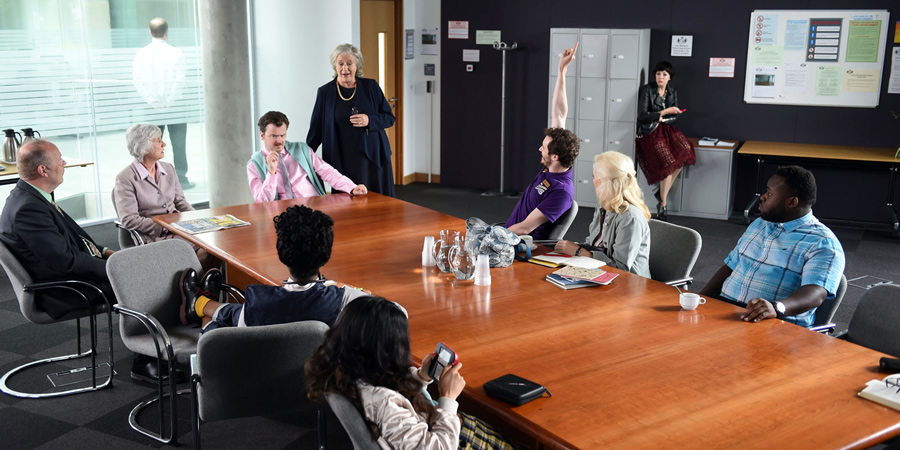 Have you ever been a juror?
I've never been on a jury, but I've been to court [as a visitor!]. I chatted to people, to lawyers and stuff.
I knew what I wanted the storyline to be for the first episode. Originally the storyline was just that the courtroom artist was bad and they could see his drawings in court and they were all concerned about how they'd look bad in the pictures... Then I spoke to a lawyer about it, and they explained to me the jurors wouldn't be able to see the pictures in court because the artist is not allowed to draw in there. So, when I learnt that, I was able to make a silly thing out of it.
So, yeah, with each episode - should it go to series - I would plan to find out the proper ins and outs and use those slightly unknown facts that people might not be aware of to create more comedy out of it. The more 'real' the world this stupid jury are in, the better.
You've assembled a great cast. Did you have a say in who was picked?
I was in all the auditions, and I got a say on everyone. I was delighted that I got my perfect cast. It was exactly who I wanted. I was very lucky that they could all do it as well.
It's one of those things when you're auditioning people, sometimes it takes a long time to find a certain character and you start to think 'well maybe this is just a rubbish part and no one can do this role' and then someone comes in and is just perfect and you want to hug them in front of everyone. There's a few people like that in this cast.
So I'm really happy with the cast and the variety of people who are in it - there's a lot of experience and some people are very new too. It's really great to see them all together on set. Everyone got on so well as well, which was great.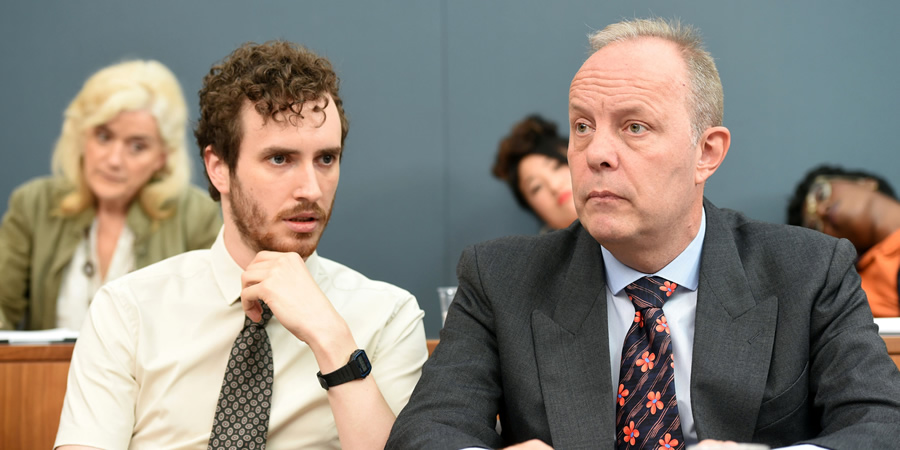 Was it a weird process sitting there judging people in the auditions?
I've done auditions myself in the past, and I'm sure I'll do more in the future, and I will now take them a lot less personally. I used to think that there was quite a lot that I could do to try and get the part but now I realise there's normally a very specific thing that they're looking for each time and sometimes you just don't look right for it, it can be something as simple as that.
We had some people come in and create their own really funny character, but it just wasn't what we were looking for. You then get someone come in and nail it, and once you've seen it, you know when you've seen it. So there are some awkward days where you go 'oh, that person was perfect and so now we've got to waste everyone's time this afternoon [seeing everyone else still coming in for the same role].'
You briefly appear in this pilot. Did you have to audition yourself?
No, I did not have to audition for that thankfully! Ha ha. That is a role that becomes a much bigger character as the series goes on. It actually wasn't my idea to have me in the first episode but because that character becomes quite important as the series goes on, they wanted to 'seed' that character early on. Anyone who has seen my Edinburgh show from two years ago will know who that character is...
It sounds like you've got a plan mapped out for future episodes already?
Yeah. Because it's set at this trial, obviously I've needed to explain [to TV industry people] where it would go and how long it would last for. There was that concern, 'can it last for more than a series?'
I've had to plan out quite a long way in advance to show where the whole thing would go. It's quite weird, because normally I guess you'd write a pilot, see if you get a series and then take it from there, whereas I kind of know already what would happen about four series ahead, as I've have to prove that this idea can sustain.
So presumably the trial would go on for a while; or have you thought of a way of somehow getting them back together after the verdict?
Yeah, a little bit of both. The trial itself would last for two series but after that there is more. That's all I can say really without spoiling it!
We The Jury is on BBC Two on Monday at 10pm.