Taskmaster 3 line-up
Taskmaster Series 3 line-up revealed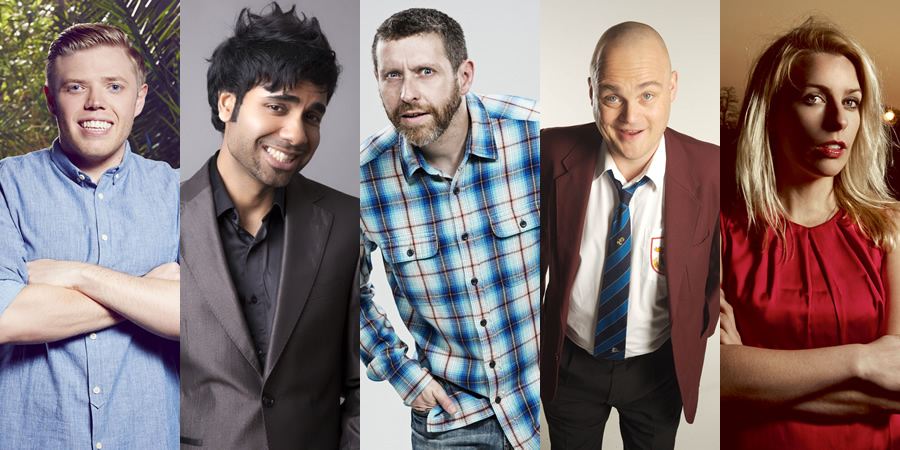 Rob Beckett, Paul Chowdhry, Dave Gorman, Al Murray and Sara Pascoe will be the contestants in Series 3 of Taskmaster, the comedy format in which comedians must undertake challenges dictated to them by Greg Davies and Alex Horne.
Th show's third series won't be seen on television some time yet as broadcaster Dave has still to finish and broadcast Series 2. However, the line-up has been revealed now as the two series are being filmed back-to-back, to make best use of the programme budget.
It was revealed earlier this year that UKTV had ordered two more series of the show following the success of the first run, which was broadcast in July 2015. In that series, Roisin Conaty, Tim Key, Romesh Ranganathan, Frank Skinner and Josh Widdicombe competed for victory, with Widdicombe resorting of going to the extreme measure of getting Greg Davies's name tattooed on his foot to secure his place as series victor.
As previously revealed, the comedians taking part in the next series will be Jon Richardson, Richard Osman, Joe Wilkinson, Katherine Ryan and Doc Brown.
Speaking at that point, the channel said: "As the Taskmaster, Greg Davies will set a series of stupefying tasks to this brand-new group of comedians with Alex Horne assisting as his right-hand-man, coaxing the hopeful champions to show their creativity, conniving and competitiveness. Once again, rivalry will be encouraged, dodgy tactics rewarded and pitiful attempts scoffed at in the most dogged, hard-fought and ridiculous comedy show on TV."
The studio segments for Series 2 of Taskmaster will be filmed on the 4th, 5th and 6th May at Fountain Studios in London, with Series 3 dates set for the 9th, 10th and 11th May. To apply to be in the audience for either series, visit TVRecordings.com
Sara Pascoe confirmed in a Twitter post: "ello bumbums, I'm doing Taskmaster." Meanwhile, writing in his newsletter about being selected as one of the new contestants, Dave Gorman said: "I was a big fan of the show's first series - and was thrilled to be asked to take part."
Series 2 of Taskmaster will be shown on Dave later this year, with Series 3 expected to be broadcast in 2017.
Share this page