Bluestone 42 ends
Bluestone 42 ends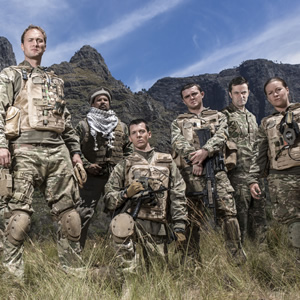 Bluestone 42 will not return for a fourth series, it has been revealed.
James Cary and Richard Hurst, the writer-creators of the hit BBC Three sitcom, today confirmed that the series will not return for a fourth run.
With BBC Three itself facing closure the news had been expected, despite the third series - broadcast earlier this year - gaining more viewers than Series 1 or 2.
In a statement, the writers said: "We're sad to announce that Bluestone 42 will not be returning for a fourth series. Overall, it was felt that the show had run its course, with the return of the troops from Afghanistan, and the move of BBC Three to an online platform."
The series originally starred Oliver Chris, Kelly Adams and Gary Carr, who were at various stages replaced by Laura Aikman and Matthew Lewis.
Bluestone 42 focused on the members of an Army bomb disposal unit working in Afghanistan, also comprising of Stephen Wight, Tony Gardner, Katie Lyons, Scott Hoatson and Jamie Quinn.
Writing in a blog post, James Cary explained: "The Army - in particular XI EOD, the Royal Logistics Corps bomb disposal regiment - took the show and the characters to their hearts and assisted us greatly in creating a show that valued accuracy as much as comedy. Cpl Daniel Whittingham, interviewed in The Guardian, said 'People who aren't in the military might think comedy isn't the best way to show what war is like. I disagree, and most soldiers I know think Bluestone 42 is spot-on, too.'
"We were also proud that many of the cast raised money several times for the Felix Fund, the bomb disposal charity."
The writers add: "We would like to thank BBC Three for backing the show in the first place, and giving us the creative freedom to pursue our vision for the first comedy set during a war that was still being fought.
"We are also very grateful for a superb cast and crew both in UK and South Africa who worked with professionalism, resilience and good humour throughout the process, especially on some very demanding filming days in very hot weather with some very tight budgets. And around some very loud bangs. Everyone can be proud of what we achieved together."
Twenty one episodes were produced over three series, broadcast by BBC Three between March 2013 and April 2015. Series 1 and 2 have each been repeated on BBC One to high audience figures, with Series 3 also going out on BBC Two.
The first two series are available to buy on DVD
Here is a clip from the third and final series:
Share this page