BBC wants another series of Getting On
BBC wants another series of Getting On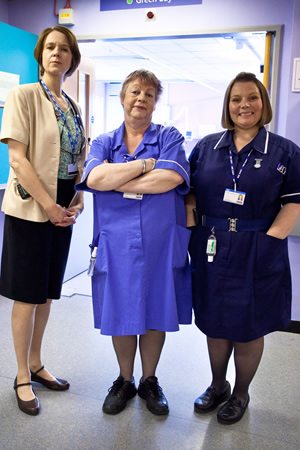 The stars of Getting On have confirmed the BBC wants another series of the hospital-based comedy.
Earlier in the year there had been some confusion as to whether the show had finished, but Joanna Scanlan and Vicki Pepperdine have confirmed to British Comedy Guide that the BBC is keen to produce further episodes, and it is only their busy diaries currently preventing another series from being made.
Getting On, which launched on BBC Four in 2009, has so far run for three series. Written by and starring Scanlan, Pepperdine and Jo Brand, the low-key comedy focuses on the staff of a hospital ward "who are just getting on with it in an overlooked corner of the health service".
The comedy has won multiple awards, most recently Best Sitcom at The British Comedy Awards 2013. Scanlan and Pepperdine, who attended the awards last night to pick up the trophy, told us backstage "the BBC are very keen to do more Getting On, we have to find the time in our schedules".
Scanlan explained: "Vicki and I have been commissioned to write another show for the BBC, and that takes up quite a lot of time, and Jo [Brand] has also got other projects that she's working on so we need to kind of find a way to get our diaries together."
The duo are currently working on Puppy Love, a comedy billed as "a story of love, dogs and the love of dogs". The BBC Four series will follow two very different women as they navigate their headstrong dogs, impossible teenage kids and disappointing husbands.
The six episode series will be filmed in May 2014.
Getting On has recently been re-made by premium cable network HBO in America. Scanlan and Pepperdine told British Comedy Guide they had seen one episode but were "a bit too scared" to watch any more yet. However, they added "it's going down, we hear, very well and we're very excited."
In the below video, filmed backstage at The British Comedy Awards, the stars talk more about Getting On, the American remake of the show, and Puppy Love:
Share this page