Moone Boy to be published in book format
Moone Boy to be published in book format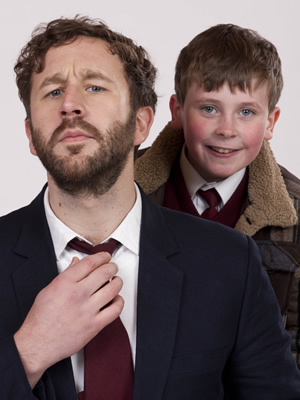 Moone Boy, the hit TV sitcom about 11-year-old boy and his imaginary friend, is to become a series of books for children.
The Bookseller reports that Macmillan Children's Books has acquired the rights to two Moone Boy novels for a "substantial six-figure sum". The deal includes e-book and audio rights.
Moone Boy, written by Chris O'Dowd and Nick Vincent Murphy, started life as a one-off for Sky's Little Crackers series of semi-autobiographical short films. In 2012 the premise spun-off into its own sitcom, which has since established itself as a hit programme. The show won an International Emmy last month.
Publisher Venetia Gosling says: "I loved the first Moone Boy TV series and saw immediately how well the characters and scenarios could work in book form."
The first book - aimed at children aged 8 and above - will be published in Autumn 2014, and the second in 2015. The novels, which will feature illustrations by Cartoon Saloon, will also be sold in America.
It is a busy time for Chris O'Dowd. The comedian will shortly begin promoting new film Cuban Fury, and is working on other projects including a role in a film about cyclist Lance Armstrong. He is also preparing to make his Broadway debut next year in a revival of John Steinbeck's Of Mice and Men.
A second series of Moone Boy is due to start on Sky1 early next year, with a third series already filmed and in post-production. The story in Series 2 picks up as Martin (David Rawle) begins life at secondary school. Martin continues to let his imagination run wild, both in his childish drawings, which come alive through animation, and in the ridiculous schemes he comes up with, against the better judgement of his imaginary friend Sean Murphy (O'Dowd).
Below is a behind-the-scene video from the first series, in which young stars David Rawle and Ian O'Reilly show viewers around the set:
Share this page