Moone Boy wins International Emmy
Moone Boy wins International Emmy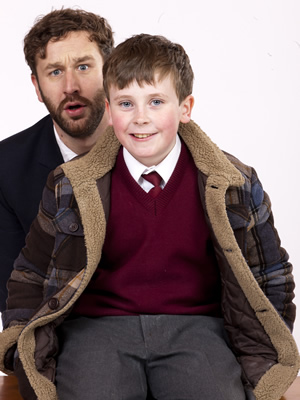 Moone Boy won the International Emmy for Comedy, at a gala event in New York City last night.
The Sky1 sitcom was awarded the prize in a category that included fellow nominees eNCA's Late Nite News with Loyiso Gola (South Africa), Workingirls from Gazelle et Cie and Canal Plus (France) and TV Globo's How to Enjoy the End of the World (Brazil).
Chris O'Dowd and Nick Vincent Murphy, who created and write the programme, said: "Even in the wildest imaginations of our imaginary friends we never imagined we'd win an International Emmy. Such an honour."
A co-production between Steve Coogan's Baby Cow Productions, Stephen Fry's Sprout Pictures, plus Hot Cod Productions and Grand Pictures, the 1989-set small-town-Ireland comedy follows the adventures of young daydreamer Martin Moone (David Rawle) and his imaginary friend, Sean Murphy (O'Dowd).
A second series, progressing into the heady days of 1990, is due to begin on Sky1 early in 2014, with a third series currently in production.
Lucy Lumsden, Sky's Head of Comedy, said in a statement: "Moone Boy has been a tremendous success story, much loved by our customers and critics alike, and I'm delighted that Chris, Nick and the team have been presented with this richly deserved award. We absolutely adore this series and I can't wait for us to pick up with the next stage in Martin's life when the show returns to Sky 1 in the New Year."
Adam MacDonald, Director of Sky 1, added: "We are so very proud that Moone Boy's home is Sky 1 HD. I'd like to congratulate Chris O'Dowd and Nick Murphy on such a warm, brilliantly funny and touching comedy series that everyone has quite rightly taken to their hearts. I'm delighted that we'll be bringing Sky customers a brand new series early in 2014."
It has also been revealed this week that O'Dowd, a rising Hollywood film star after a number of high-profile comedy roles, will make his Broadway debut next year in a revival of John Steinbeck's Of Mice and Men.
From March, he will star as learning-impaired Lennie alongside American actor James Franco as his friend George, migrant field workers, at the Longacre theatre.
Meanwhile, comic actor and writer Rhys Thomas also picked up an International Emmy in the Arts category, for his documentary about Queen lead singer Freddie Mercury, Freddie Mercury: The Great Pretender.
Here is a short video from backstage at last night's event:
Share this page