Rhod Gilbert to host new comedy chat show
Rhod Gilbert to host new comedy chat show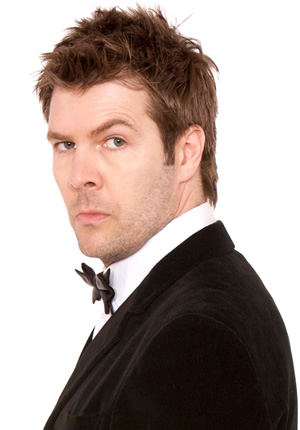 Details have emerged of a new comedy format hosted by Rhod Gilbert.
The stand-up comedian is set to front a trial edition of Delete Delete Delete! this October.
The format is a comic chat which involves the comedian interviewing a guest about the contents of their laptop, particularly the history of which websites they have visited, commonly stored by the web browser software.
Notes about the show say: "Your personal internet habits reveals a lot about you - it is why they invented the 'clear history' button. In this new comedy chat show, one special guest will hand over their laptop and allow host Rhod Gilbert to see what he can find."
Example questions noted are "Why were you searching eBay at 3am for 'untraceable poison?'; 'Why were you Googling 'unexplained hair growth on your hand?''; and 'what is your obsession with upsidedowndogs.com?'"
The try-out will take place at lunch-time on Tuesday 22nd October 2013 at Sadler's Wells Theatre in Islington, north London. Russell Kane, the star of BBC Three shows Live At The Electric and Staying In With Greg & Russell, has been announced as the guest that will be taking part. To apply to be in the audience see our free tickets page
No other details are currently known about the programme. The production company behind the format and which network the show is aimed at are expected to be revealed in due course.
Rhod Gilbert is currently the star of Rhod Gilbert's Work Experience, a factual entertainment documentary series from BBC Wales that sees the comic try out new jobs. It has run for four series to date.
Between 2010 and 2011 he hosted two series of BBC One panel show Ask Rhod Gilbert alongside comedian friends Greg Davies and Lloyd Langford. Below is a clip from this show:
Share this page